Click here to read more (recent) news
---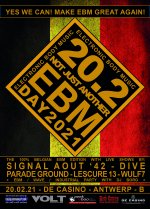 100% EBM day rescheduled to 2021
15 April 2020 12:23
---
Finally some good news during these dark and unsure days ….
We are happy to announce we finally managed to reschedule our 100% Belgian EBM day!
A new date, Saturday 20 February 2021 and again at the beautiful venue, De Casino!
So ...
One! You buy your tickets!
Two! You invited your friends!
Three! You boldly spread the news!
And four! You're a happy man!
(or women of-course)
www.bodybeats.be/en/belgian-ebm-day-2021
DIVE (B)
[permalink]
---
Click here to read more (recent) news