Click here to read more (recent) news
---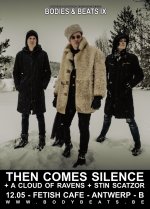 12.05 THEN COMES SILENCE + A CLOUD OF RAVENS + STIN SCATZOR @ BODIES & BEATS IX
28 February 2023 18:23
---
BodyBeats & Fetish Café are pleased to announce THEN COMES SILENCE (SE) and their EU tour support A CLOUD OF RAVENS (USA) will pass by Antwerp for another VERY EXCLUSIVE & VERY LIMITED CLUB concert!

Extra (local) support: STIN SCATZOR!
This event will take place in a very special setting … the dark but cosy dungeons of the Antwerp Fetish Café!
For those who are not yet familiar with our Bodies and Beats concept, don't be scared of the unknown ... there are worse places on earth to be these days!
Also good to know ... no dresscode whatsoever is required but some kinkiness is always appreciated!
Take note! Our dungeons of pleasure have a VERY LIMITED CAPACITY so tickets are STRICTLY LIMITED to ONLY 70!
So be fast or be sorry!

Time-schedule:
20:00 Doors
21:00 A CLOUD OF RAVENS
22:00 STIN SCATZOR
23:00 THEN COMES SILENCE
+ Aftershow party beats & waves by DJ BORG
Let your friends know you are going and check in on our FACEBOOK EVENT!
www.bodybeats.be/en/tickets/12-05-then-comes-silence
STIN SCATZOR (B)
[permalink]
---
Click here to read more (recent) news