Click here to read more (recent) news
---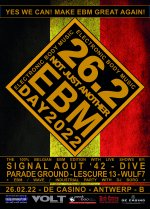 26.02.22 Not Just Another EBM day! Fingers Crossed!
08 February 2022 11:20
---
Update 08.02.22: Since there seems to be some conflicting and confusing information around we like to remind you, so far as we are concerned, our EBM day is still scheduled for 26 FEBRUARY! (Double checked & Confirmed by all parties!).
It all depends now on the decision our government will make THIS Friday 11.02... IF we go from code RED to code ORANGE, EBM DAY WILL HAPPEN! If we stay in code RED, EBM will be postponed to a date in the very near future! So get those tickets now AND let's keep our fingers crossed and hope for a code ORANGE!
Thanks for your understanding and support!
Your BodyBeats team.

TICKETS / FACEBOOK / INFO
DIVE (B)
PARADE GROUND (B)
[permalink]
---
Click here to read more (recent) news