Click here to read more (recent) news
---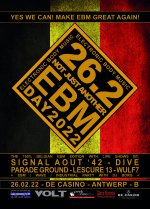 Attention! We have lift-off!!! EBM day @ De Casino will go ahead on Saturday 26.02!
16 February 2022 14:49
---
UPDATE! Belgium will go from "Code Red" to "Code Orange" from this Friday 18 February onwards. This means EBM day 2022 CAN & WILL HAPPEN!
However,"Code orange", means the CST or recovery certificate is still mandator but also surgical masks are no longer mandatory!
Most important, standing, dancing, jumping, drinking will be allowed AGAIN!
So what are you waiting for!? Get those tickets now! http://www.bodybeats.be/en/tickets/
[permalink]
---
Click here to read more (recent) news