Click here to read more (recent) news
---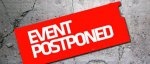 BIMFEST XIX + GRAUSAME TÍCHTER POSTPONED TO EARLY 2022
27 November 2021 14:27
---
Since the coronavirus is still gaining ground, the Belgian government announced new measures.
Sadly we have to postpone these events once again due new corona related restrictions. However we are looking for new dates towards spring 2022. This means your tickets will remain valid!
Thanks for you support and understanding!

Stay safe!
PS: Wanna stay informed? Please subscribe to our newsletter here:
http://www.bodybeats.be/en/newsletter/
www.bodybeats.be/en/newsletter
[permalink]
---
Click here to read more (recent) news