Click here to read more (recent) news
---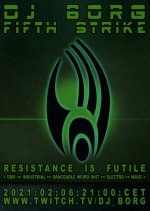 DJ BORG - FIFTH STRIKE - RESISTANCE IS FUTILE
31 January 2021 21:28
---
We at BodyBeats are happy to announce our resident DJ BORG will be spinning the danceble weird sh*t out there, for YOU! For FREE! EVERY SATURDAY!*
In order to make this pandemic crisis weekends lees dull and a bit more fun, DJ BORG decide to let you join in his weekly exploration through the universe of the darkish underground music!
You can expect a fair portion of EBM, Electo, Wave, Minimal and more!
Some of the newest Sh*t, some older gems and some less know band and tracks.
DON'T expect his sets to be an easy listening experience with only the classix dancefloor killer we all heared too many times before ... Although ... never trusts a Kling ... erm in this case ... a BORG!
All you have to do is tune in on his Twitch channel (hit the link below!), turn up the volume and dance!
So from now on farwards ... Every Saturday is party time!

Check in on the FACEBOOK EVENT here!

Follow DJ BORG on Twitch.TV and get a notification when the live stream starts!
(*)As long the by pandemic imposed limitations last


[permalink]
---
Click here to read more (recent) news