Click here to read more (recent) news
---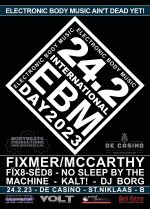 FIXMER/MCCARTHY to headline International EBM day @ De Casino on 24.02.2023
20 December 2022 20:12
---
We are pleased to announce FIXMER/MCCARTHY will headline our 2023 International EBM day festival!

F/M is a project from french electro/techno producer Terence Fixmer and Nitzer Ebb's head & voice and founding member Douglas McCarthy, simply called Fixmer/McCarthy.
Terence Fixmer, a world renowned techno artist , has been involved in the techno scene for more than 10 years. In 1998 he signed to Gigolo Records and has gone on to have many hits such as 'Electrostatic', 'Body Pressure', 'Electric Vision' and the album 'Muscle Machine' (voted as the top 3 album of the year for Groove Mag).
Nitzer Ebb, an avant-guarde electronic band, started in England in 1982 signing to Mute Records in 1986 after releasing a string of instant global club hits on their own label.
Douglas Mc Carthy brought the raw power of his voice Nitzer Ebb, along with an amazing stage performance seen all over the world with the brilliant Nitzer Ebb live show that was always full of the tension and rage of hits such as 'Let Your Body Learn', 'Join in the Chant', 'Control I'm Here', and 'Getting Closer' – tracks that are still as popular today as then.
These combined forces guarantee amazing and explosive stage performance!
F/M is a project from french electro/techno producer Terence Fixmer and Nitzer Ebb's head & voice and founding member Douglas McCarthy, simply called Fixmer/McCarthy. Terence Fixmer, a world renowned techno ar
[permalink]
---
Click here to read more (recent) news