Click here to read more (recent) news
---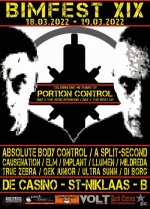 New dates for BIMFEST XIX confirmed > 18 + 19.03.2022!!!
09 December 2021 13:32
---
We are happy to inform you that you do not have to wait a full year to celebrate BIMFEST XIX with your friends! Together with our venue partner De Casino, we have managed to set new dates for our BIMFEST XIX edition! Friday 18 + Saturday 19 March 2022!
Sadly The Ultimate Dreamers are unable to perform on this new date but they will be replaced by the sympathetic German Electronic/Minimal band QEK JUNIOR!

All other bands will be present! More info, bio's + media on the link below!
So put it in your agenda, spread the word and feel free to share this news or the link below on your Facebook page!
www.bodybeats.be/en/bimfest-xix
A SPLIT-SECOND (B)
ABSOLUTE BODY CONTROL (B)
IMPLANT (B)
PORTION CONTROL (UK)
True Zebra (B)
[permalink]
---
Click here to read more (recent) news