Click here to read more (recent) news
---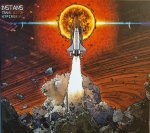 New Instans album featuring BORG (The Juggernauts)out now!
02 September 2021 15:49
---
During the first weeks of the C-19 lockdown (2020) BORG (The Juggernauts) was invited by Fredrik Djurfeldt (Alvar, Severe Illusion, …) to contribute to the new INSTANS concept album Trans Sector Hyperdrive. On this album INSTANS deals with the shattered illusions of the lost space age generations.
"The misanthropy is amplified with guest appearances from the mighty BORG (The Juggernauts)... (Poponaut.de)
"Two of the songs are visited by Jonas Fredriksson (Alvar) and BORG / Peter Mastbooms (The Juggernauts) and contribute to the variation of the album." (9/10 Synth.nu)


Instans - Trans Sector Hyperdrive
track-list:
01 Human Culture is dead
02 The eagle never landed
03 Dream in vain
04 Space 1999 (Assimilated by BORG) V2
05 Dying Stars
06 The unfortunate death of Max Valier
07 Varsin raket
08 Dîd Planet
09 Into the night
10 108 Minuter (feat. Jonas Fredriksson)
11 Monkeys in space
12 Brain Chip
THE JUGGERNAUTS (B)
[permalink]
---
Click here to read more (recent) news