RELATED EVENTS
RELATED NEWS-ITEMS
---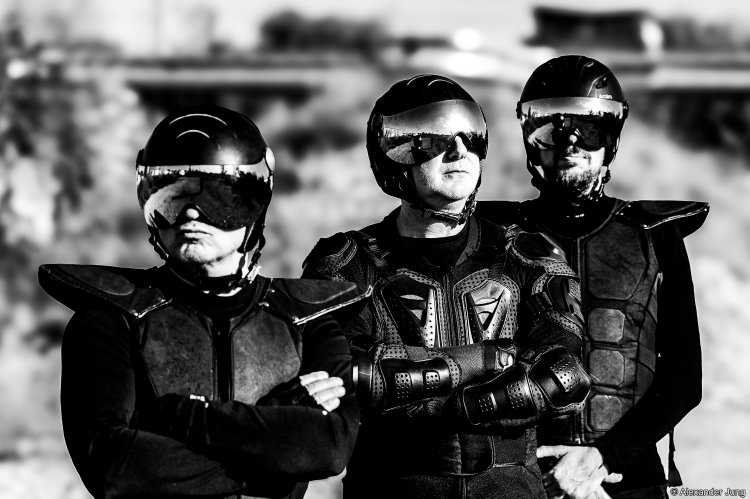 Jug·ger·naut > [juhg-er-nawt, -not]

1. A literal or metaphorical force regarded as mercilessly destructive and unstoppable, an unstoppable antagonist, an unbeatable opponent!

2. A large, overpowering, destructive force or object, one that destroys or that demands complete self-sacrifice

3. A crude idol of Krishna worshiped at Puri and throughout Orissa and Bengal. At an annual festival the idol is wheeled through the town on a gigantic chariot and devotees are supposed to have formerly thrown themselves under the wheels
Biography
The first activities of The Juggernauts on the planet Earth were sighted towards the end of 2010. Reportedly, they have been summoned by higher unknown forces who send them to earth with the mission to ward off the 2012 Apocalypse which the Mayas already predicted over 5000 years ago. The Juggernauts succeeded in their mission and doomsday was postponed indefinitely.
However, the increase of conflicts between human tribes around the world, which come with staggering and unspeakable atrocities and destruction, the unceasing pollution and poisoning of the planet earth and her seas, and thus the accelerating systematic extinction of it's global fauna and flora, are all signs on the wall that mankind is still on the way to self-destruction.
It's clear the task of The Juggernauts ain't over yet!
Be aware ... The Juggernauts Are Coming!
Official website:
www.thejuggernauts.be
Official Facebook:
https://www.facebook.com/TheJuggernauts
Live Actions: (Click here or scroll down)
Facts:
2011
'Phoenix' is featured the Out Of Line 'Awake The Machines 7' compilation album..

2012
The Juggernauts are invited to play some of Europe's most renowned festivals like Easter Fest(Ghent,B), M'era Luna (Hildesheim, D), Industrial Booom (Budapest, HU), Nordstern (Hamburg, D), Familientreffen VIII (Sandersleben, D) and the Wroclaw Industrial Festival (Wroclaw, PL).

2013
The EP Phoenix was released by Out Of Line on March 1st. and sold-out within the year while the bands DIY video of the featured track 'Infected' was viewed over 10.000 times in the same period of time.
More club and Festival shows are played as there are EBM Summer Stomp (Kassel, D), Kalabalik Pa Tyrolen Festival (Alvesta, SE), Out Of Line weekender II (Berlin, D), Electrocution Festival(Rostock, D) ...
2014
The band continues to play many club shows and are yet again invited to some main European alternative music festivals like the renowned Amphi Festival (Köln, D), Familientreffen X (Sandersleben, D), Out Of Line Weekender III (Berlin, D), BodyFest (Stockholm, SE), ...
Meanwhile the Infected video reached over 20.000 views.

2015
The band is invited to play the Hungarian capital Budapest one again, but also by one of Belgium's biggest alternative music festivals, Eurorock (Neerpelt, B), Germany's mother of all independent festivals, the WGT or Wave-Gotik-Treffen (Leipzig, D) and the internationally acclaimed BIMFEST XIV (Antwerp, B).
2016
'The Juggernauts Are Coming', the highly anticipated full length of The Juggernauts was released July 22nd on the German Out Of Line Records. This album comes as shiny DigiPack CD featuring 1O powerful tracks in the pure and renowned The Juggernaut electro/EBM style. The juggernauts presented their new album on the XII Familientreffen Festival (Sandersleben, D) and at the Nocturnal Cult Night festival (Deutzen,D).
On September 9th the DIY video of the song PURGE is released on YouTube and gets critically acclaimed by fans and press. The video has more then 10.000 views in no time and makes it to the Sonic Seducer 2016 - Year overview - DVD.
---
The Juggernauts Are Coming Tour 2017 took shape quickly and thus they were invited for the third time already to play the Out Of Line Weekender (Berlin) and Budapest (Hungary). Besides playing UK's leading alternative festival INFEST, gigs in Sweden and Denmark, they also were invited to play in Sao Paulo, Brazil!
Meanwhile The Juggernauts are working on new material. The 'Infected' video was watched over 50.000 times, while the 'Purge' video reached almost 25.000 views.
The Juggernauts - Are Coming Tour 2017 - 2018
14.01 Botanique, Brussels, B
28.01 SubKulturn Hannover, D
31.03 Out Of Line Weekender, Astra, Berlin, D
30.04 Gozsdu Mano Klub, Budapest, HU
06.05 Club Madame, Sao Paulo, Brazil
12.05 Stellwerk, Hamburg, D
13.05 Das Bett, Frankfurt, D
25.05 De Casino, St-Niklaas, B
09.06 Synth After Work, Stockholm, SE
10.06 Musikens Hus, Gothenburg, SE
26.08 Infest, Bradford, UK
08.09 Der Kult, Nürenberg, D
18.11 Lygten Station, Copenhagen, DK
25.11 MUK, Giessen, D

2018 / 2019
While working on a new album the tour continues and a new track called FEAR is added to the live concert set-list. Meanwhile Infected 60.000 views / Purge 34.000 views.

Fear - The Juggernauts - TOUR 2018/2019
20.01.18 Rise Of The Begian Empire, Felsenkeller, Leipzig, D
09.02.18 Der Cult, Nürenber, D
24.02.18 International EBM Day, De Casino, St-Niklaas, B
26.05.18 Nieuwe Nor, Heerlen, NL (+ Crash Course In Science + True Zebra
09.06.18 Foro RR Live, Mexico City, MEX (+ A Split-Second + True Zebra)
02.03.19 Winter Stomp V8, Panoptikum, Kassel, D (+Dive, Jäger 90, Severe Illusion, Valhall, Zweite Jugend)
23.03.19 Electrocution Festival X, Jaz, Rostock, D (+ Dive, True Zebra, Celltöt, TC75, ...)
30.03.19 Darkest Night, JK2470, Retie, B (+ Tension Control, Pro Patria, Zweite Jugend)
04.04.19 Out Of Line Weekender 2019, Astra Kulturhaus, Berlin, D (+ A Split-Second, Motor!k & more)
27.09.19 Kulttempel, Oberhausen, D (+ Suicide Commando)
20.11.19 Nitzer Ebb @ De Casino, St-Niklaas, B
07.12.19 Electrixmas @ Inkonst, Malmö, SE (+ DAF, Dive, Promenade Cinema, ...)

2020
Fear - The Juggernauts - TOUR 2020
15.02.20 E-only Festival @ Altes Statdbad, Leipzig, D (+A Split-Second & more)
24.05.20 Electronic Essex V2 @ Chinnerys Southend, South-end-on-Sea, UK POSTPONED to 2021

2021
In the middle of the Corona pandemic The Juggernauts released Fear 2K20 (C19 EBM remix) as an teaser for the upcoming EP Fear. This track is available on The Juggernauts' official Bandcamp page!
Meanwhile 3 new track are added to the live set-lists. Fear (EBM rexix), Snitch Bitch and End Of Time.
Live actions:
30.10 Sinnderday, St Truiden, B
2022
12.03 Magasin 4, Brussels, B (+ Adult & Plack Blague)
02.04 Porta Nigra, Aarschot, B (+ Suicide Commando, Hocico, & more)
11.06 Barock, Brugge (+WULF7)
05.11 Belgian Beats Over Hannover, Subkultur , D (+ Mildreda, True Zebra, Euforic Existence)
15+16.10 DarkMAD Fest, Sala Groove, Madrid, ES (+ Carlos Peron, Wisphering Sons, ...)
2023
30.05.23 Electronic Essex V2 @ Chinnerys Southend, South-end-on-Sea, UK
04-06.05 Out Of Line Weekender @ Astra Kulturhaus, Berlin, D
More TBA soon!
___________________________________________________________________________________
Discography
The Juggernauts – Phoenix EP CD - Out Of Line (2016)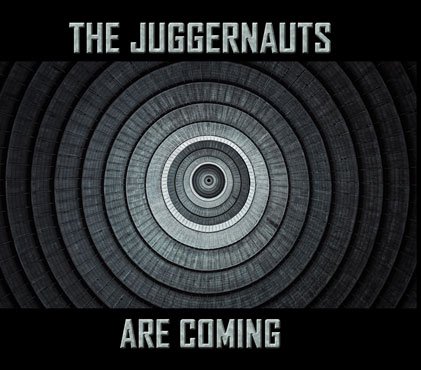 Belgian band The Juggernauts is the most important rejuvenators of the classic Electronic Body Music sound. The debut album "The Juggernauts Are Coming" features club-compatible tunes built on a minimalist foundation of beats, sequencer and shouts.

Like the name-inspiring symbol for an unstoppable destructive force, the music of The Juggernauts blasts out of the speakers like an energetic stronghold of beats, bass and wrath. Few contemporary bands manage to channel the spirit of early EBM as brutally effective as the Belgian duo on its debut "The Juggernauts Are Coming." Thudding drum machines and rumbling low frequencies accompany front man Borg while he shouts all the anger, cynicism and social criticism out of his system. While The Juggernauts share the spirit of bands like the early Front 242 or Nitzer Ebb, they never fall into the retro-trap, providing the prime father of underground dance music with a refreshingly harsh and modern approach. With songs like the tried and tested club-hit "Phoenix", it is about time for a real renaissance of Electronic Body Music. The Juggernauts are coming!

Tracks:
1. The Juggernauts Are Coming
2. Damaged illusions (V.2K16)
3. Plastic World
4. Drinking Blood
5. Phoenix (Extended / V.2K16)
6. Abyss
7. Infected (V.2K16)
8. Religion (V.2K16)
9. Purge
10. Follow
---
2013 - The Juggernauts – Phoenix EP CD - Out Of Line - SOLD OUT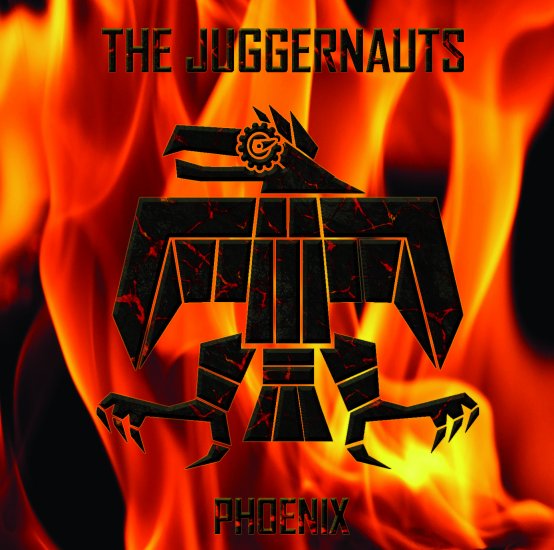 On their debut-EP, Belgian newcomers The Juggernauts have created a powerhouse of modern EBM! "Phoenix" features the title track, two exclusive EP tracks and remixes from Spetsnaz, The Plastic Noise Experience, Implant and True Zebra and is limited to 666 copies in a hand-numbered Digipak.
The Juggernauts is the new project of BORG (aka Peter Mastbooms, who is, among other things, a member of the live line up of The Klinik) and is mixed & co-produced by Glenn Keteleer. A name like The Juggernauts invokes images of power, of a massive force of bass and beats, of ground-shattering Electro-sounds. And it is needless to say that the debut EP "Phoenix" sees one of the most anticipated newcomers to the classic EBM-sound deliver the goods in spades!
The Belgian band fuses the minimal, rhythm and bass driven structures of Electronic Body Music with a more aggressive and modern approach, to overwhelming results. The EP's killer title track (which is taken from the upcoming debut album "The Juggernauts Are Coming") is a relentless floor filler with addictive qualities and the two EP-exclusive tracks "Damaged Illusions" and "Infected" are thudding beat-monsters that effectively evolve the classic sound into the 21st century. "Phoenix" is rounded off by some excellent remixes from friends and supporters Spetsnaz, The Plastic Noise Experience, Implant and True Zebra.

"Phoenix" is limited to 666 copies in a hand-numbered Digipak.

The Juggernauts – it's not just a name! This IS EBM!
---


Below you can watch the DIY video for the EP single 'Infected' which got + 10.000 views in less than in one year! Today the video has been viewed over 45.000 times (2016)
---
---
---
---
CALENDAR | UPCOMING EVENTS
OCTOBER 2022

Fri
14/10/22
THE JUGGERNAUTS @ DARKMAD
(more info, click here)
Sala Groove, Madrid, ES

front line assembly, whispering sons, ana curra, hante, klutae, the arch, then comes silence, blac kolor, karl hefner and hugh lagerfeld, the juggernauts.
carlos peron live commando, joolz playing "the stand", diary of dreams, suicide commando, pink turn blue, spetsnaz, james ray gangwar, trisomie 21, the eternal afflict, sheep on drugs...

Sat
29/10/22
BELGIAN BEATS OVER HANNOVER
(more info, click here)
Subkultur - Hannover - D

DECEMBER 2022

Sat
03/12/22
BIM XX - DAY 2
(more info, click here)
De Casino - St-Niklaas - B

saturday 03.12

tilly electronics (d) / amnistia (d) / alvar (se) / soft riot (uk) / potochkine (fr) / fix8:sed8 (d) / sierra (fr) / test dept (uk) / sonar (b) exclusive eu 2022 show!

+ afterpart with dj borg

show your support! click here! check in and share our facebook event on your facebook page!

APRIL 2023

Sun
30/04/23
DIVE + THE JUGGERNAUTS @ ELECTRONIC ESSEX V2 (NEW DATE)
(more info, click here)
Chinnerys Southend 21-22 marine parade, SS1 2EJ Southend-on-Sea

electronic essex v.2
2nd electronic essex festival comes to chinnerys in southend on the bank holiday weekend!!

featuring:-

empirion (uk)

dive (belgium)

this morn' omina (belgium)

inertia (uk)

the juggernauts (be)

elektrofish (sweden)

more bands to be announced..

tickets on sale now £15 + booking fee

MAY 2023

Thu
04/05/23
THE JUGGERNAUTS + MOTOR!K @ OUT OF LINE WEEKENDER 2023 (4 TO 6 MAY)
(more info, click here)
Astra - Berlin - D

bodybeats productions & out of line present:

the out of line weekender 2023 "dark'n'electro" edition - best of industrial, synth pop, ebm and dark music! the out of line weekender takes place from may 4th to 6th, 2023 right in the heart of berlin.

+ front 242
+ hocico
+ more
+ djs & afterparty

more info on www.weekender.berlin

Fri
05/05/23
THE JUGGERNAUTS + MOTOR!K & MANY MORE @ OUT OF LINE WEEKENDER FESTIVAL
(more info, click here)
Astra Kulturhaus - Berlin - D

2 days! 5 to 6 may!
performance date tba
more tba
more info - click link!
CALENDAR | PAST EVENTS
JUNE 2022

Sat
11/06/22
THE JUGGERNAUTS + WULF7

Barock, Bruges, B

APRIL 2022

Sat
02/04/22
THE JUGGERNAUTS @ PORTA NIGRA - EVER BLOOMING SPRIG PASSAGE

Stadsfeestzaal - Aarschot

MARCH 2022

Sat
12/03/22
ADULT. + PLACK BLAGUE + THE JUGGERNAUTS

Magasin 4 - Brussels - B

OCTOBER 2021

Sun
31/10/21
A SPLIT-SECOND @ SINNERSDAY - DAY 2

The Max, Marktplein, Heusden Zolder, B

Sat
30/10/21
ABSOLUTE BODY CONTROL + THE JUGGERNAUTS @ SINNERSDAY - DAY 1

The Max, Marktplein, Heusden Zolder, B

FEBRUARY 2020

Sat
15/02/20
E-ONLY FESTIVAL WITH A SPLIT-SECOND + THE JUGGERNAUTS + TRUE ZEBRA & MORE!

Altes Stadtbad, Leipzig, D

DECEMBER 2019

Sat
07/12/19
DIVE + THE JUGGERNAUTS @ ELECTRIXMAS

Inkonst, Malmö, Sweden

NOVEMBER 2019

Wed
20/11/19
NITZER EBB + THE JUGGERNAUTS + LIEBKNECHT

De Casino, St-Niklaas, B

OCTOBER 2019

Sat
19/10/19
THE JUGGERNAUTS @ MADAME - SAO PAULO - BRAZIL!

Sao Paulo, Brazil

SEPTEMBER 2019

Fri
27/09/19
THE JUGGERNAUTS + SUICIDE COMMANDO

Kulttempel, Oberhausen, D

AUGUST 2019

Fri
23/08/19
DIVE + DJ BORG @ INFEST

Bradford University, Bradford, UK

APRIL 2019

Thu
04/04/19
A SPLIT-SECOND + THE JUGGERNAUTS + MOTOR!K @ OUT OF LINE WEEKENDER 2019

Astra Kulturhaus, Berlin, D

MARCH 2019

Sat
30/03/19
THE JUGGERNAUTS @ DARKEST NIGHT

JK2470, Retie, B

Sat
23/03/19
DIVE + THE JUGGERNAUTS + TRUE ZEBRA @ ELECTROCUTION FESTIVAL

Jaz, Rostock, D

Sat
02/03/19
DIVE + THE JUGGERNAUTS @ WINTER STOMP V8

Panoptikum Club, Kassel, D

JUNE 2018

Sat
09/06/18
A SPLIT-SECOND + THE JUGGERNAUTS + TRUE ZEBRA

Foro RR Live, Mexico City, MEX

MAY 2018

Sat
26/05/18
CRASH COURSE IN SCIENCE + THE JUGGERNAUTS + TRUE ZEBRA

Nieuwe Nor, Heerlen, NL

FEBRUARY 2018

Fri
09/02/18
THE JUGGERNAUTS + TRUE ZEBRA @ DER CULT

Der Cult, Nürenberg, D

JANUARY 2018

Sat
20/01/18
THE RISE OF THE BELGIAN EMPIRE

Neumann's (Felsenkeller), Leipzig, D

NOVEMBER 2017

Sat
25/11/17
THE JUGGERNAUTS @ ELECTRONIC PORN

MUK, Giessen, D

Sat
18/11/17
THE JUGGERNAUTS @ CLUB BRAINCORP.

Lygten Station, Copenhagen, DK

SEPTEMBER 2017

Fri
08/09/17
THE JUGGERNAUTS + TRUE ZEBRA @ DER CULT

Nürenburg, D

AUGUST 2017

Sat
26/08/17
THE JUGGERNAUTS @ INFEST

Bradford University, Bradford, UK

JUNE 2017

Sat
10/06/17
DIVE + THE JUGGERNAUTS @ GOTHENBORG

Musikens Hus, Gothenborg, SE

Fri
09/06/17
DIVE + THE JUGGERNAUTS @ SYTH AFTER WORK

Tank, Stockholm, SE

MAY 2017

Thu
25/05/17
PROJECT PITCHFORK - BEST OF + THE JUGGERNAUTS

De Casino, Stationstraat, St-Niklaas, B

Sat
13/05/17
DIVE + THE JUGGERNAUTS

Das Bett, Frankfurt, D

Fri
12/05/17
DIVE + THE JUGGERNAUTS + TC75 @ STELLWERK - HAMBURG

Stellwerk, Hamburg, D
Fri
12/05/17
DIVE + THE JUGGERNAUTS + TC75 @ STELLWERK - HAMBURG

Stellwerk, Hamburg, D
Sat
06/05/17
DIVE + THE FORCE DIMENSION + THE JUGGERNAUTS & TRUE ZEBRA @ SAO PAULO

Madame Underground club, Sao Paulo, Brazil

APRIL 2017

Sun
30/04/17
DIVE + THE JUGGERNAUTS + TRUE ZEBRA @ BUDAPEST

Gozsdu Mano Klub, Budapest, HU

MARCH 2017

Fri
31/03/17
THE JUGGERNAUTS + DIVE AND MORE @ OUT OF LINE WEEKENDER

Kultuurhaus Astra, Berlin, D

JANUARY 2017

Sat
28/01/17
THE JUGGERNAUTS + JäGER 90 + POKEMON REAKTOR

SubKultur - Hannover - D
Sat
14/01/17
THE JUGGERNAUTS + PARADE GROUND + SIMI NAH

Botanique, Brussels, B

OCTOBER 2016

Fri
28/10/16
DIVE + THE JUGGERNAUTS + TRUE ZEBRA

Bahnhof Langendeer - Bochum - D

SEPTEMBER 2016

Sat
03/09/16
THE JUGGERNAUTS @ NCN FESTIVAL

Deutzen, D

MAY 2016

Mon
16/05/16
DJ BORG VS DK SKULLSCRAPER @ WGT

Leipzig, D

FEBRUARY 2016

Sat
20/02/16
THE JUGGERNAUTS @ ELECTROCUTION FESTIVAL VII

Jaz, Rostock, Germany

MAY 2015

Sun
24/05/15
THE JUGGERNAUTS & MORE @ WGT 2015

Wave-Gotik-Treffen, Leipzig - D

Sat
23/05/15
CRASH COURSE IN SCIENCE & MORE @ WGT

Wave-Gotik-Treffen, Leipzig, D

Sat
16/05/15
ABSOLUTE BODY CONTROL + CRASH COURSE IN SCIENCE + THE JUGGERNAUTS & PORTION CONTROL @ EUROROCK FESTIVAL

Neerpelt, B

NOVEMBER 2014

Sat
29/11/14
THE JUGGERNAUTS + MRDTC

Kulttempel - Oberhausen - D

Fri
07/11/14
DIVE + THE JUGGERNAUTS @ LA ZONE

La Zone, Quai de l'Ourthe, 42, 4020 Luik

Sat
01/11/14
THE JUGGERNAUTS + A SPLIT-SECOND @ BODYFEST - SE

Nalen - Stockholm - Sweden

OCTOBER 2014

Sat
25/10/14
DIVE + THE JUGGERNAUTS

Wiesenhaus - Eisleben - D

JULY 2014

Sat
26/07/14
THE JUGGERNAUTS + THE KLINIK + THE NEON JUDGEMENT @ AMPHI FESTIVAL

Tanzbrunnen, Köln, D

Fri
04/07/14
THE JUGGERNAUTS @ FAMILIENTREFFEN X

Sportplatz, Sandersleben, Germany

JUNE 2014

Sun
08/06/14
DJ BORG VS DJ SKULLSCRAPER @ WGT

Agra - Leipzig - D

MARCH 2014

Fri
28/03/14
DIVE + THE JUGGERNAUTS @ OUT OF LINE WEEKENDER

Astra Kulturhaus, Berlin, D

FEBRUARY 2014

Tue
04/02/14
THE JUGGERNAUTS + FRONT 242 @ MATRIX

Matrix - Bochum - D

DECEMBER 2013

Sun
01/12/13
01.12.13 THE KLINIK @ VöRöSYUK, KéKYUK, BUDAPEST, HUNGARY

Vörösyuk, Kékyuk, Budapest, Hungary

NOVEMBER 2013

Sat
30/11/13
30.11.13 THE KLINIK @ ROCK CAFE, PRAGUE, CZECH REPUBLIK

Rock Cafe, Prague, Czech Republik

Fri
29/11/13
THE JUGGERNAUTS + DIVE @ REITHHALLE - DRESDEN

Reithalle, Strasse E, Dresden, D

SEPTEMBER 2013

Sat
14/09/13
THE JUGGERNAUTS @ EBM SUMMER STOMP

K19 - Kassel - D

Fri
13/09/13
THE JUGGERNAUTS + STURM CAFé + BODY ELECTRIC @ FRIDAY 13TH

Kavka - Antwerp

AUGUST 2013

Fri
30/08/13
THE JUGGERNAUTS & SOL 19 @ BOAT ELIANE

Akenkaai, Brussels, B

Sun
25/08/13
DJ SKULLSCRAPER VS DJ BORG @ INFEST

University Campus, Bradford, UK

Sat
17/08/13
THE JUGGERNAUTS & ABSOLUTE BODY CONTROL @ KALABALIK På TYROLEN FESTIVAL

Kalabalik på Tyrolen - Alvesta - SE

Fri
16/08/13
THE JUGGERNAUTS & ABSOLUTE BODY CONTROL @ KALABALIK På TYROLEN FESTIVAL

Kalabalik på Tyrolen - Alvesta - SE

MAY 2013

Thu
23/05/13
WHAT YOU HEATS IS WHAT YOU GET! OFFICIAL FRONT 242/THE NEON JUDGEMENT/RADICAL G AFTER PARTY!

Spoorcafé - Turnhoutsebaan 7 - Diest

Sat
18/05/13
DJ SKULLSCRAPER VS DJ BORG @ DARKFLOWER / WGT

Dark Flower, Leipzig, Germany

MARCH 2013

Fri
01/03/13
THE JUGGERANUTS @ OUT OF LINE WEEKENDER FESTIVAL 2

K17 - Berlin - D

FEBRUARY 2013

Sat
16/02/13
THE JUGGERNAUTS & A SPLIT-SECOND @ ELECTROCUTION FESTIVAL 2013

Mau Club, Rostock, Germany

Fri
15/02/13
THE JUGGERNAUTS + A SPLIT-SECOND @ SYNTHETIC BEATS FESTIVAL - BOCHUM

Bahnhof Langendreer, Bochum, D

NOVEMBER 2012

Fri
09/11/12
THE KLINIK & THE JUGGERNAUTS @ WROCLAW INDUSTRIAL FESTIVAL

Wroclaw, Polen

JULY 2012

Fri
13/07/12
DIVE + THE JUGGERNAUTS @ NORDSTERN FESTIVAL

Markthalle, Hamburg, D

APRIL 2012

Sun
29/04/12
SONAR @ INDUSTRIAL BOOOM REBOOT FESTIVAL

Barba Negra Music Club, Budapest, Hungary

Sat
28/04/12
ABSOLUTE BODY CONTROL + THE JUGGERNAUTS & FRONT 242 @ INDUSTRIAL BOOOM REBOOT FESTIVAL

Barba Negra Music Club, Budapest, Hungary

Sat
07/04/12
ABSOLUTE BODY CONTROL + CRASH COURSE IN SCIENCE + THE JUGGERNAUTS + THE NEON JUDGEMENT + MARTIN DEGEVILLE'S SIGUE SIGUE SPUTNIK @ REWIND - EASTER - FESTIVAL

Vooruit, Ghent, Belgium

FEBRUARY 2012

Sat
11/02/12
NEON ELECTRONICS + DJ BORG VS DJ SKULLSCRAPER @ KISSINGER: AN 80'S ADVENTURE

KISSINGER - Kattendijkdok Oostkaai22, 2000 Antwerp, Belgium