Click here to read more (recent) news
---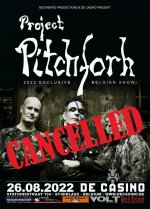 PROJECT PITCHFORK CANCELLED
28 June 2022 11:34
---
PROJECT PITCHFORK CANCELLED
It is with great regret that we have to announce Project Pitchfork decided to cancel the planned concert on August 26th 2022. We offered several new dates and opportunities and while were still looking forward to confirm a new date the band suddenly decided one-sided to pull the plug our foreseen event.
We are sorry for the inconvenience this might have caused, but know we are very disappointed be this chain of events too …
Previously purchased tickets will be reimbursed in the next days!
—————————————————————————————————————————————————————
Het is met grote spijt dat we moeten aankondigen dat Project Pitchfork heeft besloten het geplande concert op 26 augustus 2022 te annuleren. Ook al boden wij hen al verschillende nieuwe data en kansen aan en terwijl we nog steeds uitkeken naar een nieuwe datum, besloot de band plotseling eenzijdig de stekker uit te trekken.
Het spijt ons voor het ongemak dat dit mogelijk heeft veroorzaakt, maar weet dat wij zelf ook erg teleurgesteld zijn over deze reeks gebeurtenissen …
Eerder gekochte tickets worden de komende dagen terugbetaald!
[permalink]
---
Click here to read more (recent) news