Click here to read more (recent) news
---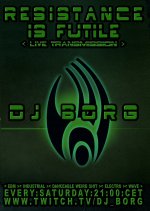 Resistance Is Futile - Every Saturday - with DJ BORG
27 February 2021 14:30
---
From now on, and as long this pandemic restricts our lives, resident DJ BORG will stream his weird danceable dj-sets EVERY SATURDAY on www.twitch.tv/DJ_BORG at 21:00 CET!
Stay connected and follow DJ BORG on Facebook and/or subscribe to his channel on www.twitch.tv/DJ_BORG and join in the dance or even cha(n)t with your party people friend from all over the world!
And the best thing is, it's FREE!
Remember ... Resistance Is Futile!
[permalink]
---
Click here to read more (recent) news