Click here to read more (recent) news
---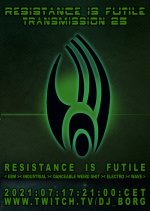 Resistance Is Futile - NOT Every Saturday - with DJ BORG
01 July 2021 14:14
---
Since we are finally seem to go back to 'normal' also DJ BORG has to take up his 'normal' activities and thus is not able to perform his weekly Saturday streams anymore … How ever, whenever he's 'free' and 'up to it' you will see his streams pop-up on his TWITCH .TV channel!
So, in order to stay informed, and connected, please follow DJ BORG on Facebook and/or subscribe to his channel on www.twitch.tv/DJ_BORG and join in the dance or even cha(n)t with your party people friend from all over the world!
And the best thing is, it's FREE!
Remember ... Resistance Is Futile!
[permalink]
---
Click here to read more (recent) news