Click here to read more (recent) news
---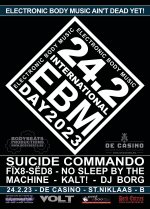 SUICIDE COMMANDO to replace F/M on International EBM day - 24.2.2023 - De Casino - B
25 January 2023 11:50
---
To our great regret we learned yesterday FIXMER/MCCARTHY unfortunately has to cancel their European tour due to the cancelation of a major festival in Germany. Fortunately, in case of such last minute cancellations, we can always rely on many of our musical friends! This time on JOHAN VAN ROY with SUICIDE COMMANDO came (again) to rescue! Suicide Commando can be considered one of the most successful Belgian EBM export products since decades! At BIMFEST 2019 they blew the roof of De Casino and we have no doubt that they will succeed in this again at our International EBM day!
We're sorry for any inconvenience this may have caused but it was beyond our will so we hope we can still count on your support and looking forward to see you all at our International EBM day celebration!
More info & tickets on the link below!
www.bodybeats.be/en/international-ebm-day-2023
[permalink]
---
Click here to read more (recent) news