Click here to read more (recent) news
---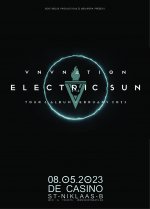 VNV NATION @ De Casino - POSTPONED to 8 May 2023 due to Illness !
13 March 2023 19:11
---
Today we have been informed by the management of VNV NATION that the band has to cancel the planned performance on Wednesday 15 March at De Casino, St Niklaas. This due to illness of their singer Ronan, who suffered an allergic reaction on Sunday night that severely affected his throat and vocal cords.
But we are happy that we can already announce the new planned date, Monday 8 May!
We apologize for any inconvenience this may cause but you will understand it's beyond our will.
So we hope to see you all on May 8!
This is the official announcement from the VNV Nation Management:
"We are really sorry to have to postpone the Amsterdam and Sint-Niklaas shows. Ronan had an allergic reaction on Sunday night which has badly affected his throat. He has to rest his voice for 3 days until it recovers.
We are happy to be able to announce the re-scheduled dates as follows:
Sint Niklaas: 08.05.2023
All tickets remain valid.
Thank you very much for your understanding, patience & support. "
www.bodybeats.be/en/tickets/08-05-23-vnv-nation-de-casino
[permalink]
---
Click here to read more (recent) news