Click here to read more (recent) news
---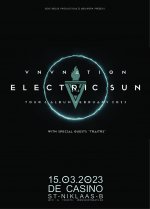 VNV NATION - Electric Sun - Tour 2023 on 15 March @ De Casino, St-Niklaas, B!
03 May 2022 12:59
---
We're very excited to announce BodBeats Production will host VNV Nation with their "The Electric Sun Tour" on 15 March 2023 @ De Casino - St-Niklaas - B.
They promise us once again an incredible live show of sound, light and passion.

If you've seen VNV Nation live on tour or at a festival, you will know how full of energy and emotion the shows are. The audience and the band aim for unity, two halves building one live experience together, with everyone singing or dancing.

VNV Nation will be joined on the tour by Traitrs, from Toronto, who've been gaining a strong following through their intense, ethereal and beat driven live shows across Europe and North America.
VNV Nation's next studio album "Electric Sun" will be a symphony of melodies and
beats, orchestrating its sound to a level that listeners to VNV Nation haven't yet experienced !
Tickets: Presale € 29 / Box-office € 35
Pres-sale starts Wednesday 3 May 10 AM

Timeschedule
19:00 Doors
19:45 Traitrs
20:30 VNV NATION
22:30 DJ BORG
02:00 Curfew
Let your friends know you are going and check-in on our FACEBOOK event!
[permalink]
---
Click here to read more (recent) news