Click here to read more (recent) news
---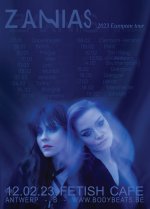 ZANIAS @ Bodies & BEAS VIII - 12.02.2023 @ Fetish Café - Antwerp - B
13 December 2022 15:59
---
We at BodyBeats are proud to announce ZANIAS is passing by Antwerp once again for another VERY EXCLUSIVE & VERY LIMITED CLUB concert!
Since 2014, Zanias has existed as the unrepentant creative venture of Alison Lewis, born in Australian, raised in Southeast Asia, and also known for her vocal work with Linea Aspera, Keluar and a record shelf's worth of collaborations with the likes of Black Rain, Ancient Methods, Dax J and I Hate Models. As the sole custodian of Fleisch Records she spent many years attuning herself to Berlin dancefloors through the timely collision of techno and electronic body music, but her true passion is for understanding the modality of emotions through songwriting. Sound is her psycho-spiritual catharsis, expressed through an intense and ethereal vocal performance, evocative melodies and heavy rhythmic components. With dark synth sounds at the fore, a pop sensibility commands the structure or her work, while authenticity and vulnerability subsume the core.

Now, for those who are not yet familiar with our Bodies and Beats concept, don't be scared of the unknown ... Remember there are worse places on earth to be these days!

Also good to know ... no dresscode whatsoever is required but some kinkiness is always appreciated! However our gatekeepers & doorb*tches may reward the most daring, special & kinky ones with some free cocktails!
Warning! This is an 18+ club!
BDSM performances might take place during the event (not a promise though) in the main play room while the bar area will remain a pretty chaste purgatory!
Time-schedule (Subject to change):
21:00 Doors
22:00 ZANIAS
+ Aftershow party beats & waves by DJ BORG
Tickets are VERY limited - ONLY 70 tickets will be available!!!
www.bodybeats.be/en/tickets/10-02-zanias-bodies-beats
[permalink]
---
Click here to read more (recent) news