PROJECT PITCHFORK POSTONED TO 26.08.2022

It is with regret, but not entirely unexpected, that we have to announce our planned Project Pitchfork's concert on August 27th can once again not take place due to the current Corona restrictions and situation. The new date set for this event is Friday 26 August 2022.
Previously purchased tickets remain valid!
------------------------------------------------------------------------------------------------------------------
Het is met spijt, maar niet geheel onverwacht, dat wij moeten aankondigen dat het geplande optreden van Project Pitchfork op 27 augustus aanstaande opnieuw niet kan plaatsvinden door de huidige Corona beperkingen en situatie.
De nieuwe datum is nu vrijdag 26 augustus 2022.
Reeds aangekochte tickets blijven geldig!
| | | | | |
| --- | --- | --- | --- | --- |
| | | | | |
PROJECT PITCHFORK (D)
Project Pitchfork is a German Electro Industrial band. It was founded 1990 in Hamburg and belongs to the most successful and most influential harbingers of Dark Electro – a genre which they characterized decisively and which they lead to unexpected success. To this day, the driving forces behind the band are Peter Spilles and Dirk Scheuber.
Project Pitchfork really broke through with dancefloor fillers/killers like K.N.K.A. (1991) and Conjure (1992). Since, succesfull albums and singles like Steelrose (1998) and Timekiller (2001) kept coming while their following has been growing strongly all over the world.
Although the band plays long and extensive worldwide tours, Project Pitchfork club shows in Belgium are rather rare. The last time they played a club show in Belgium was in 2017!
Biography
The beginning:
The Hamburg scene got hit by the first Project Pitchfork tapes in the early nineties. Already these first recordings cause euphoric reactions. Encouraged by this positive response, they take to the stage for the first time on February 15th 1990 in the scene club "Kir" in Hamburg and thoroughly convince the audience in the sold-out location. In May 1991, the revolutionary debut "Dhyani" is released. It is one of the first border walks between electronic music and Gothic and becomes an often quoted milestone in the history of Dark Electro.
From the very beginning, Project Pitchfork have been masters of improvising, always getting as much out of the given situation as was possible. This method of working is also employed on the coming records. Both "L'am Bras" and "Entities" are released in 1992 and strengthen the bands' visionary role in the scene. Project Pitchfork differ remarkably from other bands in the Gothic scene – not only with their music, but also with the professional attitude surrounding the band. From a very early stage, Peter Spilles decides to make the band his job to solely concentrate on his music. This accounts for the rapid succession of albums as well as for the countless concerts that lead the group to the whole of Germany and even – as the first scene band ever – to former Eastern Germany in the early nineties.
The development
"IO" is released in 1994. It is the first digitally produced Pitchfork work and takes the band's sound onto a new level. For the first time they enter the German album charts (number 56), for the first time they embark on a lengthy German tour. After the EP "Corps d'Amour", "Alpha Omega" follows in autumn 1995 – both being released on the band's own label Candyland Entertainment. Following Peter's wishes, the tour in support of this album is accompanied by Rammstein who begin their victorious march right after that.
On "¡Chakra:Red!" (1997), the extensive use of sampled guitars stands for Pitchfork's urge for progress. Moreover, this record marks the inclusion of Jürgen Jansen as a permanent member and is followed by another rapid succession of highlights: Right after their first US tour, they return with the concept album "Eon Eon" on October 5th, 1998. The video for "Steelrose" brings Project Pitchfork into music television and earns the band an Echo nomination, they play mega festivals like Rock am Ring, Eurorock or Arvika.
In 2001, "Daimonion" can even top this string of successes: The album rockets to number 8 in the German charts, a huge European tour supports the release. And, as Project Pitchfork effectively prove with the following "NUN" trilogy, it is yet possible to be more ambitious, more daring: September 30th, 2002, sees the coming of "Inferno", the first part of a triptych completed by the EP's "View From A Throne" and "Trialog".
The way to the present
"Kaskade" is set free on May 30th, 2005. Its 15 tracks are especially versatile – a reason why Spilles only places two very long songs on the digital release "Wonderland/One Million Faces". Again, this digital (and since 2007 also physical) release stands for the band's unbroken love of experimentation.
"Dream, Tiresias!" is seeing the light of day on March 27th, 2009 and turns out to be an amalgamation of Dark Electro, state of the art production and the well-known profound musical depth. A concept that works: Project Pitchfork play as many gigs as seldom before, take to the States a second time and present themselves on numerous Gothic festivals as the Dark Electro beacon they have always been. Like being the spark for a new era, this album propels Project Pitchfork onward at the speed of light: In the summer of 2010, the mighty, highly appraised Dark Electro manifest "Continuum Ride" is released, followed by "Quantum Mechanics" in 2011 that secures an impressive 12th rank in the German album charts.
A development as impressive as this clearly proves: Even after 20 years, the Pitchfork engines are still roaring at the highest level. Even after all their success and all their efforts, the tendency is still pointing upward, the creativity unbroken even after 14 studio albums, way more than 100 songs and countless gigs. If the bygone years were good to show anything, then it is this: Also for the next 20 years, Peter Spilles and his comrades will act under the philosophy "expect the unexpected". This has been the case in 1990 and this will be the case for all the years to come. (Written by Björn Springorum)
Facebook / website / Discogs / Music video (2014) / Video (live 2012)
OLD SCHOOL TICKET ORDERING

= Manual bank transfers & follow-up (can take some days).
(Notice: Avoid using a hotmail e-mail address or be sure check your spam folder first before panicking).
Scroll more down if you like to pay by credit card, PayPal or direct bank transfer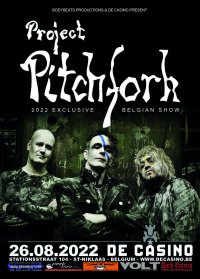 Order your tickets for :


Project Pitchfork
26/08/2022 De Casino - St-Niklaas - B

Project Pitchfork on Facebook
Project Pitchfork on www

Don't forget to check-in on our Facebook event here!
---
THE FAST & THE FURY WAY
This is easiest and fastest way to buy your tickets is clicking the countdown clock.
You can pay instantly by credit card, PayPal, direct bank transfer.
You will get your e-ticket by e-mail immediately after payment!
CLICK HERE TO ORDER YOUR TICKETS!