Click here to read more (recent) news
---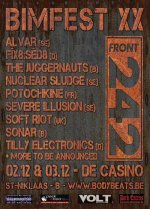 FRONT 242 headlines BIMFEST 20th edition @ De Casino - St-Niklaas on Friday 2 December!
01 September 2022 14:01
---
This year BODYBEATS celebrates the 20th edition of it's worldwide known and renowned sympathetic alternative underground music festival; BIMFEST, or Belgian Independent Music Festival in full. Also this year we think we can say we succeeded once more in putting together an attractive and varied line-up.
And like the BIMFEST tradition wants it, also this time with a variety of national and international established names such as Alvar (SE), Fïx8:Sëd8 (D), The Juggernauts (B), Soft Riot (UK) and Severe Illusion (SE), complemented by newer, perhaps lesser known, but definitely not to be missed, shooting stars such as Nuclear Sludge (SE), Potochkine (FR) and Tilly Electronics (D). Besides the smashing electro, those last two have another thing in common, a strong mesmerizing front woman!
One of those other infamous BIMFEST traditions is reactivating long-term inactive bands and artists for an exclusive live show at BIMFEST… And look, this year we managed to wake the legendary and Belgian electro-industrial duo SONAR (B) out of hibernation, a hibernation that lasted no less than 8 years!
The absolute icing on this 20th BIMFEST cake edition is of course the appearance of FRONT 242, THE Belgian pride and founders of the EBM (Electronic Body Music) genre! This legendary combo was also present at 10 year BIMFEST celebration so they had to come back! Recently these gentlemen had their own 40th anniversary celebration at the, 2 day's in a row sold-out, Ancienne Belgique.
But this is not all! Because, in the next days a couple more bands will be added to this already legendary BIMFEST XX line-up! So Don't miss out and order those tickets now!

Ticket & info on the link below!
www.bodybeats.be/en/bimfest-xx
THE JUGGERNAUTS (B)
[permalink]
---
Click here to read more (recent) news