Click here to read more (recent) news
---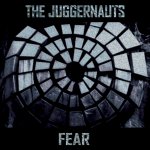 The Juggernauts release new EP FEAR!
01 December 2022 17:08
---
Finally! The wait is over! Belgian contemporary, uncompromising and hard hitting electro band The Juggernauts strike hard again! Six years after their renowned debut album "The Juggernauts Are Coming" the helmeted rejuvenators of the classic Electronic Body Music sound unleash their brand new six track EP FEAR! Six great unreleased tracks driven by pounding drum machines, rumbling low frequencies, rousing sequencers, Industrial noises and bittersweet synth melodies accompany head and voice BORG while he shouts all the anger, cynicism and social criticism out of his system. Six tracks of which four brand new songs and two breathtaking remixes of the title track. Make no mistake, the Fear C-19 EBM remix by BORG and pumping Fear Club remix by True Zebra can truly be considered as genuine standalone songs!
Most songs on these EP were tried, tested, fine-tuned and approved by their fans thoroughly during the band's recent live concerts and now these songs are finally available to enjoy at will!
Just like their previous releases these tracks blast from the speakers like an unstoppable destructive force, hence the band's name... While The Juggernauts still share the spirit of bands like Front 242, Nitzer Ebb or even Portion Control, they still manage quite well to steer away from the retro-trap and copycat syndrome, providing the epitome of underground dance music with a refreshingly harsh and modern approach.
It's clear The Juggernauts are determined to continuing the renaissance of Electronic Body Music!
Get the new EP on their bandcamp page:
https://thejuggernauts.bandcamp.com
THE JUGGERNAUTS (B)
[permalink]
---
Click here to read more (recent) news