Click here to read more (recent) news
---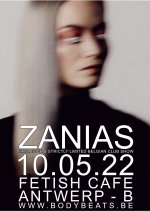 10.05 ZANIAS @ Bodies & Beats III - Fetish Café - Antwerp - B
01 April 2022 11:43
---
We at BodyBeats are proud to announce we have managed to get hold of yet another great artist for a VERY EXCLUSIVE & VERY LIMITED CLUB concert: ZANIAS! This Australian female artist who is also known as the head and voice of the bands Linea Aspera and Keluar will pass through Antwerp to present us her latest album, Unearthed, but also the soon to be re-released debut, Into The All.
After living in Germany for years Zanias will soon be relocating to Australia so this might be the last time to witness her perform live for a very long time. Or as she announced herself on her Facebook page: "I won't be living in Germany for much longer so catch me while you can!"
Since this concert will take place on a regular weekday, TUESDAY 10 May, we will have no support band so we can start the concert at 21h00. This means our productive citizens can return home in good time for a decent night's rest.
This event will take place in a very special setting … the dark but cosy dungeons of the Antwerp Fetish Café!
For those party animals amongst us we will have our resident DJ BORG spin some danceable, weird shit for you at the Bodies & Beats afterparty ... until the early hours?!
For those who are not yet familiar with our Bodies and Beats concept, don't be scared of the unknown ... there are worse places on earth to be these days!

Also good to know ... no dresscode whatsoever is required but some kinkiness is always appreciated!
Take note! Our dungeons of pleasure have a VERY LIMITED CAPACITY so tickets are STRICTLY LIMITED to ONLY 70!
So be fast or be sorry! > TICKETS <

Let your friends know you are going and check in on our FACEBOOK EVENT!
[permalink]
---
Click here to read more (recent) news