Click here to read more (recent) news
---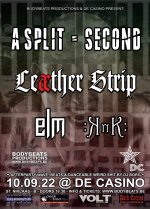 Important notice! The Show must go on!
08 September 2022 12:27
---
As you all have noticed, something rotten is going on in live concert land. Here at BodyBeats Production we can also feel it hitting very hard … but the sad fact is, and with all respect of the decision made by those involved, all these recent cancellations are NOT really helping our scene either … anyway WE made a commitment to the band and their fans… and that's why we decided THE SHOW MUST GO ON this Saturday 10.09! So we hope to see you all this Saturday 10.09 @ De Casino! Thanks for your support!
Tickets are still available on the link below!
www.bodybeats.be/en/tickets/10-09-just-another-ebm-day
A SPLIT-SECOND (B)
[permalink]
---
Click here to read more (recent) news