RELATED EVENTS
RELATED NEWS-ITEMS
---
DIRK IVENS started in 1978 as guitarplayer and vocalist in the punkband « Slaughterhouse » but broke up the group one year later to form the more new wave minded project « The Few ». Influenced by bands like Suicide and Deutsch Amerikanische Freundschaft (D.A.F.) and the U.K electronic scene he appears from 1980 on under the name « Absolute Body Control » on several compilations and the first single « Is There An Exit ? » became a local underground hit. The line up changed very soon but with Eric Van Wonterghem he finds himself a partner for the next coming years regarding mixing, producing and collaborations.
« The Absolute Controlled Clinical Maniacs », a project of three Belgian bands were invited to do a Norwegian tour in 1985 and when they returned they changed their name into « The Klinik » , Dirk was a member of The Klinik until 1991. When this band decided to split up, they already built themselves a very good live reputation with their unique sound and visual gigs and became besides Front 242 and The Neon Judgement one of the biggest names in the Belgian electronic / industrial scene, even today they are still an influence for many young bands. In 1990, Dirk released his first solo album under the name DIVE.
---
The music - very primitive, harsh and experimental - hits like 10000 volts, and was the start of many products till now with an evolving sound. With a minimum on equipment, Dirk Ivens creates a maximum of power. His sound is copied by a lot of newcomer bands in the last couple of years and he proved on many stages that less means more.

Gigs worldwide, Touring in - Japan - Canada – Brasil - USA - Europe - Scandinavia, important festivals like EuroRock – Zillo - Wave Gothic Treffen - Dour Festival, collaborations with Controlled Bleeding, Kirlian Camera, Sigillum S, Ivan Iusco and Francoise Duvivier, his Daft Records label, a sideproject as "Blok 57 " with Guy van Mieghem and "Sonar" together with Eric van Wonterghem, instrumental deep drones with structured danceable hypnotic beats, and touring with bands like Esplendor Geometrico, Sigillum S, Kirlian Camera, Neither Neither World, Monolith, Suicide Commando, Insekt, Numb, VNV nation, Noisex, Black lung, Converter and StereoTaxic Device combined with an impressive discography makes that Dirk Ivens is still one of the leaders of the electronic scene of today.
"Underneath" CD/LP - New studio album - Release Date March 2017 - (Out Of Line)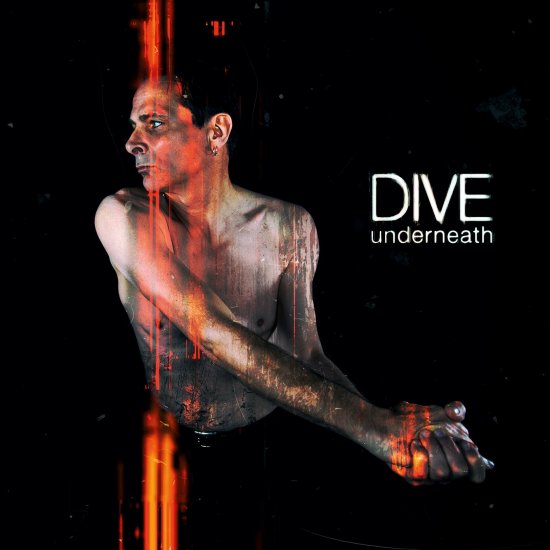 Belgian electronic pioneer Dirk Ivens, also known for his work with Sonar, Absolute Body Control , Blok 57, S/HE and ex-singer of The Klinik, unleashes the eagerly awaited new album of his cult project DIVE. "Underneath" is another piece of dark minimalist Electro-art with an evolving sound.
After a hiatus of more than a decade (the last output was the complete backcatalogue released as a 8 cd boxset) Dirk Ivens' project DIVE finally returns with a new sign of life. For the new album "Underneath", he has again teamed up with Ivan Iusco (who he worked with on "Concrete Jungle") and Rafael M. Espinosa (his collaborator on "Behind The Sun".) The result is a maelstrom of minimalist Electronica that ranges from fascinating to unsettling and that no other act can quite accomplish in the same way: Stripped-bare rhythms, dark, machine-like sequencers, psychotic synth-sounds that are expertly intertwined with cleverly placed noise-attacks and the distinctive, feverishly manic and ghostly raw voice of Dirk Ivens towering above it all. Some tracks, like the groovy "Far Away" or the hammering "Something" have turned out surprisingly catchy, but as a whole "Underneath" is a menacing behemoth that relentlessly pulls the listener into its dark machine world. The album feels like a David-Lynchian fever dream, oscillating wildly between cutting Industrial-loops, dark Minimal-art and groovy Electronic-Body-beats that converge into a physical tour de force. In their effectively relentless reduction of their sound to the bare necessities, DIVE yet again manage to create a one-of-a-kind experience. "Underneath" is released on the German based label Out Of Line on CD and as a limited LP edition in classy dark green vinyl, containing the CD in a slip case as bonus.
Track Listing CD / LP :
1. Underneath
2. Far Away
3. Sacred Skin
4. Let Me In
5. From Behind

6. Something
7. Howling Ground
8. A Man Came
9. Melt
10. I Want You
With a minimum on equipment, armed with a minidisc, megaphone and two stroboscopes, Dirk Ivens creates a maximum of power and he proved worldwide on many stages that less means more.
DIVE "UNDERNEATH" Tour 2017 Part One
21.04 @ De Nieuwe Nor / Heerlen - Netherlands (+ Whispering Sons)
22.04 @ JH 2470 / Retie – Belgium (+ Stin Scatzor + Akalotz + KnK)
29.04 @ Rockcafe / Prague - Czech Republic (+ The Invincible Spirit + Psyche + The Saint Paul)
30.04 @ Gozsdu Mano Klub / Budapest – Hungary (+ The Juggernauts + True Zebra)
06.05 @ Madame / Sao Paulo – Brasil (+ The Force Dimension + The Juggernauts)
12.05 @ Stellwerk / Hamburg – Germany ( + The Juggernauts + TC75 )
13.05 @ Das Bett / Frankfurt – Germany (+ 2nd Face + Full Contact69)
26.05 @ Lygten Station / Copenhagen – Denmark
27.05 @ Slimelight / London – U.K (+ Gertrud Stein)
09.06 @ Synth After Work / Stockholm – Sweden (+ The Juggernauts)
10.06 @ Musikens Hus / Gothenborg – Sweden (+ The Juggernauts)
---
---
DIVE LP BODY RECORDS 1990 BELGIUM
FINAL REPORT MCD / MLP MINUS HABENS 1991 ITALY
FIRST ALBUM CD MINUS HABENS 1992 ITALY
BROKEN MEAT CDS MINUS HABENS 1992 ITALY
LIVE ACTION MCD DAFT RECORDS 1992 BELGIUM
IMAGES MCD + BOOK MINUS HABENS 1993 ITALY
INSIDE OUT LP HARD RECORDS 1993 DENMARK
CONCRETE JUNGLE CD MINUS HABENS 1993 ITALY
NO PAIN NO GAME CD DISCORDIA 1994 GERMANY
EXTENDED PLAY MCD DISCORDIA 1994 GERMANY
BOX DCD DISCORDIA 1995 GERMANY
GRINDING WALLS CD DAFT RECORDS 1995 BELGIUM
OBSESSION SPLITMCD DISCORDIA 1995 GERMANY
SCRAPING TOKYO '95 LIVE CD GIFT 1995 JAPAN
NIGHT SHADOWS SPLITCD FAST FORWARD 1996 PORTUGAL

REPORTED PICTUREDISC ANT ZEN 1996 GERMANY
REPORTED MCD DAFT RECORDS / FIFTH COLUMN 1996 BELGIUM / USA
SNAKEDRESSED CD DAFT RECORDS / COP INT 1997 BELGIUM / USA
NO PAIN NO GAME/REPORTED DCD TRITON 1997 GERMANY
TWO FACED MAN CDS DAFT RECORDS 1999 BELGIUM
TWO FACED MAN SINGLE TRITON 1999 GERMANY
TRUE LIES CD DAFT RECORDS / COP INT 1999 BELGIUM / USA
SOES MIX 12 INCH MINUS HABENS 1999 ITALY
LIES IN YOUR EYES MCD DAFT RECORDS 2002 BELGIUM
LIES IN YOUR EYES 12 INCH PFLICHTKAUF 2002 GERMANY
BEHIND THE SUN CD DAFT RECORDS 2004 BELGIUM
« Behind the Sun» is the latest headcrushing studio album from DIVE aka Dirk Ivens. With this product in collaboration with Rafael M. Espinosa of GEISTFORM this electro/industrial legend returns back to his roots of experimental electro.
TROUGH THE DARK 2005 RUSSIA CODE RECORDS
For more information, please visit the links below.
---
---
CALENDAR | PAST EVENTS
APRIL 2023

Sun
30/04/23
DIVE + THE JUGGERNAUTS @ ELECTRONIC ESSEX V2 (NEW DATE)

Chinnerys Southend 21-22 marine parade, SS1 2EJ Southend-on-Sea

MARCH 2023

Sat
11/03/23
THE JUGGERNAUTS + DIVE & MORE @ EBM BLAST!

Der Cult - Nürnberg - D

FEBRUARY 2022

Sat
26/02/22
NOT JUST ANOTHER EBM DAY! 100% BELGIAN EDITION!

De Casino, St-Niklaas, B

JANUARY 2022

Sat
15/01/22
DIVE @ SCHACHTFREQUENZ FEST

Club Seilerstraße - Zwickau - Germany

NOVEMBER 2021

Sat
13/11/21
DIVE @ PORTA NIGRA - AUTUMN PASSAGE

De Klinker - Aarschot - Belgium

Fri
05/11/21
DIVE @ WROCLAW INDUSTRIAL FEST

Gothic Hall / Old Monastery - Wroclaw - Poland

FEBRUARY 2020

Sun
23/02/20
DIVE + PORNO KARAOKE @ MADAME - SAO PAULO - BRAZIL

Madame, Sao Paulo, Brazil

DECEMBER 2019

Sat
07/12/19
DIVE + THE JUGGERNAUTS @ ELECTRIXMAS

Inkonst, Malmö, Sweden

NOVEMBER 2019

Sat
30/11/19
DIVE @ DOWNHILL FEST

De Nieuwe Nor - Heerlen - NL

Sat
23/11/19
DIVE @ KUKUUN

Hamburg - DE
Fri
22/11/19
DIVE

Alte Bahnhof - Bochum - DE

AUGUST 2019

Fri
23/08/19
DIVE + DJ BORG @ INFEST

Bradford University, Bradford, UK

JULY 2019

Sat
20/07/19
DIVE @ AMPHI FESTIVAL

Tanzbrunnen, Köln, D

MARCH 2019

Sat
23/03/19
DIVE + THE JUGGERNAUTS + TRUE ZEBRA @ ELECTROCUTION FESTIVAL

Jaz, Rostock, D

Sat
02/03/19
DIVE + THE JUGGERNAUTS @ WINTER STOMP V8

Panoptikum Club, Kassel, D

OCTOBER 2018

Sat
20/10/18
DIVE @ WAVEFEST IV

Baroeg, Rotterdam, NL

Fri
19/10/18
DIVE @ MASCHINENFEST

Turbinenhalle, Oberhausen, D

AUGUST 2018

Thu
16/08/18
DIVE, DIE KRUPPS, PROJECT PITCHFORK, KIM WILDE & MORE @ W-FESTIVAL

Airport, Amougies, B

MAY 2018

Fri
04/05/18
DIVE @ OUT OF LINE WEEKENDER

Astra Kulturhaus, Berlin, D

MARCH 2018

Sat
10/03/18
DIVE @ DARK EBM SOULS 4.0

British Rock Stars, Bratislava, Slovakia

JANUARY 2018

Sat
27/01/18
DIVE @ CANNES INDUSTRIAL FESTIVAL 22

MJC Picaud, Cannes, FR
Sat
20/01/18
DIVE @ KATZENCLUB

Kranhalle / Feierwerk, Munich, D
Sat
06/01/18
DIVE @ DYNAMO

Dynamo, Zurich, Swiss

DECEMBER 2017

Sat
30/12/17
DIVE @ DAS BUNKER

Reithalle, Dresden, D

OCTOBER 2017

Fri
27/10/17
DIVE @ MASCHINENFEST

Turbinnenhalle, Oberhausen, D

Sat
21/10/17
DAFT / MINIMAL MAXIMAL FEST

Het Oude badhuis, Stuivenbergplein 38, Antwerpen

Fri
20/10/17
DAFT / MINIMAL MAXIMAL FEST

Het Oude badhuis, Stuivenbergplein 38, Antwerpen

SEPTEMBER 2017

Fri
22/09/17
DIVE + ESPLENDOR GEOMETRICO

La [2] De Apolo Carrer Nou de la Rambla, 111, 08004 Barcelona (Spanje)

JUNE 2017

Sat
10/06/17
DIVE + THE JUGGERNAUTS @ GOTHENBORG

Musikens Hus, Gothenborg, SE

Fri
09/06/17
DIVE + THE JUGGERNAUTS @ SYTH AFTER WORK

Tank, Stockholm, SE

MAY 2017

Sat
13/05/17
DIVE + THE JUGGERNAUTS

Das Bett, Frankfurt, D

Fri
12/05/17
DIVE + THE JUGGERNAUTS + TC75 @ STELLWERK - HAMBURG

Stellwerk, Hamburg, D
Fri
12/05/17
DIVE + THE JUGGERNAUTS + TC75 @ STELLWERK - HAMBURG

Stellwerk, Hamburg, D
Sat
06/05/17
DIVE + THE FORCE DIMENSION + THE JUGGERNAUTS & TRUE ZEBRA @ SAO PAULO

Madame Underground club, Sao Paulo, Brazil

APRIL 2017

Sun
30/04/17
DIVE + THE JUGGERNAUTS + TRUE ZEBRA @ BUDAPEST

Gozsdu Mano Klub, Budapest, HU

Sat
29/04/17
DIVE + PSYCHE + THE INVINCIBLE SPIRIT + THE SAINT PAUL

Rock Café, Prague, CZ

MARCH 2017

Fri
31/03/17
THE JUGGERNAUTS + DIVE AND MORE @ OUT OF LINE WEEKENDER

Kultuurhaus Astra, Berlin, D

JANUARY 2017

Sat
21/01/17
DIRK IVENS (BEST OF) @ FLAT AND BOOTS

Felgenkeller, Leipzig, D

DECEMBER 2016

Sat
17/12/16
BIMFEST - DAY 2 - A;GRUMH... A SPLIT-SECOND AROMA DI AMORE SIGNAL AOUT '42 EX-RZ VITA NOCTIS STRUGGLER EUFORIC EXISTENCE

De Casino, Stationstraat, St-Niklaas, B

Fri
16/12/16
BIMFEST - DAY 1 - SUICIDE COMMANDO, UNDERVIEWER, DIVE, SUPER DRAGON PUNCH

De Casino, Stationstraat, St-Niklaas, B

Fri
09/12/16
DIVE

Soho Stage Ludwigstr 34, 86152 Augsburg

Sat
03/12/16
DIVE

Reithalle Strasse E, Dresden, Germany

OCTOBER 2016

Fri
28/10/16
DIVE + THE JUGGERNAUTS + TRUE ZEBRA

Bahnhof Langendeer - Bochum - D

JULY 2016

Sat
23/07/16
DIVE @ AMPHI FESTIVAL

Tanzbrunnen, Köln, D

MAY 2016

Mon
16/05/16
DJ BORG VS DK SKULLSCRAPER @ WGT

Leipzig, D

Sun
15/05/16
DIRK IVENS @ WGT

Leipzig, D

APRIL 2016

Sat
16/04/16
DIVE @ KASEMATTEN FESTIVAL

Sandsteinhöhle Halberstadt, Längenstein, D

Sat
09/04/16
DIVE @ FRONT FABRIK FESTIVAL

Klub Studencki Żaczek, Krakau, PL

DECEMBER 2015

Sat
12/12/15
DIVE @ ELECTRIXMASS FESTIVAL

Inkonst, Malmö, Sweden

OCTOBER 2015

Fri
09/10/15
DIVE @ MASCHINENFEST

Turbinenhalle Oberhausen Im Lipperfeld 23, 46047 Oberhausen

Fri
02/10/15
DIVE + ESPLENDOR GEOMETRICO @ SALA ARENA

Madrid, ES

SEPTEMBER 2015

Sat
26/09/15
DIVE @ ELECTRONIC FESTIVAL

Kon71, Geisseestrasse 71, Nurenberg

Fri
11/09/15
DAFT RECORDS NIGHT WITH DIVE, VOLKOVA + KARL HEFNER & HUGH LAGERFELD

JC Kavka - Oudaan 14 - Antwerp - B

JULY 2015

Fri
24/07/15
DIVE & MANY MORE @ TERMINUS FESTIVAL

Calgery, CAN

MARCH 2015

Sat
21/03/15
DIVE @ SAS - SWISS

Rue du 23-Juin 23, 2800 Delémont, CH

NOVEMBER 2014

Fri
07/11/14
DIVE + THE JUGGERNAUTS @ LA ZONE

La Zone, Quai de l'Ourthe, 42, 4020 Luik

OCTOBER 2014

Sat
25/10/14
DIVE + THE JUGGERNAUTS

Wiesenhaus - Eisleben - D

JUNE 2014

Sun
08/06/14
DJ BORG VS DJ SKULLSCRAPER @ WGT

Agra - Leipzig - D

MAY 2014

Sat
17/05/14
DIVE + NäO @ BUNKERLEUTE

De Blauwe Kater, Leuven, B

MARCH 2014

Fri
28/03/14
DIVE + THE JUGGERNAUTS @ OUT OF LINE WEEKENDER

Astra Kulturhaus, Berlin, D

FEBRUARY 2014

Sat
22/02/14
DIVE @ E-TROPOLIS FESTIVAL

Turbinnenhallen - Oberhausen - D

Sat
15/02/14
DIVE @ ELECTROCUTION FESTIVAL VI

MAU Club - Rostock - D

NOVEMBER 2013

Fri
29/11/13
THE JUGGERNAUTS + DIVE @ REITHHALLE - DRESDEN

Reithalle, Strasse E, Dresden, D

AUGUST 2013

Sun
25/08/13
DJ SKULLSCRAPER VS DJ BORG @ INFEST

University Campus, Bradford, UK

Fri
23/08/13
DIVE @ INFEST 2013

University Campus, Bradford, UK

Sat
03/08/13
DIVE @ SCHLAGSTROM! FESTIVAL

Betriebsbahnhof Schöneweide, Berlin, Germany

JUNE 2013

Sat
22/06/13
DIVE @ FESTIVAL DE LA MUSIQUE ELECTRO INDUSTRIELLE - PARIS

La Fleche D'Or - Paris - FR

Fri
14/06/13
DIVE @ BITSTREAM FESTIVAL / KULTTEMPEL

Oberhausen, Germany

MAY 2013

Sat
18/05/13
DJ SKULLSCRAPER VS DJ BORG @ DARKFLOWER / WGT

Dark Flower, Leipzig, Germany

Sat
11/05/13
DIVE @ DAS BUNKER / COMPLEX LA,

Los Angeles, USA

APRIL 2013

Fri
26/04/13
DIVE @ LIVE WIRE LOUNGE

Chicago, USA

FEBRUARY 2013

Fri
01/02/13
DIVE @ DECADENCE, BOLOGNA, ITALY

Decadence, Bologna, Italy

NOVEMBER 2012

Fri
30/11/12
DIVE @ ELECTRIC PORN PARTY

Muk , Giessen, D

Sat
24/11/12
DIVE @ PORTA NIGRA FESTIVAL

De Klinker, Aarschot, BE

Sat
17/11/12
DIVE AND LEAETHERSTRIP GO ROCKET ROCKET USA!

Drom, New York, USA

SEPTEMBER 2012

Sat
08/09/12
DIVE @ NCN FESTIVAL

Deutzen, D

JULY 2012

Fri
13/07/12
DIVE + THE JUGGERNAUTS @ NORDSTERN FESTIVAL

Markthalle, Hamburg, D

APRIL 2012

Sat
14/04/12
DIVE @ DARK MUNICH FESTIVAL

Optimolwerke, Friedenstr. 10, 81671 München, Germany

MARCH 2012

Sat
03/03/12
DIVE HEADLINES DAY 2 OF THE OUT OF LINE WEEKENDER FESTIVAL!

K17 - Berlin - Germany

DECEMBER 2011

Sun
25/12/11
DIVE @ DARK STORM FESTIVAL

Chemnitz - Germany

FEBRUARY 2011

Sat
26/02/11
DIVE + STIN SCATZOR

KOMPAS - St-Niklaas - B