---
DIE FORM, TYSKE LUDDER & DER KLINKE complete the BIMFEST 2014 line-up!
08 June 2014 17:05
---
With the announcement of these last 3 names we are proud to say the BIMFEST 2014 line-up is complete!
DIE FORM (FR)
Since many years, DIE FORM are well renowned for creating a type of music and image in league with the art form of "multimedia intervention" (combining music, performance, photography and cinema/video). Since 1978, besides participating in multiple international projects, they have released around thirty albums, many video clips & films and two art books that allow appreciation of their particular universe: from industrial and organic electronics, tortured neo-classic and experimental constructions to more accessible compositions (based on rhythms, cuts, sampling, treated voices and sequences). Always motivated by their passions, Philippe F. and Eliane P. depict the ultimate beauty of love, at the boundary of the forbidden.
"Constructions out of the ordinary that add a mechanical dimension to the sensuality of female voices and melodies."
It has been already from 2006 that Die Form played Belgium.
TYSKE LUDDER (D)
'Tyske Ludder' means 'German Whore' and was a nickname used by the Norwegians/Danish during World War II.
In the beginning of the 90s Tyske Ludder set the course for their work as pioneers in the european EBM and Dark-Electro scene. Coming up from the Wave- and New-Romantic scene they developed very early their meditations on the predominance of technology in our society. Nightmare-like visions of the then-raging war in Yugoslavia as well as the recurring military enforcement of the United States' claim for world domination represent the other thematic constant in the work of the 'German Whore'. Through the years their musical model developed from heavy Electro-Sounds to some kind of ominous dance music somewhere between Industrial and the aroma of a nuclear blast.
DER KLINKE (B)
Formed in 2009 in Ostend, Belgium. Inspîred by Cold Wave & Electronics, the debut album "Square Moon" was released in 2011."The Second Sun" released in 2012 made it an even harder task to describe their unique but already established sound. In 2013 the single "The Doll" was released and it became an instant club hit. Today it's 2014 and the band is working on their 3rd full album "The Gathering of Hopes". Der Klinke is surely one of Belgium's fast rising stars in the underground scene!
[permalink]
---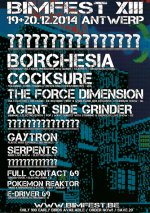 3 more names revealed for BIMFEST 2014
03 June 2014 12:06
---
Here we are with 3 more names for our BIMFEST XIII!
We are happy that, yet again, we were able to catch some other great acts that suits perfectly in our BIMFEST spirit & tradition and we know many of you were dreaming and hoping for for years …
THE FORCE DIMENSION
This legendary Dutch Electro/EBM act was signed to the Belgian cult label KK Records and released several records that nowadays are hard sought off and wanted collector items. Like the self titled album The Force Dimension and the 12"'s 'Dust' and 'Tension'. Now, after an absence of 18 years they are back, alive and kicking and with a new single expected towards the end of 2014.
This will be their first and worldwide exclusive reboot show!
COCKSURE
Cocksure is the brand new project of musical centipedes Chris Connelly (Revolting Cocks/Ministry/Pigface...) and Jason C. Novak (Acumen Nation/Acucrack/Czar). "With Cocksure, Christopher J. Connelly and Jason C. Novak bridge the gap between Wax Trax! era industrial and the future sounds of mass corruption." Their new single will feature R23 of FRont 242! Do we need to say more!?
www.cocksurenoise.com
FULL CONTACT 69
Is a spin-off from the EBM band EDRIVER 69 which came into life in 2011 when producer and vocalist Andreas Schubert wrote a few songs which didn't fit his main project EDRIVER 69. The band describes their music as ELECTRO-BREAK-INDUSTRIAL!
THE FORCE DIMENSION (NL)
[permalink]
---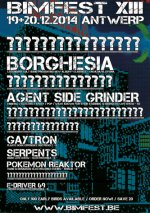 Another 3 names of BIMFEST 2014 revealed!
25 May 2014 18:40
---
We are proud to reveal to you our next 3 BIMFEST XIII live acts!
GAYTRON (D)
Gaytron is the side project of Plastic Noise Experience head and voice of Claus Kruse. With Gaytron Claus openly gave (Electronic) Body (Music) to his homosexuality. The project gave birth to several releases on GA-Records: "Man to Man" MCD (1992), "Toy" MCD (1994) and "Phase 1" CD (1995). In 1992 also a limited 2CD box was released holding two singles, the PNE single "Smalltown Boy" and a self-titled Gaytron single holding the tracks "This is Gay Tekkno", "Outing Control" and "Man to Man". The last Gaytron concert on Belgian soil was already in 1998!
Facebook

POKEMON REAKTOR (D)
With a name like this you can suspect already these guys are everything but serious about anything… Except for their music, which sounds, apart from their absurd and crazy lyrics and topics sounds dead serious! Or do you know other band that claim to play 'Electronic Ballermann Music' (EBM) or 'Music for the Critical Mass!'. Pokémon Reaktor stands for harsh raw vocals, entertainment and hard beats!
First Belgian show ever!
Facebook

SERPENTS (D)
This German electronic project founded in the late '80's has established quite a cult status and following since. Although they have played as supported for Plastic Noise Experience many times in the past their live performances became more and more rare the last decade. We are happy to have convinced them to play BIMFEST 2014 and looking forward to their new album!
Facebook
www.facebook.com/events/1437880126460562
[permalink]
---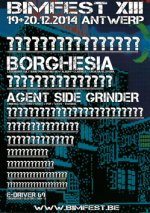 First 3 bands for BIMFEST 2014 announced! Early Bird ticket sales started!
18 May 2014 19:50
---
We are proud to reveal to you our first 3 BIMFEST XIII live acts!
BORGESHIA (HVR/SVN)
Indeed, you read it well! The legendary Electro/Alternative cult formation of the former Yugoslavia (Now Croatia/Slovenia) is back! Borghesia is alive and kicking with their brand new album 'And Men Created God', an album that will be released one of the biggest American and alternative labels, Metropolis records.
Borgesia on Facebook
AGENT SIDE GRINDER (SE)
This Swedish Minimal/Electro/Wave/Synth/Pop was already on our wish-list for some years now so we are delighted that they finally will be a part of our BIMFEST legacy. ASG are know for their highly energetic and stunning live shows so don't miss out on them!
Agent Side Grinder on Facebook
Edriver 69 (D)
This Berlin/Erfurt based EBM/cross-over combo is already around since 1991 and this will be their first ever concert on Belgian soil. Check them out!
Edriver on Facebook
Click the link below to confirm your BIMFEST participation!
www.facebook.com/events/1437880126460562
[permalink]
---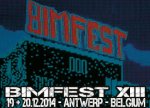 The countdown has begun! BIMFEST 2014 on December 19th + 20th!
15 May 2014 13:18
---
Here's the news you all have been waiting for! BIMFEST 2014 will take place on December 19th & 20th.
While the BIMFEST 2014 website is still under construction the line-up will be announced bit by bit on this site and our facebook pages.
However our preliminary artwork might give some of you already a clue of one our headlining bands.

Early Bird tickets are already available! Order now and save lot's of Euro a ticket!
Attention! Only 100 Early Bird tickets will be available!
Stay tuned! Support your scene! And spread the virus!

Go to our facebook event page and share this event amongst your friends!
www.facebook.com/events/1437880126460562
[permalink]
---