---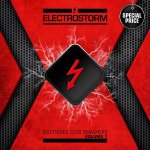 New The Juggernauts track on Electrostorm Vol. 7
30 April 2016 14:57
---
A brand new and unreleased The Juggernauts song is featured on Out Of Line Records latest special priced compilation Electrostorm Vol. 7. The track is called 'Plastic World' and is taken from the upcoming full album, 'The Juggernauts are Coming' soon to be released.
Meanwhile, ceck the full tracklist order Electrostorm Vol. 7 here!
THE JUGGERNAUTS (B)
[permalink]
---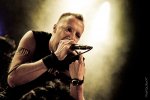 SUICIDE COMMANDO confirmed @ BIMFEST 2016
12 April 2016 17:58
---
It's with great proud and privilege we can announce to you the participation of SUICIDE COMMANDO at our 15th BIMFEST anniversary edition!
Next to à;GRUMH..., who will come and celebrate their 35th anniversary now also Johan Van Roy will be present a this years BIMFEST to celebrate his 30 years of SUICIDE COMMANDO with a 'best of' show!
No need to say this will be a BIMFEST will be another legendary edition to remember!
Mind you, tickets are going fast and Early Birds tickets sold out already! But have no fear ...
You can still save € 10 / Combi-ticket(*) if you order the now here!
(*)in comparison with the box-office prices
[permalink]
---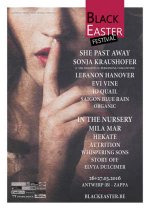 Black Easter Festival will take place as planned!
25 March 2016 17:46
---
Since some people are wondering if our Black Easter Festival is going to take place we like to say everything will go on as planned, like every other cultural and musical event in Belgium!
Unfortunately, Rosa Rubea, the only band who was plannend to fly-in, had to cancel because their flight's got cancelled.
Belgian Minimal/Electro act STORY OFF will fill this gap in the best way they can!
[permalink]
---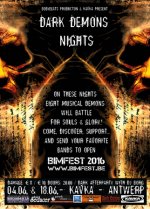 BodyBeats & BIMFEST presents: The DARK DEMONS NIGHTS @ Kavka
13 March 2016 13:53
---
Because we can't put every (Belgian) band on BIMFEST we decided to organise two Dark Demons Nights (04.06 + 18.06) whereupon 8 (2x4) bands will be given the chance to present themselves and battle for fame and glory! On each of these nights the audience can vote for their favorite BIMFEST XV opening band (www.bimfest.be).
But first ... YOU will have to VOTE them in the TOP 8 of our Dark Demons Band Poll BEFORE April 1st.
So go to the Dark Demons Nights poll and VOTE here:
https://www.facebook.com/events/1655763288046142/
PLEASE DO NOT ADD MORE BANDS TO THE POLL AS THEY WIL BE IGNORED ANYWAY!

Only VOTES for the signed-in and registered bands listed below will be taken into account!

BLACK SNOW IN SUMMER
BREAKFAST AT MIDNIGHT
DATA
EUFORIC EXISTANCE
HYSTERESIS
KONER
LIZARD SMILE
MIREXXX
NIHILISTE
SUPER DRAGON PUNCH!
THE MARY HART ATTACK
THIS CAN HURT
UNITED AND IDENTIFIED
www.facebook.com/events/1725537214357730
[permalink]
---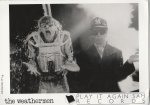 The Weathermen singer Bruce Geduldig passed away (RIP)
08 March 2016 14:19
---
Today we received this sad news from Bruce's partner in crime, Jean-Marc Lederman, of The Weathermen.
"Bruce Geduldig (left) passed away yesterday, on his 63rd birthday,
​at
his Sacramento house.
He was known as the singer of iconic band The Weathermen.
He was also a member of the SF band Tuxedomoon.

He'll be remembered as a great fun guy,
​very good lyricist, ​
witty, clever, astute and very sharp.
A swimmer, too, he loved swimming.
Singer and lyricist of The Weathermen, he penned the classic industrial song "Poison" , "Bang" and "Punishment Park".
Godspeed Bruce."
Also we at BodyBeats grief this loss...
He was a pleasant, easygoing artist we loved to have on our stage.
Rest in Piece Bruce!
ᐧ
www.youtube.com/watch?v=KX9dp-sSTSY
[permalink]
---