---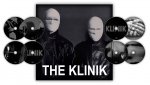 The Klinik releases complete 8CD back catalogue box on Out Of Line
08 July 2014 18:34
---
This The Klinik box set is not only the most comprehensive anthology of the band's music ever released, it is also an important documentation of a vital piece of history of electronic music. On 8 CDs, it not only contains all album releases of yore (with the exception of the comeback release from 2013), but also all rare and out-of-print tracks, plus a plethora of unreleased studio and live recordings.
Belgian band The Klinik is one of the few artists that have managed to leave a lasting imprint on an entire scene. Many of today's protagonists would simply not exist in their current form had it not been for the influence of this seminal group. More than three decades ago, Marc Verhaeghen and Dirk Ivens created a completely new sub-genre in electronic music, by consequently combining minimal, cold, dark and raw Industrial-elements to create a sound that was completely unique and had never been achieved in this form before. Tracks like "Memories", "Moving Hands" or "Black Leather" are still mandatory spins at Dark-Electro-clubs around the globe and will instantaneously fill any dance floor. With their fresh and new style of music and their enigmatic live shows that see the band members dressed in long black leather coats and wrapped in medical bandages, The Klinik quickly became a cult act in a steadily growing scene. Hissing vocals and minimalist lyrics were accompanied by strange and creative synthesizer sounds, noises, bare bones beats and distorted trumpet which altogether gave the music a fever-dream-like quality. The Klinik were not only mere electronic music, they were a unique experience and a way of life. It is hardly any wonder that many of today's popular acts still quote the group as one of their main influences. The song "Out Of Line" from the album classic "Face To Face" was also inspiration for the name and the creation of the label that is now releasing this very box set. "The Klinik-Box" contains 8 jam-packed CDs which include all the studio albums the band has released, all EPs and all other rare and out-of-print-material. On top of that, The Klinik have unearthed a myriad of previously unreleased studio and live recordings which have also been included. All recordings have been remastered with a lot of loving care by Eric van Wonterghem (Dirk's colleague in Absolute Body Control) under supervision from the band, to let them shine in a previously unheard sound quality. The set is limited to 1000 hand-numbered copies in a lavish book box. This box set is not only a dream come true but also a true affair of the heart for all that were involved in creating it… and an absolute must-own for fans. This Holy Grail of the Electro-Industrial-scene should be in every decent collection of alternative electronic music!


Track Listing:
CD1
1. Decay
2. Hours And Hours
3. Brain Damage
4. Sabotage
5. Sick In Your Mind
6. Time Watch
7. Vietnam
8. Burning Inside
9. Go Back
10. Drowning In Your Sleep
11. Pain And Pleasure (live)

CD2
1. World Domination
2. Murder
3. No Time To Win
4. Outside
5. End Of The Line
6. Pictures
7. Into Deep Water
8. Plague
9. Memories
10. Nursery
11. Sick In Your Mind (Remix)
12. Fear

CD3
1. Ring Of Fire
2. Slow Death
3. Quiet In The Room
4. The Last Dance
5. Cold As Ice
6. Face To Face
7. A Sign
8. Time
9. Out Of Line
10. Lies
11. Fever
12. Moving Hands
13. Public Pressure
14. Desire

CD4
1. Nautilus
2. Colour Of Your Heart
3. Surviving In Europe
4. Entrance
5. Wired
6. Under The Black Sun
7. Insane Terror
8. The Kiss Of Death
9. Escape
10. Talking To A Stranger
11. Target

CD5
1. Decay (Long Version)
2. Metalloid
3. Immortal Flesh
4. The Tree Of Life
5. Walking With Shadows
6. Get Lost
7. Sleepwalkin'
8. Nautilus Iii

CD6
1. Suffer In Silence
2. Someone Somewhere
3. Obsession (LP Version)
4. Under The House
5. Time
6. Touch Your Skin
7. Dead Meat
8. White Trash
9. Black Leather
10. Obsessio

CD7
1. Intro (Live Paradiso 1986)
2. Never Get Out (Live Paradiso 1986)
3. Sick In Your Mind (Live Paradiso 1986)
4. Go Back (Live Paradiso 1986)
5. Power Of Passion (Live Paradiso 1986)
6. Hours And Hours (Live Paradiso 1986)
7. Pain And Pleasure (Live Paradiso 1986)
8. Feel The Evil (Live Paradiso 1986)

CD8
1. Belfast
2. Never Get Out
3. Melting Close
4. Nautilus I
5. Feel The Evil
6. Walking With Shadows V2
7. Hours And Hours (live)
8. Power Of Passion
9. Voices
10. Insane Terror (Never Again)
11. A Sign (84 Version)
12. Do You Car
13. Hunger
www.outoflineshop.de/the-klinik-box.html
[permalink]
---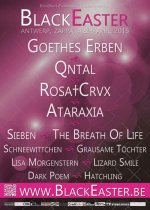 The last (but certainly not the least) 4 bands confirmed for Black Easter Fest!
30 June 2014 11:18
---
We are very proud to present the final 4 names for our Black Easter Festival:
QNTAL
SCHNEEWITTCHEN
THE BREATH OF LIFE
LIZARD SMILE
Find out more about these bands right here!
Our venue has limited capacity, so order your tickets today and save some money on top!!

Note: Early bird tickets are only available for the entire festival, not per day!
LIZARD SMILE (B)
[permalink]
---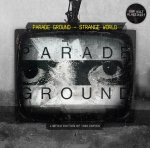 Parade Ground's complete career summarizing sampler on the prestigious 'Classic Series' by Infacted Recordings!
23 June 2014 17:09
---
Parade Ground's complete career summarizing sampler is now released on CD und the well known title "Strange World" on the prestigious 'Classic Series' by Infacted Recordings!
Writers and composers for brother-band Front 242, Parade Ground really are masters in melodies through all kinds of electronic music , with the unique voice of Jean-Marc Pauly.
The completely remastered songs feature rare , unreleased , and live tracks to make "Strange World" the ultimate collectors release for all EBM and "Parade Ground" fans!
This is a strange and exciting trip through more than 30 years of dance and digital diary by "Parade Ground". The Cd comes as a strictly limited edition of 1000 copies with 19 (!) songs! The future is now ...
Click the link to read the review on Peek-a-Boo Magazine!
www.peek-a-boo-magazine.be/en/reviews/parade-ground-strange-world
PARADE GROUND (B)
[permalink]
---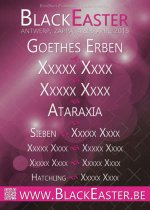 We have a newborn! Black Easter Festival!
17 June 2014 16:44
---
You know we at BodyBeats productions like to paint it all black! We have already a celebrate a darker X-mass since 13 years now, with our BIMFEST (December 19th&20th), and will continue to do so ... But as from 2015, also Easter will be never the same and more gloomy like ever before!

Black Easter Festival, on April 4th & 5th 2015, is a new BodyBeats Productions Festival that could only be realized with the help and support of some generous partners.

Since decades now, we have been concentrating more towards the darker side of mainly Electronic Alternative music and now, after the disappearing of several other organization and festivals within our scene, we thought now the time is ripe to launch a new festival concept.

On Black Easter we would like to put our spotlight on the more Goth/Rock & Performance orientated segment of our beloved scene. So don't be surprised!
Meanwhile the first acts are announced!
GOETHES ERBEN (Belgian exclusive 2015), ATARAXIA, SIEBEN & HATCHLING

Tickets sale has begun already ! ONLY 100 EARLY BIRD combi-tickets will be available!

Attention all bands & bookers: Our 2015 line-up is already complete! So... Don't call us! We call you!:-)
[permalink]
---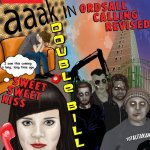 New single by A.A.A.K. (As Able As Kane)!
16 June 2014 18:51
---
AAAK are set to release the first single since the wide spread and critically acclaimed album 'Buildingscape Beat XXV' came out just one year ago.
It's a double bill, "Sweet Sweet Kiss" and "Ordall Calling Revised" and it's out Monday 16th of June.

Check it out below!
Buy it here!
A.A.A.K. (UK)
[permalink]
---