---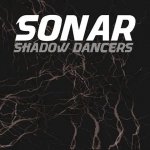 SONAR releases new full album
09 October 2014 17:52
---
SONAR is a Belgian industrial project formed in the ninetees and todays line-up consists of Dirk Ivens and Eric Van Wonterghem..
With high-energetic live performances, they became soon one of the most well-known and appreciated rhythmic-industrial projects and their sound can be described as cold sequenced drone rhythms, white noise outbursts, and bass pulses.
This 8th full lenght release of SONAR called SHADOW DANCERS brings you 10 incredible tracks with a full spectrum industrial sound ...
An album you might put on repeat !
Out on Sleepless Records Berlin
Releasedate: October 10,
Live presentation @ Maschinenfest
0rder now!
[permalink]
---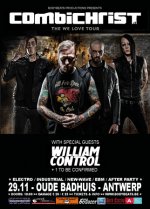 Combichrist - The We Love Tour - 2014 comes to Antwerp!
17 September 2014 12:18
---
We are very happy to announce COMBICHRIST will pass by Antwerp on their European 'The We Love Tour - 2014'. The band will bring two supports with them, one of them is already confirmed and is William Control. The second support will be announced soon!
To make this event possible we had to find a new/available venue which we found in 'Het Oude Badhuis'. A cosy venue in historical setting, located in the north of Antwerp City (Near 'Park Spoor Noord').

See who else is going on our Facebook event page!
www.bodybeats.be/en/tickets/29-11-combichrist
[permalink]
---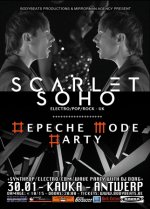 Interview with Scarlet Soho on Peek-a-Boo Magazine
26 August 2014 13:06
---
---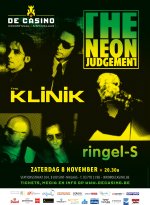 08.11 THE KLINIK + THE NEON JUDGEMENT @ De Casino - SOLD OUT !!!
19 August 2014 11:39
---
---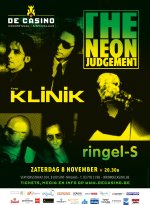 08.11 THE KLINIK + THE NEON JUDGEMENT @ De Casino - LAST 50 Tickets!!!
12 July 2014 13:03
---
Looks like the double bill night with THE KLINIK & THE NEON JUDGEMENT at De Casino (St-Niklaas, B) will sell out any day now!
If you didn't order your tickets yet you better hurry up and click the link below!
Only 50 tickets are still available! Don't say we didn't warn you!
www.decasino.be/2013/07/neonjudgement-klinik-ringel-s
[permalink]
---