---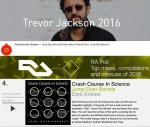 Crash Course In Science's 'Jump Over Barrels' #3 on Trevor Jackson's Top releases of 2016.
21 December 2016 13:36
---
---
BIM pre-sales ended - There are still some tickets at the doors available!
17 December 2016 16:22
---
If you still want to get in tonight don't hesitate too long as the capacity IS limited!
[permalink]
---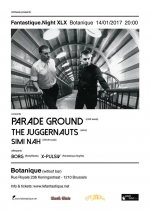 BodyBeats bands over Brussels! The Juggernauts, Parade Ground & Simi Nah will perform at La Botanique!
01 December 2016 12:36
---
---
VNV NATION - Compendium Tour show on November 17th @ Togenblik = SOLD OUT!
26 October 2016 13:00
---
The evening with VNV Nation: In celebration of the 20th Anniversary of the first VNV Nation album, and where the group will be celebrating with a 3-hour during concert is about to sell out in the next hours/days. On this show VNV Nation will take their fans through the complete history of the band, covering songs from every album and single, along with rarities and last but not least with a meet and greet after the concert.
It is of no use writing us or the venue for tickets as it is COMPLETELY sold out!
www.bodybeats.be/en/tickets/17-11-vnv-nation
[permalink]
---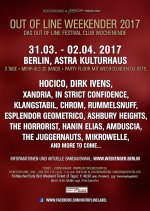 Dirk Ivens & The Juggernauts confirmed at Out Of Line Weekender 2017 - Berlin
12 October 2016 17:51
---
31.03 - 02.04.2017
DIRK IVENS + THE JUGGERNAUTS @ Out Of Line Weekender / Kuturhaus Astra / Berlin / D
We are happy to say that Dirk Ivens & The Juggernauts are invited the play at yet another edition of the already renowned Out Of Line Weekender Festival in Berlin city.
Other confirmed artists so far are:
Hocico, Xandria, Klangstabil, In Strict Confidence, CHROM, Rummelsnuff, Ashbury Heights, Esplendor Geometrico, The Horrorist, Hanin Elias, Amduscia, Mikrowelle and many more!

Facebook event - The Juggernauts
Facebook event - Out Of line Weekender
www.weekender.berlin
www.facebook.com/events/1700121433648065
DIVE (B)
THE JUGGERNAUTS (B)
[permalink]
---