---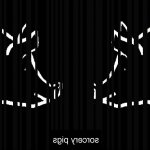 The Force Dimension releases brand new album Sorcery Pigs!
06 September 2018 14:55
---
The Dutch Electro-EBM combo The Force Dimension have released a brand new album called Sorcery Pigs which is now available trough the band's bandcamp page!

Want this legendary band on your stage! Mail to info(at)bodybeats(dot)be now!

FACEBOOK
THE FORCE DIMENSION (NL)
[permalink]
---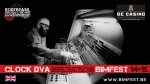 Clock DVA returns to BIMFEST 2018
22 August 2018 18:21
---
We are proud to announce Clock DVA will return to BIMFEST in 2018. CLOCK DVA have played BIMFEST already once before in 2011, stunning our BIMFES audience with their mesmerizing multimedia performance!
This time these electronic music pioneers, since 1978, will be performing an exclusive Belgian show with tracks from their legendary albums Buried Dreams, Man-Amplified, some new stuff and much more!

More info and media here!
[permalink]
---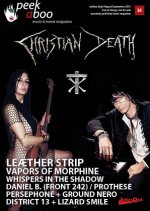 New Peek-a-Boo Magazine #30 - Out Now! With free download!
06 July 2018 15:58
---
---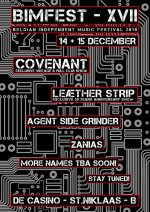 ZANIAS confirmed for BIMFEST 2018
04 June 2018 17:01
---
ZANIAS (AUS/D)

The stunning voice and frontlady of former Linea Aspera and Keluar returns to BIMFEST 2018 for an exclusive Belgian show with her new electronic solo project Zanias!
Zanias was born in Australia, raised in South-East Asia and now resides in Berlin. She was once known as the head and voice of bands Linea Aspera and Keluar, and now performs and DJs as a solo artist as Zanias.
Her debut EP 'To the Core' was produced in collaboration with Alex Akers of the band Forces, a process which was completed in a dilapidated beach house on Australia's desolate and wild southern coast in February 2016, and released in September on Austrian label Noiztank. Tying together industrial rhythms and unearthly vocals, the four tracks explore an intrinsically human journey through loss and upheaval.
In addition to performance and production, Zanias is a member of Berlin's Fleisch collective, an amalgam of DJs with primary careers as musicians and designers, and a taste for Electronic Body Music, New Beat, Industrial, Acid, and the darker, wavier fringes of techno. In 2016 their parties gave way to the founding of a record label, which made its debut with Schwefelgelb's body music masterpiece 'Wie Die Finger Durch Den Nebel'.
Zanias - Follow the Body (video)
Zanias - Through This Collapse (video)
---
More names will be unleashed soon so stay tuned or even better subscribe to our monthly newsletter here to stay informed!

Check-in and see elso is going on our Facebook event here!
The pre-sale has already started, so hurry if you want to save some money!
Buy your Early-birds Combi-Ticket today and save some cash!
The very limited and special priced Early-birds tickets are only meant for our true and loyal supporters who put their faith blindly in our BIMFEST programming.
Keep in mind only 100 Early-birds COMBI-tickets are available so be fast.
[permalink]
---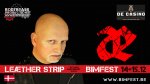 LEÆTHER STRIP (DK) 30th anniversary show confirmed @ BIMFEST 2018!!!
23 May 2018 19:52
---
LEÆTHER STRIP (DK)
It has been 30 years since the Dane Claus Larsen started his Leaether Strip project and released his debut on the now defunct Zoth Ommog label shortly afterwards. In addition to having more than a handful of side projects, this man has released already as many studio albums (30) under the Leaether Strip moniker.

No wonder he cant be ignored by dark music festivals and clubs from all over the world. That's we he played already at BIMFEST 2009 and the BodyBeats Festival 2011. And this year he is returning to BIMFEST 2018 to celebrate Leaether Strips's 30th birthday with a special and exclusive birthday's and career overview show!
Leaether Strip - Dont you dare die on me - official video
Leæther Strip "Love me or die" Official video
www.bodybeats.be/en/bimfest-xvii
[permalink]
---