---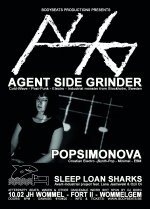 Last time to see Agent Side Grinder perform in Belgium with their current Line-up!
20 January 2017 13:07
---
An important message from the Agent Side Grinder headquarters reached us today...
Charismatic singer Kristoffer Grip has decided to quit Agent Side Grinder due to lack of time in his current life. Following his decision two other members, Henrik Sunbring and Thobias Eidevald, have also decided to leave the band and move on.
Original Agent Side Grinder founders Johan Lange and Peter Fritstedt however will not trow in the towel on their baby and will continue with the band, fulfill their vision and record a new Agent Side Grinder album for Progress Productions in 2017.
Luckily this drastic and sudden line-up change will not jeopardize the upcoming and scheduled concerts this spring. They will still take place in the original 5 piece line-up.
But these concerts will be the final opportunity to see Agent Side Grinder in this constellation!
One of those last opportunities will be on February 10th @ JH Wommel - Wommelgem - Belgium where Agent Side Grinder will perform together with the Croation bands Posimonona & Sleep Loan Sharks.
www.bodybeats.be/en/tickets/10-02-agent-side-grinder-popsimonova
[permalink]
---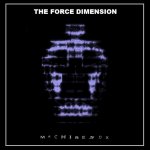 The Force Dimension kick-off 2017 with new album!
02 January 2017 14:34
---
Every new year traditionally kicks-off with tons good intentions and promises but some put their money where their mouth is!
The Force Dimension & Daft Records decided to kick-off 2017 with the release of a brand new album!

THE FORCE DIMENSION - Machinesex (D1067CD)

20 years went by since the last release from this cult band but the waiting is over ! René van Dijck (synthesizers, vocals) and Betty Correa (vocals, guitar, percussion) presents you 13 brand-new tracks produced by the band themselves and mastered by Eric Van Wonterghem.
This album is a joined collaboration between Daft Records and the Noise Democracy Records label from Brasil.
The official release-date is set for Januari 22nd 2017 so be aware!
THE FORCE DIMENSION (NL)
[permalink]
---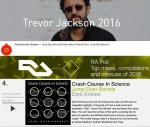 Crash Course In Science's 'Jump Over Barrels' #3 on Trevor Jackson's Top releases of 2016.
21 December 2016 13:36
---
---
BIM pre-sales ended - There are still some tickets at the doors available!
17 December 2016 16:22
---
If you still want to get in tonight don't hesitate too long as the capacity IS limited!
[permalink]
---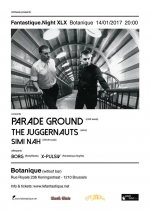 BodyBeats bands over Brussels! The Juggernauts, Parade Ground & Simi Nah will perform at La Botanique!
01 December 2016 12:36
---
---