---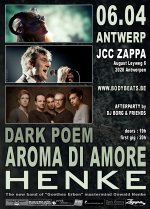 New Wave club night III with HENKE + Aroma Di Amore + Dark Poem @ Zappa
05 January 2013 18:32
---
We are pleased to announce you the line up for our 3rd New-Wave Club Night on Saturday April 6th!
After we had The Bollock Brothers & Adam Ant headlining our previous editions we now have a double bill with HENKE, the new band around Owald Henke of the German cultformation Goethes Erben) and one of Belgiums most legendary indie-wave bands AROMA DI AMORE.
The enchanting and musical fairies from DARK POEM have the honnour to open the night!
New-Wave/EBM/Electro/indie afterparty with DJ BORG & Friends!
www.bodybeats.be/en/new-wave-club-nights
[permalink]
---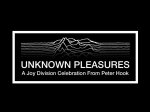 Interview with BIMFEST 2012 headliner Peter Hook & The Light!
11 December 2012 19:39
---
We are proud to say our partners from Peek-a-boo magazine managed to interview Peter Hook, bass player from the legendary Joy Division & New order, performing this Saturday December 15th as Peter hook & The Light on BIMFEST 2012, where they will perform the Joy Division classic cult album 'Unknown Pleasures'!
Read more on the link below!
www.peek-a-boo-magazine.be/en/interviews/peter-hook-and-the-light
[permalink]
---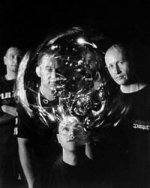 Interview with BIMFEST 2012 Friday night headliner TEST DEPT:Redux online!
09 December 2012 15:04
---
While the countdown to BIMFEST 2012 has reached his final week Peek-a-Boo & Dark Enries Magazine managed to have an interview with our Friday night BIMFEST 2012 headliners TEST DEPT:Redux! Read the interview on the link below and find out what Test Dept:Redux is about and what you can expect from them on December 14th @ BIMFEST!
Tickets are still available on this site, Wool-e shop (Ghent), Fat Kat Records (Antwerp) & Fnac.
www.peek-a-boo-magazine.be/en/interviews/test-dept-redux
[permalink]
---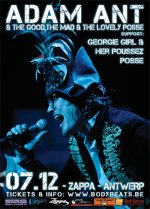 An Interview with Adam Ant on Peek-a-Boo magazine!
03 December 2012 18:09
---
---
'Damaged Illusions' by The Juggernauts featured on Machineries of Joy - Vol. 5
30 October 2012 15:14
---
Our rising stars THE JUGGERNAUTS were invited yet again by Out Of Line to contribute a track to one of their most favorite compilation series and one that already hits its fifth installment. Meticulously assembled, "Machineries Of Joy Vol. 5" will be released as a double CD with a selection of the most important bands and the best newcomers from the international Gothic- and Electro-scene, most of them contributing previously unreleased tracks or remixes … and all that at the sensational price point of an album CD!
Besides 'Damaged Illusions' by The Juggernauts, it features some of the most important names in the scene, from Blutengel, Hocico, Combichrist, Staubkind, Lord Of The Lost, Suicide Commando, Kirlian Camera, Ordo Rosarius Equilibrio, Solitary Experiments and Icon Of Coil right up to Rummelsnuff, Pankow, Signal Aout '42 plus an exquisite selection of newcomers and glittering freaks, from the shooting stars CHROM, OST+FRONT and Officers to really fresh faces, such as Meinhard or Too Dead To Die. The entire package will be released as a jam-packed double CD at the sensationally low price point of an album CD. Here is your way out of the daily compilation grind… Machineries Of Joy Vol. 5 – not like the other!
Click this link for for more info & full tracklisting
The Juggernauts
[permalink]
---