---

BodyBeats newsletter April 2015 - Check It Out!
23 April 2015 16:19
---
Check out our latest e-mail newsletter in the link below!
Support you scene and repost this on your Facebook wall!
[permalink]
---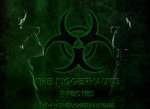 + 20.000 views for the 'Infected' video from The Juggernauts!
10 March 2015 14:59
---
Today, the DIY video of The Juggernauts song 'Infected' was viewed over 20.000 times. 'Infected' was featured on their first EP 'Phoenix' which sold-out within the year. This 'no-budget' video was made and uploaded by BORG less than two years ago, shortly after the release of the 'Phoenix'.
We can only hope a succeeding video is imminent ...
www.youtube.com/watch?v=YTZUJGts8Z0
THE JUGGERNAUTS (B)
[permalink]
---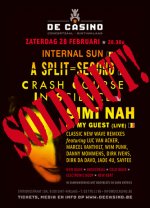 25.05 A SPLIT-SECOND + SIMI NAH + CRASH COURSE IN SCIENCE @ De Casino - SOLD OUT!
27 February 2015 17:49
---
We are proud to say this event COMPLETELY SOLD OUT!
For those who didn't manage to obtain ticket in time we can only say ...
That's where pre-sales are for! So next time ...
BE FASTER! :D
[permalink]
---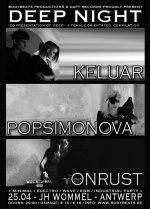 Check out our latest BodyBeats e-mail newsletter! Subscribe to win!
27 February 2015 14:13
---
Click the link to check out our latest BodyBeats e-mail newsletter! Subscribe to win!
This month:
Crash Course In Science on tour in Europe
BodyBeats artists on Eurorock
Deep night I feat Keluar, Popsimonova & Onrust
and much more ...
[permalink]
---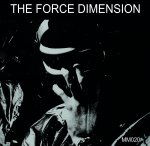 The Force Dimension's debut album remastered re-released by Minimal/Maximal
21 January 2015 13:48
---
MINIMAL MAXIMAL presents : THE FORCE DIMENSION "MM020"

This 25 Year Anniversary edition contains the debut album from the Dutch band "The Force Dimension", originally released as KK020 on KK Records in Belgium 1989.
The vinyl contains the red edition produced by the band themselves and on the free bonus cd the red and blue edition (produced by Luc Van Acker) Also the complete tracks from the first 2 twelve inches DUST * and TENSION ** are included.

Tracklisting:
VINYL RED VERSION
A1 Tension
A2 Dying Nightlights
A3 Dust
A4 You Essay
A5 All Systems Out
A6 Opera Erotika
B1 Hidden Ambush
B2 Everything is mine
B3 Secrets of Russia
B4 Dust (X-Tended version) *
B5 X-Tension **
Free bonus CD :
Red Version
01 - 09
Blue Version
10 Tension
11 Get Into Danger
12 Dust
13 You Essay
14 All Systems Out
15 Opera Erotica
16 Hidden Ambush
17 Everything Is Mine
18 Secrets Of Russia
19 Aqua 2000 *
20 B.I.O.N.I.C. *
21 Menthol **
22 200 FA **

Short history :
Originally started as a trio, Rene van Dijck and Tycho de Groot with effect-generator Armin Elmensdorp, at the beginning of 1987, a demo was sent all over the world which resulted in a collaboration 7 inch with the industrial label "De Fabriek", a heavy experimental but melodic participation.
During the course of 1988 the band appears on several compilations and develops more and more towards Electronic Body Music, though never losing themselves in clichés, always giving the music their very own touch, like atmospheric ingredients.
At last by chance, tapes got in hands of KK Records which offered them a record deal. The label owner takes the unique decision to release the record in two versions. The Blue version produced by Luc van Acker and the Red version - produced by the band itself, sounding rougher and harder.
One album more "Deus Ex Machina" plus the twelve inches "Algorhythm" and "New Funk" where released and after their tenth anniversary in 1997, the band fell apart. In 2011, an attempt was made to a reunion, but this failed. In 2014, however, another attempt to restart was undertaken, now with a different line-up: René van Dijck (synthesizers, vocals) and Betty Correa (vocals, guitar, percussion) and the band played recently at the Belgian BIMFEST December 2014.
A small selection of soundsamples : http://www.sleeplessberlin.com/
Releasedate : February 13 , 2015.
More info/ mailorder and wholesale at mmsale@scarlet.be
THE FORCE DIMENSION (NL)
[permalink]
---