---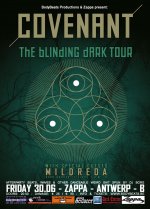 Mildreda to support Covenant @ Zappa, Antwerp this Friday June 3Oth.
26 June 2017 13:56
---
Last week the sad news reached us Ghost & Writer is no more and thus will not be supporting Covenant in Antwerp.
However the good news is MILDREDA will be doing the honor!

MILDREDA is the Belgian and darkish, hars, electro/EBM the project of Jan Dewulf (Diskonnekted, Your Life On Hold, ...). A project he rebooted earlier this year with a new album and fantastic Skinny Puppy support show!
www.bodybeats.be/en/tickets/30-06-covenant-zappa
[permalink]
---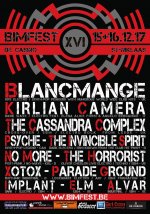 Last two names added to BIMFEST 2017 line-up! ALVAR (SE) and ELM (SE)!
19 June 2017 18:12
---
It's with great pleasure we like to announce to your our last two BIMFEST contenders ALVAR and ELM!
Coincidence or not, and beside the fact all six Dark Demons candidates gave a energetic performance, the audience of the Dark Demons Night chose both Swedish acts to open BIMFEST 2017!

The first one is Brussels based Swedish no-compromise straight forward E.B.M. act ELM of Peter Elm. His music fitting neatly in between the likes of UK E.B.M. godfathers Nitzer Ebb and those other Swedish hard core hooligans of Spetsnaz.
ELM
Facebook
YouTube

The second BIMFEST opener will be the Swedish Electro Industrial act ALVAR who, besides some tape releases, released their debute album 'Guilt Kollektion' on Daft Records last year. Their music is a mixture of the old school Cold Meat Industry sound, techno and E.B.M.
ALVAR
Facebook
YouTube
With these two last great bands added to our BIMFEST the line-up is 100% complete!
So no time to waste, order those tickets now!


[permalink]
---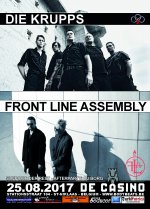 Die Krupps + Front Line Assembly @ De Casino - St - Niklaas - B
18 May 2017 17:26
---
We at BodyBeats Productions are very proud to announce you a newly confirmed double bill event featuring two of the most legendary electro-cross-over and EBM bands still who have been around for three decades and are still kicking ass today ... DIE KRUPPS + FRONT LINE ASSEMBLY!!!!!
DIE KRUPPS (D) are one of those pioneers of Electronic and Industrial music that inspired FRONT 242, NITZER EBB and many more ... With their first and very industrial sounding album 'Stahlwerksinfonie' and the forthcoming clubhit single 'Wahre Arbeit Wahrer Lohn' and the following albums 'Volle Kraft Voraus' and 'Entering The Arena', the foundation for Electronic Body Music was laid.
In 2015, DIE KRUPPS successfully released their fifth studio album 'V – Metal Machine Music' and now their V 1/2 release is imminent!
FRONT LINE ASSEMBLY is one of those influencial Canadian Electro-Industrial pioneer bands, formed by Bill Leeb after he left Skinny Puppy. Influenced by early electronic and post-industrial acts such as Cabaret Voltair, Portion Control , Test Department en Severed Heads FLA has developed its own sound while combining elements of EBM (Electronic Body Music). Also FLA has never disappeared from the underground scene and strikes back regularly with new , still hard hitting albums!
To see both bands on the same stage on the same night is a unique event! So don't miss out!
www.facebook.com/events/871389309665544
[permalink]
---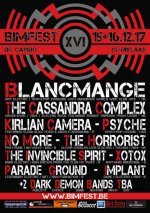 BIMFEST 2017 - Line-up complete! Warning ! Teaser / Spoiler alert!
10 April 2017 11:44
---
Yes! We did it again! The BIMFEST 2017 line-up is a fact! Soon the full line-up will be announced but while the BIMFEST website is under construction we like to tease you already a bit with this preliminary poster poster!
Be aware the Early Bird combi-ticket pre-sales have already started and and are strictly limited to 100 pieces!So save some cash and order your tickets now!
A soon as those are gone normal pre-sales combi-tickets (2days) and separate day tickets will go on sale at normal pre-sale prices.
www.bodybeats.be/en/bimfest-xvi
[permalink]
---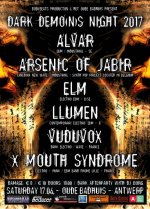 Dark Demons Night 2017 line-up confirmed!
04 April 2017 17:56
---
We are happy to announce to you the six bands that will be performing at our 3rd Dark Demons Night!
Because this year there were nine candidates and only six available slots for bands to perform at the Dark Demons Night a voting poll was organized in order to let the people decide who they wanted to see live on this night.
And it was an exciting poll until the end (at midnight on April 1st) and for some it was a very close call but here they are, the six bands that will try and convince friend and foe of their musical and performing skills on Saturday June 17th in the magnificent Antwerp venue, Het Oude Badhuis!
(In alfabetical order):
17.06 DARK DEMONS NIGHT 2017 @ Het Oude Badhuis, Antwerp, B
ALVAR (EBM/ Industrial - SE)
ARSENIC OF JABIR (Wave/Industrial/Syth - CAN/B)
ELM (EBM - SE/B)
LLUMEN (Electro/EBM - B)
VUDUVOX (Dark Electro/Wave - FR
X MOUTH SYNDROME (Electro-Punk/EBM - FR)
So why should you come and see these band? Because they need your support and encouragement to keep on kicking against the pricks and oh... yeah... Because every visitor will be given a ballot paperl to write down their appreciation for EVERY band. The two most favored bands will also be given the opportunity to open up the 16th edition of the renowned Belgian Independent Music Festival in December this year! So let's go and support!
More info:
Dark Demons Night - FaceBook event
Dark Demons Night - Band Info & Tickets
www.bimfest.be
www.bodybeats.be/en/dark-demo-n-s-night
[permalink]
---