---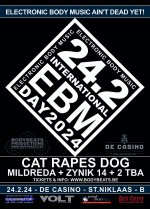 International EBM day 2024! First bands announced!
24 October 2023 21:16
---
We at Bodybeats Productions are thrilled to announce CAT RAPES DOG as headliner for our 4th edition of International EBM day! These Scandinavian Electro / EBM punks haven't played our little country for decades now, and after almost a decade of negotiatios and planning we finally managed to make it work!
Also joining the International EBM day line-up are the two strong Belgian EBM act MILDREDA and ZYNIK 14!
Two more artists will be announced soon!
Meanwhile, save the date & score those tickets!

More info, tickets & media on the link below!
www.bodybeats.be/en/international-ebm-day-2024
[permalink]
---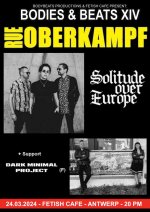 ATTENTION - RUE OBERKAMPF - POSTPONED - NEW DATE 24.03.2024
21 October 2023 17:23
---
We recieved this sad news today ...
"We regret to announce that due to health issues we have to postpone the show in Paris at Fetish Cafe tomorrow.
It´s a painful decision in more ways than we can express – but we must take some time to recover if we have any chance of completing the rest of our EU dates.
The new date will be the 24rd of March – the purchased tickets remain valid.
Forever yours,
Rue Oberkampf "
TICKETS REMAIN VALID!
www.bodybeats.be/en/tickets/24-03-bodies-beats-xiv
[permalink]
---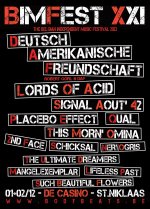 BIMFEST 2023 line-up complete! Day-tickets on sale!
08 August 2023 14:49
---
We are happy to announce our complete 21st BIMFEST line-up with headliners LORDS OF ACID & DEUTSCH AMERIKANISCHE FREUNDSCHAFT!

Check all performing artists on our BIMFEST page on this site or by clicking on the link below!
See you there!
www.bodybeats.be/en/bimfest-xxi
[permalink]
---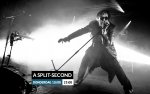 A Split-Second to headline on FREE festival Fonnefeesten in Lokeren on 10 August
01 August 2023 15:18
---
We are proud to announce A Split-Second has been invited to headline the super sympathetic and free open-air festival De Fonnefeesten. Together with Arbeid Adelt! & Erato they will turn this night a smashing black party. Afterwards, you can dance even further into the night on the New Wave Classix grooves played by DJ Filip Delens
fonnefeesten.be/programma/1008
A SPLIT-SECOND (B)
[permalink]
---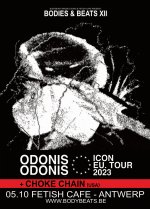 05.10 BODIES & BEATS XII @ Fetish Cafe - Antwerp - Line-up confirmed!
27 July 2023 12:56
---
BodyBeats & Fetish Café are pleased to announce the line-up for our 11nd edition of BODIES & BEATS!

ODONIS ODONIS (CAN) + CHOKE CHAIN (USA)
Check these artists out on the link below!

This event will take place in a very special setting … the dark but cosy dungeons of the Antwerp Fetish Café!
For those who are not yet familiar with our Bodies and Beats concept, don't be scared of the unknown ... there are worse places on earth to be these days!
Also good to know ... no dresscode whatsoever is required but some kinkiness is always appreciated!
Take note! Our dungeons of pleasure have a VERY LIMITED CAPACITY so tickets are STRICTLY LIMITED to ONLY 70!
So be fast or be sorry!
Let your friends know you are going, check in and share our FACEBOOK EVENT!
www.bodybeats.be/en/tickets/05-10-bodies-beats-xii
[permalink]
---