---

Check out the Dark Demons Night 2017 candidates!
01 March 2017 17:36
---
We are delighted to see the Dark Demo(n)s concept has crossed our national borders and has been picked-up by eager to play bands all over the world!

Check the out on our Dark Demons Night page (link below) and cast your vote(s) here!
www.bodybeats.be/en/dark-demo-n-s-night
[permalink]
---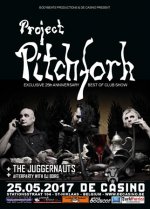 Project Pitchfork - Best Of - Show + The Juggernauts @ De Casino, St Niklaas, B
20 February 2017 17:41
---
After their amazing headlining performance at BIMFEST 2015 and on high demand by both the band and their fans we are proud to bring them back to Belgium, this time for an exclusive Belgian 25 anniversary 'Best Of' club showat the wonderful venue De Casino, St-Niklaas, B

Project Pitchfork is a German electro band, founded in 1990 in Hamburg. It is among the most successful and influential representatives of the dark electro genre, which one characterizes decided since the early nineties and led to unprecedented results. The two driving forces behind the band until today Peter Spillesand Dirk Scheuber. Because Peter came from Hamburg, and Dirk came from the new federal Eastern states, Project Pitchfork band are considered first "German-German" band at all.
In November 2016 Project Pitchfork released their 16th studio and critically aclaimed album 'Look up, I'm Down Here'.
Project Pitchfork on Facebook
Project Pitchfork on www

---
Belgian NU-EBM heads The Juggernauts will have the honor to open this night presenting their latest album 'The Juggernauts Are Coming'.

The Juggernauts on Facebook
The Juggernauts on www

---
Don't forget to check-in on our Facebook event here!
www.bodybeats.be/en/tickets/25-05-project-pitchfork-best-of
THE JUGGERNAUTS (B)
[permalink]
---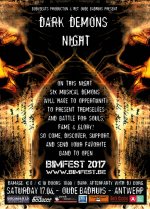 Dark Demon(n)s wanted to play BIMFEST 2017!
13 February 2017 16:04
---
We're happy to announce that also this year we will organize a Dark Demons Night.
The MOST IMPORTANT GOAL of this night is to GIVE BANDS A OPPORTUNITY to present themselves LIVE in the BEST CONDITIONS. This means on a REAL STAGE, with a PERFECT SOUND-SYSTEM and professional LIGHTS.

A pleasant extra of playing our Dark Demons nights is that the audience can choose 2 bands who may open BIMFEST 2017. Also good to know is that only 6 bands will be selected for this Dark Demons Night so your band will have a 1/3 chance to play BIMFEST too!

So if you are interested and you think your music style fits our festival, please send us (BodyBeats Belgium) a private message with your information and email address so we can provide you the general conditions.
Here are some requirements:

- Be available on June 17th
- Be available on the dates of BIMFEST (15 & 16 December)
- Register before 1st of March!

This is your chance to play at BIMFEST, so bring it on!

AND DON'T FORGET TAKING PART IS MORE IMPORTANT THAN WINNING!

PS: This year our Dark Demon Night is also open for foreign bands!
www.bodybeats.be/en/dark-demo-n-s-night
[permalink]
---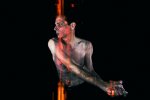 New DIVE album 'Underneath' + 2017 tour announced!
24 January 2017 13:54
---
The new DIVE album "Underneath" from Dirk Ivens in collaboration with Ivan Iusco (Minus Habens) and Rafael M. Espinosa (Geistform) is scheduled for April 2017 and coming out on the German based label Out Of Line.
DIVE will tour extensively in 2017 in order to promote his new album.
Part one of this tour is as follows :
21 APRIL De Nieuwe Nor / Heerlen - Netherlands (+ Whispering Sons)
22 APRIL JH 2470 / Retie – Belgium (+ Stin Scatzor + Akalotz + KnK)
29 APRIL Rockcafe / Prague - Czech Republic (+ The Invincible Spirit + Psyche + The Saint Paul)
30 APRIL Gozsdu Mano Klub / Budapest – Hungary (+ The Juggernauts + True Zebra)
06 MAI Madame / Sao Paulo – Brasil (+ The Force Dimension + The Juggernauts)
12 MAI Stellwerk / Hamburg – Germany ( + The Juggernauts + TC75 )
13 MAI Das Bett / Frankfurt – Germany (+ 2nd Face + Full Contact69)
26 MAI Lygten Station / Copenhagen – Denmark
27 MAI Slimelight / London – U.K (+ Gertrud Stein)
09 JUNE Synth After Work / Stockholm – Sweden (+ The Juggernauts)
10 JUNE Musikens Hus / Gothenborg – Sweden (+ The Juggernauts)
DIVE (B)
[permalink]
---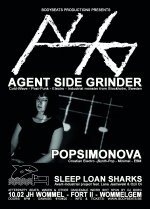 Last time to see Agent Side Grinder perform in Belgium with their current Line-up!
20 January 2017 13:07
---
An important message from the Agent Side Grinder headquarters reached us today...
Charismatic singer Kristoffer Grip has decided to quit Agent Side Grinder due to lack of time in his current life. Following his decision two other members, Henrik Sunbring and Thobias Eidevald, have also decided to leave the band and move on.
Original Agent Side Grinder founders Johan Lange and Peter Fritstedt however will not trow in the towel on their baby and will continue with the band, fulfill their vision and record a new Agent Side Grinder album for Progress Productions in 2017.
Luckily this drastic and sudden line-up change will not jeopardize the upcoming and scheduled concerts this spring. They will still take place in the original 5 piece line-up.
But these concerts will be the final opportunity to see Agent Side Grinder in this constellation!
One of those last opportunities will be on February 10th @ JH Wommel - Wommelgem - Belgium where Agent Side Grinder will perform together with the Croation bands Posimonona & Sleep Loan Sharks.
www.bodybeats.be/en/tickets/10-02-agent-side-grinder-popsimonova
[permalink]
---