---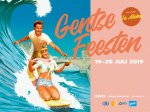 A Split-Second confirmed to headline @ Gentse feesten on JULY 21st!
26 June 2019 13:52
---
Sometimes a band has to have some patience ... Since their start (1985) the band made a blitz career all over the world and soon stood, though not consciously, at the cradle of a music genre with their undergroud club hit 'Flesh'. A song and genre that would put Belgium on the map of electronic dance music worldwide, New Beat! Today, numerous albums and countless performances all over the wold later, the band was invited to play at the FREE city festival of their own hometown, Ghent!
A Split-second will perform as headliner on the main stage of Walter De Buckplein / St-Jacobs.
For the complete program of the the Ghent festivities, click the link!
gentsefeesten.stad.gent/en/day/21/location
A SPLIT-SECOND (B)
[permalink]
---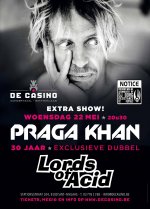 22.05 LORDS OF ACID + PRAGA KAHN + DJ BORG
11 February 2019 16:49
---
---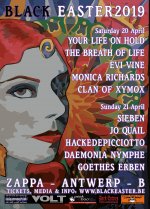 Line-up complete! New location Zappa (Antwerp) confirmed!
29 January 2019 13:08
---
We must admit, we ourselves almost began to worry but today we are very happy to announce the Black Easter line-up is complete!
When Black Easter inspirer (and fellow Peek-a-Boo founder) Ward De Prins unexpectedly passed away on 14 February last year, some of his best friends decided to still make his dream come true. After all, Ward had already started to plan a new edition of Black Easter for 2019! Based on a wish list and a selection of artists who performed on one of the previous editions, we think we have succeeded in putting together a rather impressive and diverse line-up.
From the early start on Saturday 20 April they kick-off strongly with Post-Goth-Rockers YOUR LIFE ON HOLD (B). Up-and-coming Belgian talent who surprised friend and foe with their debut album 'Burning for the Ancient Connection''.
Then THE BREATH OF LIFE, who already played Black Easter before in 2015, will enchant you with a firm dose of Gothic-Rock drenched in the angel-sweet voice of frontwoman Isabelle Dekeyser.
Also EVI VINE (UK) and her following stand ready to take you on their Folk-Tronica trip. A journey interspersed with dreamy sounds and dark atmospheres with which she mesmerized the Black Easter 2016 audience once before.
As a co-headline, none other than artistic centipede and Gothic icon MONICA RICHARDS (US) (Faith & The Muse), together with her partner in crime Anthony Jones (US) (Monastic), will take the Zappa stage. Did you know, the Black Easter's poster background of this edition is based on a painting by Monica Richards herself?!
Finally, to finish off this great first night with a true feast, CLAN OF XYMOX (NL / D) has also been added as a headliner! Chief Ronny Moorings and his band members will present you with a mix of new work and, of course, a lot of their classics!
On Sunday 21 April there seems to be no time for a warm-up as this Easter Sunday will immediately begin at a high level with SIEBEN (UK)! The solo project of violin virtuoso and eccentric Matt Howden. Matt Howden worked in the past with almost innumerable artists like Sol Invictus (UK), Tony Wakeford (UK), L'Orchestra Noir (UK), L'Ame Immortelle (AT), Emilie Autumn (USA), Faith & The Muse (USA), The Wand And The Moon (DK ), Larsen (IT), Spiritual Front (IT), Shock Headed Peters (UK), Hekate (DE), Job Karma (PL)... Whilst only armed with one microphone, one violin and a loop pedal, he still manages to create the impression that there is a whole band on stage!
Something JO QAIL (UK), who uses approximately the same arsenal, is very good at too. But instead of a violin, she chose to bring her cello along as her favourite instrument. This pleasant and entertaining appearance also succeeds in mesmerizing her audience with her musical creations. No music genre is out of her league as you will hear!
One of the big surprises of this Black Easter edition is the appearance of no-one less than ALEXANDER HACKE (EINSTÜRZENDE NEUBAUTEN) and his life companion DANIELLE DE PICCIOTTO (SPACE COWBOYS). Together they travel the world and the seven seas performing and composing beautiful music under the moniker HACKEDEPICCIOTTO. Their compositions are mostly built around cinematic drone sounds with avant-garde influences and elements from world music, Krautrock and so much more.
And of course, there is no better way to end this Black Easter weekend than seeing the German über Goth band GOETHES ERBEN perform! OSWALD HENKE and his entourage were already present at the very first edition back in 2015 and always deliver a great concert! As we are used to from them Henke will not only play some new stuff but will also spoil his fans with a bunch of Goethes Erben classics!

And oh yeah, due to reasons beyond our control and last-minute, we were forced into finding an alternative venue ... It was a hard and long struggle but finally, and completely by surprise, we landed safely back at the wonderful Antwerp venue, Zappa. As loyal Black Easters goers will know this is the venue where the Black Easter story began!
[permalink]
---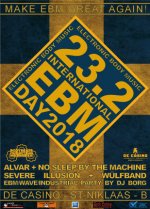 Line-up International EBM Day (-1) complete!
03 December 2018 13:58
---
After the succes of our very first International EBM day edition earlier this year we decide to do it again in 2019. Although our first edition was very international, we chose this time to have a 100% Swedish line-up by inviting some the best EBM/Electro acts Sweden has to offer these days.

Let us introduce them shortly (if still needed):
WULFBAND is from the Swedish capital Stockholm founded in 2014 by a masked duo who sings / shouts in German and officially call them self Sieben & Neun. For reasons that our not affairs, the band prefers to work with an anonymous creative image instead of putting their personal identities first. As far as music is concerned, it can be argued that it is inspired by the early post-punk DAF, and when you feel the urge to comment on their German pronunciation, know well that these gentlemen are quite capable of inflicting serious damage ... Whether or not auditive ... Wulfband describe their music as "Gewalt-Tanz und Angriffe gegen Alles"
ALVAR does not needs an introduction to the regular BodyBeats ranters, as they performed already twice for us in 2017. The first time they played the Dark Demons night (Antwerp) where they overwhelmed friend and foe claiming their well deserved opening spot at BIMFES 2017. Also on BIMFEST they caught the attention with ease. According to some, their music is situated between dark, sometimes lingering dark electronics and sometimes pounding EBM. Connoisseurs even claim their music to be reminiscent of early releases of the cult label Cold Meat Industrial.
NO SLEEP BY THE MACHINE stands for energetic and pumping live performances, so no wonder they they have also played BIMFEST before in 2013. Their music is rather an uncompromising complaint against injustice and figth more freedom in our society. Now, after several years of inactivity, the band is back now and is working hard on a new album. In the meantime you can still discover their slightly fantastic previous albums Close, Quadrilateral, Splice on their Bandcamp.
SEVERE ILLUSION was founded in 2000 by Fredrik Djurfeldt and Ulf Lundblad and released five albums, an EP, and more since. It's clear this band is also popular outside their home country, as proves by the the impressive list of the band's outbound performances over the years ... Germany, Russia, Chile, Hungary, Ukraine, Slovenia, Poland, Czech Republic, UK, Uruguay, Brazil, Canada and Denmark ... and now for the second time in Belgium! Their mix of dark harsh electro with EBM influences draws many to the dance floor.

DJ BORG
Of course, this EBM feats would not be complete without an pounding after party by resident DJ BORG.
www.bodybeats.be/en/tickets/23-2-international-ebm-day
[permalink]
---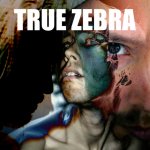 The electronic einzelgänger TRUE ZEBRA releases 123
21 September 2018 13:03
---
Belgian and electronic einzelgänger True Zebra is releasing a compilation album featuring a selection of songs from his first three DIY underground releases.
A "best of", "greatest hits", "most played live"… however you want to name it is now available for the masses!
All tracks were written and recorded by mastermind Kevin Strauwen between 2008-2016 and all got a remastering treatment for this release.
Meanwhile Kevin states: "I am starting work on my new full-length recording - idiorrhythmic - which I hope will be finished at the beginning of 2019"
123 - Track listing
1. The Silence
2. Delirious
3. Sounds Easy
4. Under Control
5. Revelation
6. Push
7. Shame
8. Hunt
9. Happen
10. Transition
11. Everything Is Mediocre
12. Fuya
13. Ran
14. Not Like Him No
15. Bitch
FACEBOOK

BOOK this great live act on your event now!
True Zebra (B)
[permalink]
---