---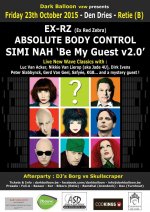 23.10 Simi-Nah 'Be My Guest' V2.0 + Absolute Body Control + DJ's BORG & Skullscraper @ Den Dries - Retie - B
09 June 2015 14:20
---
After the successful and sold out first edition of Simi Nah's 'Be My guest' concept night at De Casino (St-Niklaas) another 'Be My Guest' edition, V2.0 will take place at Den Dries (Retie, B) this time organized by Dark Balloon. On these 'Be My Guest' concept nights Simi-Nah invites several artists to come, play and sing along great cover-versions/remakes of some of the greatest New-Wave club Classics.
Most of the invited artists already appeared on the Simi Nah studio album 'Be My Guest' which was released in 2014 but also some new guests are invited to this edition.
To spice up the night no-one less than ABSOLUTE BODY CONTROL & EX-RZ will play a full live show!

The afterparty Waves & Beats will be provided by the DJ team BORG vs Skullscraper
Check in @ Facebook event
More info on the link below!
[permalink]
---

BodyBeats newsletter April 2015 - Check It Out!
23 April 2015 16:19
---
Check out our latest e-mail newsletter in the link below!
Support you scene and repost this on your Facebook wall!
[permalink]
---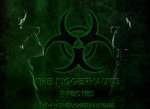 + 20.000 views for the 'Infected' video from The Juggernauts!
10 March 2015 14:59
---
Today, the DIY video of The Juggernauts song 'Infected' was viewed over 20.000 times. 'Infected' was featured on their first EP 'Phoenix' which sold-out within the year. This 'no-budget' video was made and uploaded by BORG less than two years ago, shortly after the release of the 'Phoenix'.
We can only hope a succeeding video is imminent ...
www.youtube.com/watch?v=YTZUJGts8Z0
THE JUGGERNAUTS (B)
[permalink]
---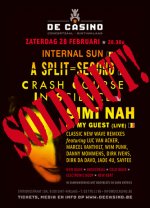 25.05 A SPLIT-SECOND + SIMI NAH + CRASH COURSE IN SCIENCE @ De Casino - SOLD OUT!
27 February 2015 17:49
---
We are proud to say this event COMPLETELY SOLD OUT!
For those who didn't manage to obtain ticket in time we can only say ...
That's where pre-sales are for! So next time ...
BE FASTER! :D
[permalink]
---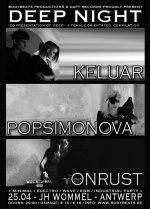 Check out our latest BodyBeats e-mail newsletter! Subscribe to win!
27 February 2015 14:13
---
Click the link to check out our latest BodyBeats e-mail newsletter! Subscribe to win!
This month:
Crash Course In Science on tour in Europe
BodyBeats artists on Eurorock
Deep night I feat Keluar, Popsimonova & Onrust
and much more ...
[permalink]
---