---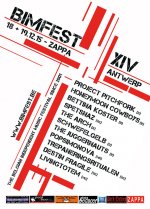 PROJECT PITCHFORK & THE JUGGERNAUTS complete BIMFEST line-up
17 August 2015 17:53
---
With the addition of Belgian EBM formation THE JUGGERNAUTS and one of Germany's leading dark electro acts PROJECT PITCHFORK, as the Saturday headliners, the BIMFEST XIV line-up is now complete!
It has been from 2012 since Project Pitchfork played Belgium so their return is much anticipated!

PROJECT PITCHFORK (D)
Exclusive Belgian show - One of Germany's leading dark electronic bands since the 90's
More / Facebook / Video

THE JUGGERBAUTS (B)
NU-electro-EBM from Belgium.
More / Facebook / Video

Hurry up if you want to save cash as the limited special low priced EARLY BIRD TICKETS are going fast!
THE JUGGERNAUTS (B)
[permalink]
---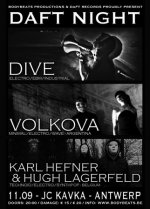 DAFT RECORDS NIGHT with DIVE, VÍLKOVA + Karl Hefner+ Hugh Lagerfeld!
01 August 2015 14:43
---
BodyBeats productions & Daft Records proudly present:
DIVE
Electro/EBM/Industrial - Exclusive Dirk Ivens career overview set - B
Facebook / Video
VOLKOVA
Minimal/Electro/Wave - Argentina
Facebook / Video
KARL HEFNER & HUGH LAGERFELD
Technoid/Electro/Wave - Belgium
Facebook / Video
The recent boost of yet again interesting releases on the renowned Belgian record label DAFT RECORDS brought us to the idea of putting some on those released bands together for an event.


The first band on this night will be Karl Hefner & Hugh Lagerfeld, a rather new Belgian project, who just released their debut album 'Syntax Error' on Daft Records. The second bands is VÖLKOVA, the Argentinian band Minimal/Wave band, who recently released 'Sangre' on Daft Records. A sort of compilation album containing long deleted, hard to find releases and some exclusive tracks.


And while we are at it, why not invite the label owner & boss Dirk Ivens himself with one of his many projects, DIVE. A set-list overviewing the whole career of this artist, featuring tracks form most of his involved projects, and the recent blasting performance at the German EBM festival Familientreffen and the Canadian Terminus Festival are reasons enough for us!

So if you wanna see this exclusive live shows and hear some never before performed songs by Dive .. Live ... Then be There!
www.bodybeats.be/en/tickets/11-09-daft-records-night
DIVE (B)
[permalink]
---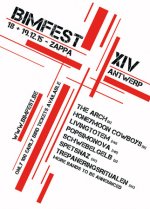 Honeymoon Cowboys, Livingtotem, Posimonova & Spetsnaz added to the BIMFEST 2015 line-up!
08 July 2015 18:32
---
---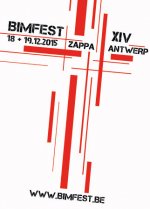 First two BIMFEST 2015 bands announced!
24 June 2015 19:13
---
Yes! We did it again! The BIMFEST 2015 line-up is complete and here are the two first bands!
TREPANERINGSRITUALEN (SE)
Trepaneringsritualen explores themes of religion, magick and the occult realms of consciousness, taking its musical cues from the old school of ritual ambient & death industrial. Rhythmic and seething at times, and oozing forward with a creeping sense of desolation, Trepaneringsritualen conjures forth bleak but mesmerizing visions of the end-times.
https://www.facebook.com/Trepaneringsritualen
THE ARCH (B)
This Belgian cult band
https://www.facebook.com/thearchband
More bands & info will be announced soon!
ONLY 100 EARLY BIRD TICKETS AVAILABLE!
By now, save up to € 10 / ticket or even € 20 / combi-ticket!

Check-in on our facebook event here!

[permalink]
---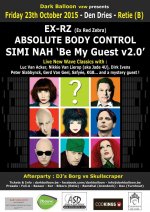 23.10 Simi-Nah 'Be My Guest' V2.0 + Absolute Body Control + DJ's BORG & Skullscraper @ Den Dries - Retie - B
09 June 2015 14:20
---
After the successful and sold out first edition of Simi Nah's 'Be My guest' concept night at De Casino (St-Niklaas) another 'Be My Guest' edition, V2.0 will take place at Den Dries (Retie, B) this time organized by Dark Balloon. On these 'Be My Guest' concept nights Simi-Nah invites several artists to come, play and sing along great cover-versions/remakes of some of the greatest New-Wave club Classics.
Most of the invited artists already appeared on the Simi Nah studio album 'Be My Guest' which was released in 2014 but also some new guests are invited to this edition.
To spice up the night no-one less than ABSOLUTE BODY CONTROL & EX-RZ will play a full live show!

The afterparty Waves & Beats will be provided by the DJ team BORG vs Skullscraper
Check in @ Facebook event
More info on the link below!
[permalink]
---