---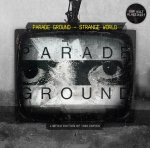 Parade Ground's complete career summarizing sampler on the prestigious 'Classic Series' by Infacted Recordings!
23 June 2014 17:09
---
Parade Ground's complete career summarizing sampler is now released on CD und the well known title "Strange World" on the prestigious 'Classic Series' by Infacted Recordings!
Writers and composers for brother-band Front 242, Parade Ground really are masters in melodies through all kinds of electronic music , with the unique voice of Jean-Marc Pauly.
The completely remastered songs feature rare , unreleased , and live tracks to make "Strange World" the ultimate collectors release for all EBM and "Parade Ground" fans!
This is a strange and exciting trip through more than 30 years of dance and digital diary by "Parade Ground". The Cd comes as a strictly limited edition of 1000 copies with 19 (!) songs! The future is now ...
Click the link to read the review on Peek-a-Boo Magazine!
www.peek-a-boo-magazine.be/en/reviews/parade-ground-strange-world
PARADE GROUND (B)
[permalink]
---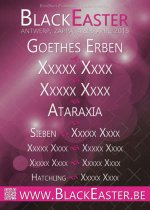 We have a newborn! Black Easter Festival!
17 June 2014 16:44
---
You know we at BodyBeats productions like to paint it all black! We have already a celebrate a darker X-mass since 13 years now, with our BIMFEST (December 19th&20th), and will continue to do so ... But as from 2015, also Easter will be never the same and more gloomy like ever before!

Black Easter Festival, on April 4th & 5th 2015, is a new BodyBeats Productions Festival that could only be realized with the help and support of some generous partners.

Since decades now, we have been concentrating more towards the darker side of mainly Electronic Alternative music and now, after the disappearing of several other organization and festivals within our scene, we thought now the time is ripe to launch a new festival concept.

On Black Easter we would like to put our spotlight on the more Goth/Rock & Performance orientated segment of our beloved scene. So don't be surprised!
Meanwhile the first acts are announced!
GOETHES ERBEN (Belgian exclusive 2015), ATARAXIA, SIEBEN & HATCHLING

Tickets sale has begun already ! ONLY 100 EARLY BIRD combi-tickets will be available!

Attention all bands & bookers: Our 2015 line-up is already complete! So... Don't call us! We call you!:-)
[permalink]
---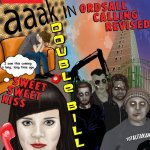 New single by A.A.A.K. (As Able As Kane)!
16 June 2014 18:51
---
AAAK are set to release the first single since the wide spread and critically acclaimed album 'Buildingscape Beat XXV' came out just one year ago.
It's a double bill, "Sweet Sweet Kiss" and "Ordall Calling Revised" and it's out Monday 16th of June.

Check it out below!
Buy it here!
A.A.A.K. (UK)
[permalink]
---
DIE FORM, TYSKE LUDDER & DER KLINKE complete the BIMFEST 2014 line-up!
08 June 2014 17:05
---
With the announcement of these last 3 names we are proud to say the BIMFEST 2014 line-up is complete!
DIE FORM (FR)
Since many years, DIE FORM are well renowned for creating a type of music and image in league with the art form of "multimedia intervention" (combining music, performance, photography and cinema/video). Since 1978, besides participating in multiple international projects, they have released around thirty albums, many video clips & films and two art books that allow appreciation of their particular universe: from industrial and organic electronics, tortured neo-classic and experimental constructions to more accessible compositions (based on rhythms, cuts, sampling, treated voices and sequences). Always motivated by their passions, Philippe F. and Eliane P. depict the ultimate beauty of love, at the boundary of the forbidden.
"Constructions out of the ordinary that add a mechanical dimension to the sensuality of female voices and melodies."
It has been already from 2006 that Die Form played Belgium.
TYSKE LUDDER (D)
'Tyske Ludder' means 'German Whore' and was a nickname used by the Norwegians/Danish during World War II.
In the beginning of the 90s Tyske Ludder set the course for their work as pioneers in the european EBM and Dark-Electro scene. Coming up from the Wave- and New-Romantic scene they developed very early their meditations on the predominance of technology in our society. Nightmare-like visions of the then-raging war in Yugoslavia as well as the recurring military enforcement of the United States' claim for world domination represent the other thematic constant in the work of the 'German Whore'. Through the years their musical model developed from heavy Electro-Sounds to some kind of ominous dance music somewhere between Industrial and the aroma of a nuclear blast.
DER KLINKE (B)
Formed in 2009 in Ostend, Belgium. Inspîred by Cold Wave & Electronics, the debut album "Square Moon" was released in 2011."The Second Sun" released in 2012 made it an even harder task to describe their unique but already established sound. In 2013 the single "The Doll" was released and it became an instant club hit. Today it's 2014 and the band is working on their 3rd full album "The Gathering of Hopes". Der Klinke is surely one of Belgium's fast rising stars in the underground scene!
[permalink]
---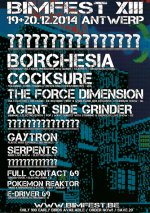 3 more names revealed for BIMFEST 2014
03 June 2014 12:06
---
Here we are with 3 more names for our BIMFEST XIII!
We are happy that, yet again, we were able to catch some other great acts that suits perfectly in our BIMFEST spirit & tradition and we know many of you were dreaming and hoping for for years …
THE FORCE DIMENSION
This legendary Dutch Electro/EBM act was signed to the Belgian cult label KK Records and released several records that nowadays are hard sought off and wanted collector items. Like the self titled album The Force Dimension and the 12"'s 'Dust' and 'Tension'. Now, after an absence of 18 years they are back, alive and kicking and with a new single expected towards the end of 2014.
This will be their first and worldwide exclusive reboot show!
COCKSURE
Cocksure is the brand new project of musical centipedes Chris Connelly (Revolting Cocks/Ministry/Pigface...) and Jason C. Novak (Acumen Nation/Acucrack/Czar). "With Cocksure, Christopher J. Connelly and Jason C. Novak bridge the gap between Wax Trax! era industrial and the future sounds of mass corruption." Their new single will feature R23 of FRont 242! Do we need to say more!?
www.cocksurenoise.com
FULL CONTACT 69
Is a spin-off from the EBM band EDRIVER 69 which came into life in 2011 when producer and vocalist Andreas Schubert wrote a few songs which didn't fit his main project EDRIVER 69. The band describes their music as ELECTRO-BREAK-INDUSTRIAL!
THE FORCE DIMENSION (NL)
[permalink]
---