---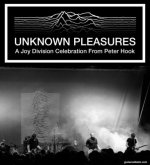 PETER HOOK & The Light + TEST DEPT headline BIMFEST 2012!!!
22 September 2012 08:11
---
We are happy to finally announce you the last, but not least, names for 2012 BIMFEST!

TRUE ZEBRA: The solo project of electro wizard Kevin Strauwen!

TEST DEPT:Redux : An exclusive 2012 and world premiere comeback clubshow! Original members Paul Jamrozy and Graham Cunnington will take you on a mulimedia travel through their early Test Departments work!

PETER HOOK & THE LIGHT: Joy Division's original bass player Peter Hook and his band The Light will play the complete and legendary Joy Division album 'UNKNOWN PLEASURES' and more!

Buy your combi tickets before October 1st and save € 15! — bij http://www.bimfest.be.
[permalink]
---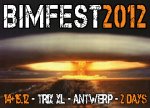 First bands BIMFEST 2012 announced! Early Bird Tickets available!
13 September 2012 15:33
---
We are happy be be finally able to release the first nine band that will play our BIMFEST 2012!
METROLAND (B) - exclusive 2012 - Fist live show ever!
ULTERIOR (UK) - Exclusive Belgian show 2012
JOB KARMA (PL) - Exclusive Belgian show 2012
NOTHING BUT NOISE (B) - Front 242 side project of Daniel B. & Dirk Bergen
THE BREATH OF LIFE (B) - Presenting new album!
THE INVINCIBLE SPIRIT (D) - Exclusive Belgian show 2012
PORTION CONTROL (UK) - Exclusive Belgian show 2012
ICON OF COIL (NO) - Exclusive Belgian show 2012
BLANCMANGE (UK) - Presenting their new Best of Album!
Still six more bands to be announced in the next days, including our Friday & Saturday headliners!

Buy you tickets now on this site now and save € 15 on each Combi-ticket! (Offer ends october 1st!)
PORTION CONTROL (UK)
[permalink]
---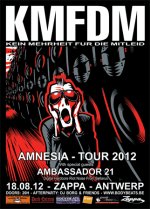 This weekend! KMFDM + Ambassador 21 + BodyBeats Afterparty!
17 August 2012 22:15
---
After mind-blowing at the Sinnerday 2011 Festival (Hasselt) where they surprised friend and foe, and the remember-able highly energetic show at Trix Club (Antwerp) in 2010 it's time again for KMFDM to conquer Antwerp .... Once again!
Supporting KMFDM on this exclusive Antwerp night will be the Digital Hardcore Riot Noise unit from Bellarus: AMBASSADOR 21!
23:30 : Free afterparty Beats with DJ BORG vs DJ SKULLSCRAPER (aka Dirk Ivens)
ATTENTION!!! FREE KMFDM CD KRIEG FOR THE FIRST 100 VISITORS
(Check the tracklist & remixers here!)
Tickets for KMFDM are STILL available on this site (blue order box), at FNAC and at the door/box-office @ Zappa on the night of the event itself.
[permalink]
---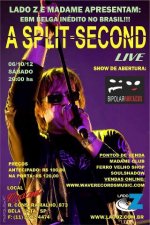 A Split-Second goes Brazil!
09 August 2012 14:06
---
We are very pleased to announce that A SPLIT-SECOND was invited for an exclusive in Sao Paulo, Brazil on Saturday October 6th 2012.

This will be the first ever A Split-Second show on the South-American continent!
Especially for their Brazilian fans A Split-Second will perform customized 'Best of Set!
A SPLIT-SECOND (B)
[permalink]
---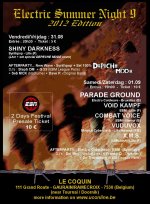 Parade Ground headlines @ Electric Summer Nights September 1st!
17 July 2012 11:46
---
We are pleased to a announce PARADE GROUND will headline on the second night of the Electric Summer nights!
The festival Promgramm:
Friday august 31st
shiny darkness (fr) - (concert + bonus cover depeche mode)
+ 4 dj's ...seb nocturne, sephdm, g 55 (ebm league paris) & p dave (original band)
( new-wave, synthpop & depeche mode special)

Saturday september 1st
xms (f - ebmclash)
vuduvox (f/b - electro minimal cyberclash)
combat voice (b - electro ebm)
void kampf (f - ebm)
parade ground (b - electro cold wave)
+ after 3 dj's ...de thannberg (ebm league paris) + del boy (neutral lies) + franky d (darkmen)
www.facebook.com/events/243108869125485
PARADE GROUND (B)
[permalink]
---