---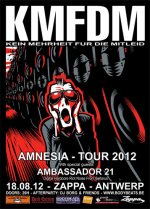 NEW single and FREE download from KMFDM!
22 May 2012 20:32
---
Rebellious as they are, KMFDM is doing it again!
The band uploaded an exclusive remix of 'I (Heart) You', for you… to download… for FREE!!!

The original version is featured on AMNESIA, KMFDM's new single containing 3 remixes of tracks from WTF?! along with a brand new song!
AMNESIA CD-EP
Tracklisting:
1. Amnesia (Käpt'n K. Remix)
2. Amnesia (Album Mix)
3. Krank (Morlocks Remix)
4. Come On-Go Off (Rotersand Remix)
5. I (Heart) You
Check them out live!
KMFDM + Ambassador 21, live on August 18th @ Zappa - Antwerp, Belgium
(FREE KMFDM CD 'KRIEG' for the first 100 visitors with presale ticket!)
Click the link below to download the FREE song!
[permalink]
---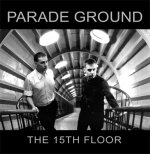 PARADE GROUND releases "The 15th Floor" LP on Minimal/Maximal
21 May 2012 15:56
---
The never released album from 1989, containing 12 tracks, is out now on the vinyl only label MINIMAL/MAXIMAL
In a limited edition of 520 hand-numbered copies, 180 gramvinyl, no re-press,
plus insert with notes from Colin Newman (Wire) and Patrick Codenys (Front 242).
Releasedate : Mai 21 , 2012
Songsamples : http://www.reverbnation.com/paradeground2012
FIRST 200 COPIES ON WHITE VINYL !!
PARADE GROUND Live :
15.07.12 Parade Ground + More @ Shadowplay , Kortrijk , BE
29.07.12 Parade Ground + more @ Summer Darkness, Utrecht, NL
10.08.12 Parade Ground + The Klinik + more @ Bahnhof Langendreer, Bochum, DE
08.12.12 Parade Ground + More @ Kantine , Augsburg , DE
Also available on Minimal>
MM007LP A SPLIT SECOND – Stained Impressions www.reverbnation.com/asplitsecondbelgium
MM006LP PORTRAIT BIZARRE – A New Day. http://soundcloud.com/portrait-bizarre/sets/a-new-day/
MM005DLP VITA NOCTIS – Against The Rule. http://soundcloud.com/vi-no
MM004LP CLOSE CIRCUIT CONNECTION – Various Belgian wave/ Electro artists.(few copies left)
MM003LP ABSOLUTE BODY CONTROL – Mindless Intrusion. (Sold Out)
MM002LP SHADOWS IN THE DARK – Various Belgian wave/electro artists. (Sold Out)
MM001LP ABSOLUTE BODY CONTROL – Wind(Re)Wind. (Sold Out)
www.reverbnation.com/paradeground2012
PARADE GROUND (B)
[permalink]
---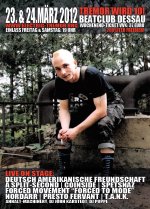 The Juggernauts @ Familientreffen 2012? Vote now!
09 May 2012 18:17
---
The organizers of the already 8th edition of Familientreffen in Sandersleben, Germany decided to give some new EBM talent a spot on their international renowned Electro/EBM festival.
We are pleased to say THE JUGGERNAUTS are one of the selected lucky ones!

"On an alcohol-filled evening the Tremorians chose three candidates, which could participate the Familientreffen line-up on Saturday. Now it's up to you which of the three talented bands get the wildcard to play at the Familientreffen!"

The voting will end on 17th May 2012 at 23.59!

So let the voting begin!
familientreffen.electric-tremor.org/2012/05/09/familientreffen8-bandvoting-2
THE JUGGERNAUTS (B)
[permalink]
---
BODYBEATS FEST 2012 CANCELLED!
26 April 2012 16:08
---
It's with pain in our heart we have to announce that we decided to cancel our BodyBeats Festival 2012.
The reason is simple: Almost no pre-sale tickets sold! :( With only one week to go this is the hard but right decision to make.
Not cancelling this event would jeopardize the future of BodyBeats
We are sorry for the inconvenience this may course to some of you.
We will do our best to reschedule this event and/or the bands towards the (near) future.
Tickets will of course be refunded!
We hope you understand our decision!
Bodybeats
[permalink]
---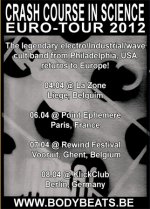 CRASH COURSE IN SCIENCE - EURO SIGNALS TOUR 2012 - Kicks off !!!
03 April 2012 16:47
---
BodyBeats is happy to announce the return and safly arrival at Brusselsd Airport of:

CRASH COURSE IN SCIENCE (US)


The legendary cult electro/Industrial /wave group from Philadelphia, USA is returning to Europe once again!
CCIS is of course best know from club hits like 'Cardboard Lamb' and 'Flying Turns', songs that have marked and inspired musicians and DJ's like Terrence Fixmer, David Carretta, Vitalic and Trentemoller.
This time CCIS is here to promote the release of their double LP/CD album that will be officially released in May but will already exclusively available for those fans who come to see the band on this tour!

Crash Course In Science - 2012 Euro-Mini-Tour

04.04 @ La Zone, Liege, B
06.04 @ Point Ephemere, Paris, FR
07.04 @ Rewind Festival @ Vooruit, Ghent, B / FB eventpage
08.04 @ KlickClub @ Berlin, D / FB event page

Check the video to see what you can expect!

www.bodybeats.be/en/crash-course-in-science-tour-2012
CRASH COURSE IN SCIENCE (USA)
[permalink]
---