---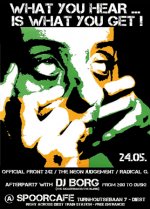 What You Hear Is What You Get! Official Front 242/The Neon Judgement/Radical G after party !
23 May 2013 17:47
---
Don't miss the official afterparty of the Front 242/The Neon Judgement/Radical G. event @ Den Amer Diest!
AFTERPARTY @ SPOORCAFE - RIGHT ACROSS DIEST TRAINSTATION - FREE ENTRANCE!
With DJ BORG @ the machines from 02:00 to Dusk!
Spinning Electo/EBM/Wave and other danceable weird shit!

www.facebook.com/events/335318819929645
THE JUGGERNAUTS (B)
[permalink]
---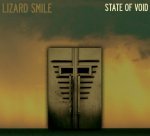 New Lizard Smile EP 'State Of Void' now available!
10 May 2013 15:13
---
We are pleased to say Lizard Smile's 3rd CD release is now available trough Wool-E shop and from our merch booth when present.
STATE OF VOID (Digi-pack)
Tracklist:

1.State of Void 5'08"
2.Exit 6'34"
3.Damage 5'48"
4.The Last One 3'20"
5.Kitchen Floored 6'11"
[permalink]
---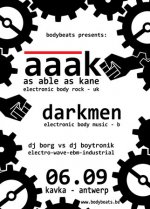 AAAK & Darkmen on first BodyBeats Redux Night on 06.09 @ Kavka - Antwerp
17 April 2013 21:28
---
We are proud to announce our first BodyBeats Redux night @ Kavka with 2 live performances and afterparty! On our first edition we have invited no-one less than AAAK & Darkmen!
AAAK (as Able As Kane), an electro/crossover band who made their debut already in 1989 and soon after releasing their debute EP 'Buildingscapebeat', they released their first full album 'Big Fist' on the legendary Belgian label KK records in 1990. In 2011, after more then a decade of silence, the band resurfaced with a new EP 'Out Here' and some live actions in and around Europe and appearances at BodyBeat festival and BIMFEST 2011. Last year, their second album 'Totalitarian Tip-Toe' was released on the Electric Tremor Dessau label. Short after, the band got the attention of no one less than the Red Hot Chili Peppers who invited AAAK to support them on their 2012 European tour making them play in front of audiences up to 77.000 people. Spurred by the success and the massive positive feedback the band worked on a 13 track 2CD named 'Buildingscape Beat XXV', herewith also celebrating the 25th birthday of their first release 'Buildingscapebeat'.
http://www.aaak.co.uk
facebook
Darkmen is a Belgian EBM duo Franky Deblomme (voice – music & lyrics) and Thomas Vrambout (drums & lyrics). Amongst their biggest influences are Depeche Mode, Front242 , and of course EBM. With a through and through old school sound they create songs with the use of vintage 80′s synthesizer combined with some of the new available gear. During 2005 Darkmen records a handful of demos and decides not to remain a studio band, but to highlight their massive electronics on stage. By doing some warm applauded gigs across Europe, from Antwerp to Marseille, over Sandersleben to Leipzig they baffle friend and enemy with a wall of aggression crashing into each listeners ear. The story continues with a full album, 'Guilty By Association' (2009) and 'Living On Borrowed Time' (2012).
facebook
ELEKTRO - WAVE - EBM - INDUSTRIAL afterpary with danceable weird shit spun by DJ BORG & DJ BOYTRONIK
Doors: 20:00
Tickets: €10 (presale) / € 15 (@doors)
www.bodybeats.be/en/tickets/06-09-aaak-darkmen
A.A.A.K. (UK)
[permalink]
---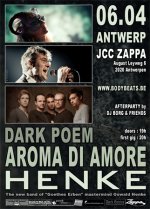 Tonight! HENKE + AROMA DI AMORE + DARK POEM @ Zappa - Antwerp!
06 April 2013 09:37
---
HENKE (Exclusive Belgian show!)
HENKE is the new band from Oswald Henke, the mastermind of Goethes Erben. With a skillful blend of alternative and gothic elements HENKE is extremely diverse. Live they bring you the perfext mix of classics from Goethes Erben, Erblast & Artwork as well as music from their ravishing first album "Seelenfütterung" and brand new material from the upcoming second album "Maskenball der Nackten".
http://henkeband.wordpress.com/

AROMA DI AMORE
Aroma di Amore have always been outsiders, even within the confinement of the alternative rock circuit. Their peculiar blend of raw guitars, electronics, Dutch lyrics and unconventional song structures was too hybrid for many. Those however who, without prejudice, would lend an ear to the band's music, discovered an energetic, authentic and uncompromising collective that stood above all trends. From beginning to end the nucleus of Aroma di Amore consisted of Elvis Peeters, who in an uninimitable, possessed way delivered his highly original lyrics, and Fred Angst, guitarist mastering the heaviest riffs as well as refined tapestries of sound.
http://www.aromadiamore.be/

DARK POEM
Faerie-lectro from Antwerp, Belgium. Their music is a reflection of the unconcious, the wondrous world of dreams, shadows and desires. Dark Poem wants to tell a story, discover reality behind reality and bring more beauty and wonder in this, sometimes ugly an miserable, world. Their songs can be a key with which the listener can open the door to his own inner magic world.
http://www.facebook.com/darkpoemmusic?fref=ts


TIMING
19:00 Doors
20:00 Dark Poem (45 min)
21:00 Aroma Di Amore (90 min)
23:00 Henke (100min)
01:00 Afterparty with DJ BORG & DJ ALBI

TICKETS
€25 @ the doors / still available!

FACEBOOK
https://www.facebook.com/events/503991336307582/?ref=3


www.bodybeats.be/en/new-wave-club-nights
[permalink]
---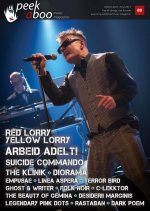 Peek-a-Boo Magazine nr 9 out now!
29 March 2013 18:35
---
With Reviews from:
▪ AGENT SIDE GRINDER : Hardware Comes Alive ▪ HENKE : Maskenball der Nackten ▪ HIDDEN PLACE : Novecento ▪ JOHN FOXX AND THE MATHS : Evidence ▪ KMFDM : Kunst ▪ LINEA ASPERA : Linea Aspera ▪ MESH : Automation Baby ▪ NICK CAVE & THE BAD SEEDS : Push the sky away ▪ NYAM NYAM : Hope Of Heaven ▪ SECTION 25 : Dark Light ▪ THE BEAUTY OF GEMINA : The Myrrh Sessions ▪ THE JUGGERNAUTS: Phoenix EP
And Interviews with:
▪ ALISON LEWIS (LINEA ASPERA) ▪ ARBEID ADELT! ▪ C-LEKKTOR ▪ DARK POEM ▪ DESIDERII MARGINIS ▪ DIORAMA ▪ EMPUSAE ▪ FOLK NOIR ▪ GHOST & WRITER ▪ RASTABAN ▪ RED LORRY YELLOW LORRY ▪ SUICIDE COMMANDO ▪ TERROR BIRD ▪ THE BEAUTY OF GEMINA ▪ THE KLINIK ▪ THE LEGENDARY PINK DOTS

PEEK-A-BOO is a FREE quarterly magazine made for YOU!
Get you hard copy on one of our next events or take a subscribtion and get a shiny hardcopy in your snail mailbox!
[permalink]
---