---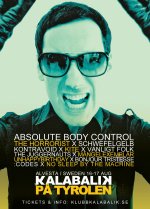 THE JUGGERNAUTS & ABSOLUTE BODY CONTROL @ KALABALIK På TYROLEN FESTIVAL
17 June 2013 14:38
---
---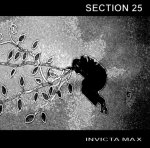 MINIMAL MAXIMAL presents : SECTION 25 "Invicta Max" MM011
27 May 2013 16:49
---
First available as a 4 track download-only ep "Invicta" through Peter Hook's Hacienda Records,
now exclusive released as a 10inch expended with unreleased material and an outstanding remix
done by Absolute Body Control on the vinyl only label Minimal Maximal.
In a collectors limited edition of 400 hand-numbered copies , chrystal clear vinyl, no re-press.
Mailorder and wholesale at mmsale@scarlet.be Releasedate : June 28 , 2013
Tracklisting and info at MINIMAL MAXIMAL , a sublabel from www.daft-records.com
A1: Colour,Movement,Sex and Violence (Songmix) 3:22
A2: Inner Drive (Chaosmix) 4:56
A3: Microgroove (Songmix) 2:50
B1: Colour,Movement,Sex and Violence (alternative mix) 3:56
B2: Inner Drive (songmix) 3:48
B3: Microgroove (Absolute Body Control remix) 4:06

Pre – listen on the link below!
"Metamorphosing from the most nihilistic group ever into progenitors of House, Blackpool's SXXV are,
inevitably, one of the groups of this very post-punk moment" (Chris Bohn, The Wire magazine)

"There were only three bands that ever made money on Factory and S25 was one of them" Peter Hook
"An amazing band and leagues ahead of everyone else." John Robb

"I love the new Section 25 single. Pure, raw pop music that brings a massive smile to my face. The most delightful thing I've heard in ages and highly addictive too! " Graeme Park
"Every band needs a gimmick. And your gimmick is, you don't have one." Rob Gretton
"Why can't all pop music sound this good? Listening to 'Dark Light' reaffirmed that music has the power to enrich, the power to lift the spirit – this really does fill you with a warm rosy glow, and compels you in an almost infantile fashion to spin around on some imagined dance floor.The new album displays the bands innate understanding of electronic hook laden pop, underpinned by a subtle techno bpm and refined yet emotive vocals. Dark Light should propel Section 25 deep into the public consciousness" Phil Newall, Louder Than War
www.bodybeats.be/en/artists/section-25
[permalink]
---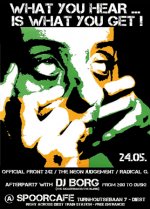 What You Hear Is What You Get! Official Front 242/The Neon Judgement/Radical G after party !
23 May 2013 17:47
---
Don't miss the official afterparty of the Front 242/The Neon Judgement/Radical G. event @ Den Amer Diest!
AFTERPARTY @ SPOORCAFE - RIGHT ACROSS DIEST TRAINSTATION - FREE ENTRANCE!
With DJ BORG @ the machines from 02:00 to Dusk!
Spinning Electo/EBM/Wave and other danceable weird shit!

www.facebook.com/events/335318819929645
THE JUGGERNAUTS (B)
[permalink]
---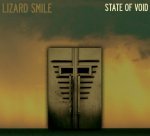 New Lizard Smile EP 'State Of Void' now available!
10 May 2013 15:13
---
We are pleased to say Lizard Smile's 3rd CD release is now available trough Wool-E shop and from our merch booth when present.
STATE OF VOID (Digi-pack)
Tracklist:

1.State of Void 5'08"
2.Exit 6'34"
3.Damage 5'48"
4.The Last One 3'20"
5.Kitchen Floored 6'11"
[permalink]
---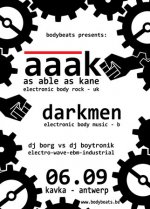 AAAK & Darkmen on first BodyBeats Redux Night on 06.09 @ Kavka - Antwerp
17 April 2013 21:28
---
We are proud to announce our first BodyBeats Redux night @ Kavka with 2 live performances and afterparty! On our first edition we have invited no-one less than AAAK & Darkmen!
AAAK (as Able As Kane), an electro/crossover band who made their debut already in 1989 and soon after releasing their debute EP 'Buildingscapebeat', they released their first full album 'Big Fist' on the legendary Belgian label KK records in 1990. In 2011, after more then a decade of silence, the band resurfaced with a new EP 'Out Here' and some live actions in and around Europe and appearances at BodyBeat festival and BIMFEST 2011. Last year, their second album 'Totalitarian Tip-Toe' was released on the Electric Tremor Dessau label. Short after, the band got the attention of no one less than the Red Hot Chili Peppers who invited AAAK to support them on their 2012 European tour making them play in front of audiences up to 77.000 people. Spurred by the success and the massive positive feedback the band worked on a 13 track 2CD named 'Buildingscape Beat XXV', herewith also celebrating the 25th birthday of their first release 'Buildingscapebeat'.
http://www.aaak.co.uk
facebook
Darkmen is a Belgian EBM duo Franky Deblomme (voice – music & lyrics) and Thomas Vrambout (drums & lyrics). Amongst their biggest influences are Depeche Mode, Front242 , and of course EBM. With a through and through old school sound they create songs with the use of vintage 80′s synthesizer combined with some of the new available gear. During 2005 Darkmen records a handful of demos and decides not to remain a studio band, but to highlight their massive electronics on stage. By doing some warm applauded gigs across Europe, from Antwerp to Marseille, over Sandersleben to Leipzig they baffle friend and enemy with a wall of aggression crashing into each listeners ear. The story continues with a full album, 'Guilty By Association' (2009) and 'Living On Borrowed Time' (2012).
facebook
ELEKTRO - WAVE - EBM - INDUSTRIAL afterpary with danceable weird shit spun by DJ BORG & DJ BOYTRONIK
Doors: 20:00
Tickets: €10 (presale) / € 15 (@doors)
www.bodybeats.be/en/tickets/06-09-aaak-darkmen
A.A.A.K. (UK)
[permalink]
---