---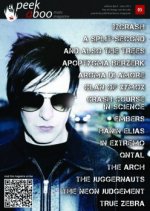 Peek-A-Boo Magazine nr 5 out now!
02 April 2012 19:43
---
The 5th PEEK-A-BOO magazine is ready.!
You can take a subscription on our magazine to receive it automatically, but you can ofcourse always obtain your copy for free at the better parties, concerts and (record) shops.
You can also read the magazine online through the link below.
PAB 5 Content:
Reviews:
AGENT SIDE GRINDER : Hardware
BENE GESSERIT : A High, Happy, Perverse And Cynical Cry Of Joy
CLAPS : Wreck
DER NOIR : A Dead Summer
HUSSEY/REGAN : Hussey/Regan
LES MAITRES : Les Maîtres
MOTOR : Man Made Machine
NEON ELECTRONICS : Keylogger
RABIA SORDA : The Art Of Killing Silence
REVOLTING COCKS (THE) : Got Mixxx?
SOPHYA : Words & Sounds
THE BEAUTY OF GEMINA : Iscariot Blues
THE EDEN HOUSE : Timeflows
THE FALL : Ersatz GB
VARIOUS ARTISTS : Till Dawn Do Us Part / BE

Interviews:
32CRASH
A SPLIT-SECOND
AND ALSO THE TREES
APOPTYGMA BERZERK
AROMA DI AMORE
CLAN OF XYMOX
CRASH COURSE IN SCIENCE
EMBERS
HANIN ELIAS
IN EXTREMO
QNTAL
THE ARCH
THE JUGGERNAUTS
THE NEON JUDGEMENT
TRUE ZEBRA
www.peek-a-boo-magazine.be/en/magazines
A SPLIT-SECOND (B)
CRASH COURSE IN SCIENCE (USA)
THE JUGGERNAUTS (B)
[permalink]
---
New album by Portion Control!
29 March 2012 10:33
---
Portion Control are getting ready for a new onslaught with their new album "Pure Form".
Release date is 16th of april and it will be distributed by Cherry Red.
Here is the tracklist:

1 Blows
2 Deadstar
3 Terex Pure
4 Point Blank
5 Skins
6 Wreckage
7 Chosen Seed
8 Slow Release
9 Something Fierce
10 Katsu
11 In Dark Places
12 Last Of The Breed
13 Elite
14 Chrono Form
Check the video below for audio snippets!
www.bodybeats.be/en/artists/portion-control
PORTION CONTROL (UK)
[permalink]
---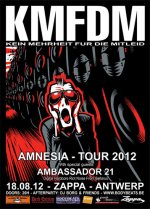 KMFDM - Amnesia Tour 2012 + Ambassador 21 @ Zappa - Antwerp
14 March 2012 17:03
---
Spawned in germany during 1984, kmfdm pioneered the crossover between techno/dance and heavy metal with their signature industrial sound. moving to chicago in the mid‐80's kmfdm was the pride of waxtrax! records during the label's peak. rapidly evolving year by year through intense experimentation and touring; the band has redefined themselves with each new release.
through almost countless releases and relentless musical exploration and reinvention they have continued to top themselves until today.
the band's 2011 release, wtf?! and its companion single krank, was no exception!
this spring they will release another single taken from their latest album 'amnesia' followed by some exclusive european festival and club show!
after mind-blowing at the sinnerday 2011 festival (hasselt) where they surprised friend and foe, and the remember-able highly energetic show at trix club (antwerp) in 2010 it's time again for kmfdm to conquer antwerp .... once again!
supporting kmfdm on this exclusive antwerp night will be the digital hardcore riot noise unit from bellarus: ambassador 21!
And if that isn't enough KMFDM and BODYBEATS will reward the first 100 visitors with a free copy of the KMFDM remix album 'KRIEG'!
[permalink]
---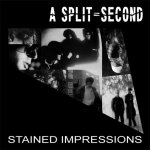 First ever tape release of A SPLIT-SECOND 'Stained Impressions' re-released!
12 March 2012 11:13
---
In combination with their growing 2012 Tour, we are happy to present A SPLIT-SECONDS new release
" STAINED IMPRESSIONS " MM007LP, out on MINIMAL>< MAXIMAL (Release : March 24 , 2012)

This will be a vilyl only release in a limited edition of 520 hand-numbered copies, 180 gram vinyl, plus insert. The first 200 copies will be pressend on white vinyl!
Soundsamples are available on their bandpage on this site!

1984 was a pivotal year for A Split-Second. Originally a new wave high-school band playing covers
and a few own compositions, the first line-up disbanded as composer, singer and bass player Marc
Ickx went more electronic with a primitive sequencer and drum computer.
Without previous studio experience, he started recording "STAINED IMPRESSIONS", a demo tape
recorded in single takes with cassette-to-cassette overdubs.

In between recordings he met with Chrismar Chayell, an old classmate who had a small multi-track
recording studio. Chayell had already recorded among others the full length TWILIGHT RITUAL album
"The Ritual", and offered to produce and record five of the songs at his studio. The first five songs on
"STAINED IMPRESSIONS" were recorded there. Chayell also arranged and played a keybord part on
"TEARGAS AND CHAMPAGNE", marking the beginning of what was to come for A Split-Second.

The songs also mark a transition, songs like "HUNGER" and "NEUROBEAT" were written by Ickx for the
previous line-up, of which "NEUROBEAT" was the only song to make it to the debut album "BALLISTIC
STATUES". From the other songs, parts of titles and lyrics were picked up for later material, and
"RESIGNATION" was the blueprint for "RIGOR MORTIS". Most of the other songs are largely improvised
in a search for the new direction Ickx' songwriting was heading for.

Largely raw and primitive, "STAINED IMPRESSIONS" provides an interesting look into the genesis of one
of the most influential alternative electronic bands of the 80's, and the variety and experimentation that marked this era.

A SPLIT-SECOND 2012 TOUR
23.03.12 A Split-Second @ Nieuwe Nor - Heerlen – NL
24.03.12 A Split-Second + DAF + more @ 10 years Electric Tremor / BeatClub, Dessau, D
05.05.12 A Split-Second + more @ Bodybeats Fest / Zappa, Antwerp, B
25.08.12 A Split-Second + more @ Infest Festival / University, Bradford, UK
More dates TBC

www.bodybeats.be/en/artists/a-split-second
A SPLIT-SECOND (B)
[permalink]
---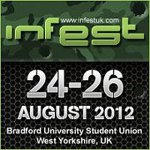 A SPLIT-SECOND confirmed @ INFEST 2012!
04 March 2012 16:34
---
We are pleased to announce that also A Split-Second has been confirmed to play on the renowned INFEST festival in Bradford UK. For both The Klinik, who where confirmed already before, and A Split-Second it will be their first gig EVER in the UK. A Split-Second will play on 25.08, the second day of this three day festival, together with bands like KMFDM and many more!
For more info and updates click the link below!
A SPLIT-SECOND (B)
[permalink]
---