---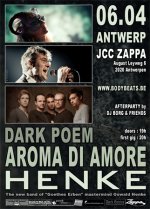 Tonight! HENKE + AROMA DI AMORE + DARK POEM @ Zappa - Antwerp!
06 April 2013 09:37
---
HENKE (Exclusive Belgian show!)
HENKE is the new band from Oswald Henke, the mastermind of Goethes Erben. With a skillful blend of alternative and gothic elements HENKE is extremely diverse. Live they bring you the perfext mix of classics from Goethes Erben, Erblast & Artwork as well as music from their ravishing first album "Seelenfütterung" and brand new material from the upcoming second album "Maskenball der Nackten".
http://henkeband.wordpress.com/

AROMA DI AMORE
Aroma di Amore have always been outsiders, even within the confinement of the alternative rock circuit. Their peculiar blend of raw guitars, electronics, Dutch lyrics and unconventional song structures was too hybrid for many. Those however who, without prejudice, would lend an ear to the band's music, discovered an energetic, authentic and uncompromising collective that stood above all trends. From beginning to end the nucleus of Aroma di Amore consisted of Elvis Peeters, who in an uninimitable, possessed way delivered his highly original lyrics, and Fred Angst, guitarist mastering the heaviest riffs as well as refined tapestries of sound.
http://www.aromadiamore.be/

DARK POEM
Faerie-lectro from Antwerp, Belgium. Their music is a reflection of the unconcious, the wondrous world of dreams, shadows and desires. Dark Poem wants to tell a story, discover reality behind reality and bring more beauty and wonder in this, sometimes ugly an miserable, world. Their songs can be a key with which the listener can open the door to his own inner magic world.
http://www.facebook.com/darkpoemmusic?fref=ts


TIMING
19:00 Doors
20:00 Dark Poem (45 min)
21:00 Aroma Di Amore (90 min)
23:00 Henke (100min)
01:00 Afterparty with DJ BORG & DJ ALBI

TICKETS
€25 @ the doors / still available!

FACEBOOK
https://www.facebook.com/events/503991336307582/?ref=3


www.bodybeats.be/en/new-wave-club-nights
[permalink]
---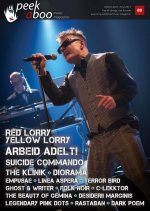 Peek-a-Boo Magazine nr 9 out now!
29 March 2013 18:35
---
With Reviews from:
▪ AGENT SIDE GRINDER : Hardware Comes Alive ▪ HENKE : Maskenball der Nackten ▪ HIDDEN PLACE : Novecento ▪ JOHN FOXX AND THE MATHS : Evidence ▪ KMFDM : Kunst ▪ LINEA ASPERA : Linea Aspera ▪ MESH : Automation Baby ▪ NICK CAVE & THE BAD SEEDS : Push the sky away ▪ NYAM NYAM : Hope Of Heaven ▪ SECTION 25 : Dark Light ▪ THE BEAUTY OF GEMINA : The Myrrh Sessions ▪ THE JUGGERNAUTS: Phoenix EP
And Interviews with:
▪ ALISON LEWIS (LINEA ASPERA) ▪ ARBEID ADELT! ▪ C-LEKKTOR ▪ DARK POEM ▪ DESIDERII MARGINIS ▪ DIORAMA ▪ EMPUSAE ▪ FOLK NOIR ▪ GHOST & WRITER ▪ RASTABAN ▪ RED LORRY YELLOW LORRY ▪ SUICIDE COMMANDO ▪ TERROR BIRD ▪ THE BEAUTY OF GEMINA ▪ THE KLINIK ▪ THE LEGENDARY PINK DOTS

PEEK-A-BOO is a FREE quarterly magazine made for YOU!
Get you hard copy on one of our next events or take a subscribtion and get a shiny hardcopy in your snail mailbox!
[permalink]
---
AAAK play their first show with new drummer this weekend @ The Factory
28 March 2013 16:41
---
---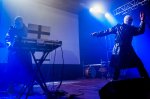 An interviews with The Klinik in Peek-a-Boo Magazine
09 March 2013 16:57
---
---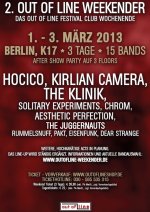 The Juggernauts to replace PAKT on the sold out Out Of Line Festival in Berlin
19 February 2013 10:23
---
We are happy to announce The Juggernauts were invited to play at the now sold out second edition of the OUT OF LINE FESTIVAL that will take place at the K17. The Juggernauts will replace PAKT who had to cancell their show.
The Juggernauts will perform on Friday March 1st, what is in fact the actual and official release date of their brand new EP Phoenix!
More info on the links below!
THE JUGGERNAUTS (B)
[permalink]
---