---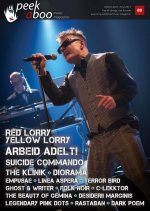 Peek-a-Boo Magazine nr 9 out now!
29 March 2013 18:35
---
With Reviews from:
▪ AGENT SIDE GRINDER : Hardware Comes Alive ▪ HENKE : Maskenball der Nackten ▪ HIDDEN PLACE : Novecento ▪ JOHN FOXX AND THE MATHS : Evidence ▪ KMFDM : Kunst ▪ LINEA ASPERA : Linea Aspera ▪ MESH : Automation Baby ▪ NICK CAVE & THE BAD SEEDS : Push the sky away ▪ NYAM NYAM : Hope Of Heaven ▪ SECTION 25 : Dark Light ▪ THE BEAUTY OF GEMINA : The Myrrh Sessions ▪ THE JUGGERNAUTS: Phoenix EP
And Interviews with:
▪ ALISON LEWIS (LINEA ASPERA) ▪ ARBEID ADELT! ▪ C-LEKKTOR ▪ DARK POEM ▪ DESIDERII MARGINIS ▪ DIORAMA ▪ EMPUSAE ▪ FOLK NOIR ▪ GHOST & WRITER ▪ RASTABAN ▪ RED LORRY YELLOW LORRY ▪ SUICIDE COMMANDO ▪ TERROR BIRD ▪ THE BEAUTY OF GEMINA ▪ THE KLINIK ▪ THE LEGENDARY PINK DOTS

PEEK-A-BOO is a FREE quarterly magazine made for YOU!
Get you hard copy on one of our next events or take a subscribtion and get a shiny hardcopy in your snail mailbox!
[permalink]
---
AAAK play their first show with new drummer this weekend @ The Factory
28 March 2013 16:41
---
---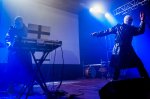 An interviews with The Klinik in Peek-a-Boo Magazine
09 March 2013 16:57
---
---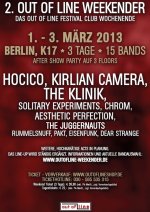 The Juggernauts to replace PAKT on the sold out Out Of Line Festival in Berlin
19 February 2013 10:23
---
We are happy to announce The Juggernauts were invited to play at the now sold out second edition of the OUT OF LINE FESTIVAL that will take place at the K17. The Juggernauts will replace PAKT who had to cancell their show.
The Juggernauts will perform on Friday March 1st, what is in fact the actual and official release date of their brand new EP Phoenix!
More info on the links below!
THE JUGGERNAUTS (B)
[permalink]
---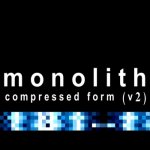 Monolith re-releases the first album 'Compressed Form' remastered and re-edited!
08 February 2013 09:25
---
Known throughout the world being active in Sonar and Absolute Body Control, this was Eric Van Wonterghem´s first solo album (Daft Records 1997), his immense creative output brought released on several of labels, and a harsh unique sound, Compressed Form (v2) in this digital version is different from the cd release, it is compiled from original recordings but new edited in 10 seperate tracks. Monolith´s industrial drones and ambient soundscapes, only available here ! enjoy
credits

Listen, buy and download the album on the link below!
prodam.bandcamp.com/album/compressed-form-v2
[permalink]
---