---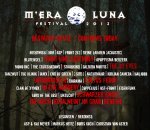 THE KLINIK - Headlining the M'era Luna Hangar stage on Saturday 12.08
06 July 2013 13:57
---
THE KLINIK will be headlining the hangar stage at the internationally renowned M'era Luna Festival on Saturday 12.08.
The M'era Luna festivals draws more than 20.000 visitors every year from around the world. The hangar stage has a capacity 4500 people and so no doubt it will be filled to the roof again like it did already the last time when The Klinik played this festival in 2004.
Other band playing are FRONT 242, HIM, IAMX, Front Line Assemby, Nightwish, Kirlian Camera, The Arch and many more ...
www.meraluna.de/de/line-up/#!programmation=grid$
[permalink]
---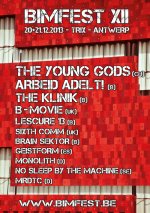 THE YOUNG GODS and ARBEID ADELT! headline BIMFEST 2013
04 July 2013 19:22
---
We are pleased to finally announce our second headliner for the BIMFEST 2013.
THE YOUNG GODS (ch) !!! Playing an exclusive show based on their first two albums!
On the same time we can also confirm the '80's cult band B-Movie (uk).
Earlier we already confirmed the Belgian electro/cult act ARBEID ADELT! as one of the BIMFEST 2013 headliners.

May we also remind you the limited EARLY BIRDS are almost sold out!
[permalink]
---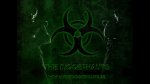 New video 'Infected' by The Juggernauts online!
01 July 2013 14:27
---
---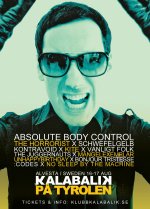 THE JUGGERNAUTS & ABSOLUTE BODY CONTROL @ KALABALIK På TYROLEN FESTIVAL
17 June 2013 14:38
---
---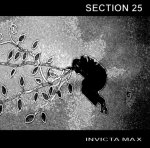 MINIMAL MAXIMAL presents : SECTION 25 "Invicta Max" MM011
27 May 2013 16:49
---
First available as a 4 track download-only ep "Invicta" through Peter Hook's Hacienda Records,
now exclusive released as a 10inch expended with unreleased material and an outstanding remix
done by Absolute Body Control on the vinyl only label Minimal Maximal.
In a collectors limited edition of 400 hand-numbered copies , chrystal clear vinyl, no re-press.
Mailorder and wholesale at mmsale@scarlet.be Releasedate : June 28 , 2013
Tracklisting and info at MINIMAL MAXIMAL , a sublabel from www.daft-records.com
A1: Colour,Movement,Sex and Violence (Songmix) 3:22
A2: Inner Drive (Chaosmix) 4:56
A3: Microgroove (Songmix) 2:50
B1: Colour,Movement,Sex and Violence (alternative mix) 3:56
B2: Inner Drive (songmix) 3:48
B3: Microgroove (Absolute Body Control remix) 4:06

Pre – listen on the link below!
"Metamorphosing from the most nihilistic group ever into progenitors of House, Blackpool's SXXV are,
inevitably, one of the groups of this very post-punk moment" (Chris Bohn, The Wire magazine)

"There were only three bands that ever made money on Factory and S25 was one of them" Peter Hook
"An amazing band and leagues ahead of everyone else." John Robb

"I love the new Section 25 single. Pure, raw pop music that brings a massive smile to my face. The most delightful thing I've heard in ages and highly addictive too! " Graeme Park
"Every band needs a gimmick. And your gimmick is, you don't have one." Rob Gretton
"Why can't all pop music sound this good? Listening to 'Dark Light' reaffirmed that music has the power to enrich, the power to lift the spirit – this really does fill you with a warm rosy glow, and compels you in an almost infantile fashion to spin around on some imagined dance floor.The new album displays the bands innate understanding of electronic hook laden pop, underpinned by a subtle techno bpm and refined yet emotive vocals. Dark Light should propel Section 25 deep into the public consciousness" Phil Newall, Louder Than War
www.bodybeats.be/en/artists/section-25
[permalink]
---