---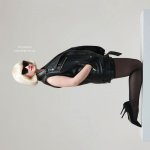 POPSIMONOVA releases first full album!
18 November 2015 14:38
---
After serveral demo's, collaborations and twelf inches the Croatian producer, composer and songwriter Lana Jastrevski aka Popsimonova has now her first solo album out, Brokedown Palace!
On this album Popsimonova has once again succeeded in combining her mesmerizing female voice with uncompromising musical diversions, like minimal electro, harsh electronics and EBM.
No wonder the result may appeal to fans of Miss Kitten, Anne Clark or even Front 242.
Check out the album teaser on our BIMFEST website and find out WHY you should not miss POPSIMONOVA's show at BIMFEST XIV! Popsimonova will play on Friday December 18th.
2015.bimfest.be/en/news/popsimonona-releases-first-full-album-18-11-2015
[permalink]
---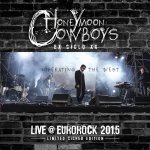 BIMFEST day 1 headliners Honeymoon Cowboys release 'Liberating The West (Live at Eurorock 2015)'
11 November 2015 14:34
---
It doesn't happen often that a band releases the recordings of one of their very first concerts as a debuut album but ... Here you are!
The Honeymoon Cowboys "Liberating The West (Live at Eurorock 2015)"
It was on general demand of the fans and all those who were impressed by their stunning debut and festival performance at the Eurorock festival (Neerpelt, Belgiulm) last spring, that the Honey Moon Cowboys decided to release this live concert recording.
As most of you (should) know by now is that the Honeymoon Cowboys are in fact a spin-off of the legendary Belgian cold wave band Siglo XX, featuring several Siglo XX members.
This live registration proves once again Siglo XX is not dead, but that their atmosphere, sound and spirit lives on, more then ever, in the HONEYMOON COWBOYS.
[permalink]
---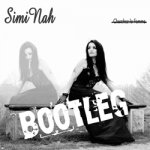 Simi Nah released "BOOTLEG", a very limited edition album!
22 October 2015 10:18
---
"It's been more than a year since the last release of the Simi Nah album "Be my Guest"
and after the great response, reviews and comments, Simi is now ready to turn the page.
But before doing this, a strong desire to re-release some tracks of the first album kept on growing ...
So "BOOTLEG" was born!
Why old songs ?
During the last year, Simi Nah gained attention from media and people all over the globe, many asking for the first album "Cherchez la Femme". Unfortunately, this album is no longer available on the market. Released at the wrong time, at the wrong place, in the wrong scene, it didn't get the attention it deserved. The return of the 80's was not in vogue yet !
Now, 11 years later, Simi Nah brings some of those songs back to life, as unreleased and reworked versions.
Why "Bootleg" ?
Nostlagia is in the spotlight with this release, bringing back sweet memories, going to the flee market "puces de Clignancourt" in Paris where you could find all kind of bootleg cassettes and vinyl's. So this reproduction is very kitsch, on CDR "look vinyl", hand numbered and signed, black & white."
Tracklist :
01 Cherchez la Femme (original 2004, reworked 2015)
02 Je Joue le Jeu inGénu (original 2003, reworked 2015)*
03 Sans se voiler la face (original 2003, reworked 2015)**
04 le Passé, le Présent, le Futur (unreleased version, reworked 2015)***
05 Cherchez le garçon – B-movie track (unreleased version, reworked 2015)
06 L'Ange Je (unreleased version, reworked 2015)
07 Je cherche encore (original 2004, reworked 2015)
08 Alice – The 2183 mix (unreleased version, reworked 2015)
*Appears on a compilation in 2004
**On BBC1 radio playlist for 3 month in 2003
***Appears on a compilation in 2003
Secure your copy here or at SIMI NAH - BE MY GUEST - LIVE this Friday, October 23 @ Den Dries (Retie, Belgium) . An unique on-off live performance with guest aperances of a.o. Luc Van Acker (ArbeidAdelt!, Revolting Cocks, ...), Nikkie Van Lierop (aka Jade 4U & Ex-Lords of Acid), Peter Slabbynck (Red Zebra), Dirk Ivens (Dive, The Klinik, Absolute Body Control, Sonar), Gerd Van Geel (The Arch), Safyée (daughter of Mickey Mike aka Snowy Red). Other band performing are ABSOLUTE BODY CONTROL and EX-RZ (Ex-Red Zebra).
www.freewebstore.org/why2k-music-store/SIMI_NAH_-__Bootleg__-_Limited_Edition/p1524163_14714698.aspx
ABSOLUTE BODY CONTROL (B)
[permalink]
---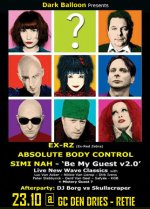 Check out the latest our e-mail newsletter!
21 October 2015 13:00
---
Click here link to read our latest newsletter.

As we all well know by now is that Facebook is NOT showing YOU what you WANT to SEE but what THEY WANT you to SEE! Infact, did you know Facebook only shows 10% our posts to our friends and followers?

Here is your chance to HACK THE SYSTEM and support us!
So click here to subscribe and win prizes every month!
[permalink]
---
New single CRUSHED BY THE CHIPS by THE FORCE DIMENSION!
19 October 2015 17:46
---
This is The Force Dimension's first single after almost 10 years years, and their first musical piece since the 1996's Kitty Hawk album.
It was originally recorded in Amsterdam 2013, after being inspired by documentary about the alienation of a young man, caused by social media and smartphones.
Fully equipped with this inspiration and new gear, this critical allegory on the information society is basically meant to dance!
The video is a DIY made by The Force Dimension.
Click here to buy the Digital release.
THE FORCE DIMENSION (NL)
[permalink]
---