---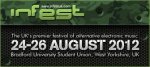 The Klinik confirmed on INFEST 2012!
06 February 2012 17:00
---
We are very pleased to announce that one the first artists confirmed for this years edition on the reknowned UK Infest 2012 Festival are our own Belgian electro-industrial-ebm legends The Klinik.
The Klinik play the UK for the first time ever!
Other Bands confirmed so far are:
Necro Facility
Dirty K
Spacebuoy
[permalink]
---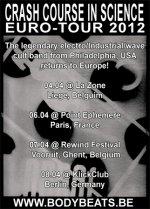 CRASH COURSE IN SCIENCE - Euro Tour 2012
31 January 2012 18:30
---
CRASH COURSE IN SCIENCE, the legendary cult electro/Industrial /wave group from Philadelphia, USA is returning to Europe again! This time to promote the release of their double LP/CD album that will be released by the German Vinyl On Demand label in March. Crash Course In Science is of course best know from their club hits 'Cardboard Lamb' and 'Flying Turns' and the more experimental 7' 'Kitchen Motors', songs that have marked and inspired a generation musicians and DJ's like Terrence Fixmer, David Carretta, Vitalicand Trentemoller.
Crash Course In Science - 2012 Euro-Mini-Tour
04.04 @ La Zone, Liege, B
06.04 @ Point Ephemere, Paris, FR
07.04 @ Rewind Festival @ Vooruit, Ghent, B
08.04 @ KlickClub @ Berlin, D
CRASH COURSE IN SCIENCE (USA)
[permalink]
---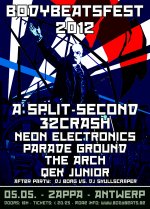 BODYBEATS FEST 2012 is a fact!
14 January 2012 14:04
---
In times of economic recession and the seemingly increasing couch potato population, we at BodyBeats still believe in our mission and decided to give our loyal visitors and bands another treat and to give BODYBEATS FEST 2012 a go!
So we hope appereciat our efforts so far and to see you all there!

BodyBeats Productions proudly presents:
05.05. BODYBEATS FEST 2012
with
A SPLIT-SECOND
(Release vinyl 'Stained Impressions')
32 CRASH
(presenting new album / new show)
NEON ELECTRONICS
(presenting new album / new show)
PARADE GROUND
(presenting new vinyl release)
THE ARCH
(presenting new album)
QEK JUNIOR
(presenting new album)
Afterparty : DJ BORG VS DJ SKULLSCRAPER(aka Dirk Ivens)
Zappa - August Leyweg 6 - 2020 Antwerp
Tickets: http://www.bodybeats.be/
More info soon!
A SPLIT-SECOND (B)
[permalink]
---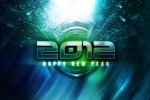 Happy New-year and welcome to our brand new 2012 website!
01 January 2012 12:16
---
Hello BodyBeats freaks!
Welcome to our new website!
First of all we like to wish every one of you, your friends and family a happy and prosperous 2012! Secondly we like to thank all visitors, bands, crew and volunteers for another successful and satisfying edition of our annual BIMFEST. The love, appreciation and respect that we have received from so many of you was really overwhelming! THANK YOU!

In fact it gave us the strength and motivation to continue for at least another 10 years!
[permalink]
---