---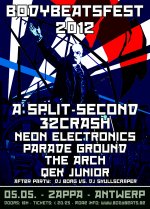 BODYBEATS FEST 2012 is a fact!
14 January 2012 14:04
---
In times of economic recession and the seemingly increasing couch potato population, we at BodyBeats still believe in our mission and decided to give our loyal visitors and bands another treat and to give BODYBEATS FEST 2012 a go!
So we hope appereciat our efforts so far and to see you all there!

BodyBeats Productions proudly presents:
05.05. BODYBEATS FEST 2012
with
A SPLIT-SECOND
(Release vinyl 'Stained Impressions')
32 CRASH
(presenting new album / new show)
NEON ELECTRONICS
(presenting new album / new show)
PARADE GROUND
(presenting new vinyl release)
THE ARCH
(presenting new album)
QEK JUNIOR
(presenting new album)
Afterparty : DJ BORG VS DJ SKULLSCRAPER(aka Dirk Ivens)
Zappa - August Leyweg 6 - 2020 Antwerp
Tickets: http://www.bodybeats.be/
More info soon!
A SPLIT-SECOND (B)
[permalink]
---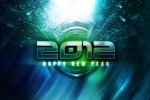 Happy New-year and welcome to our brand new 2012 website!
01 January 2012 12:16
---
Hello BodyBeats freaks!
Welcome to our new website!
First of all we like to wish every one of you, your friends and family a happy and prosperous 2012! Secondly we like to thank all visitors, bands, crew and volunteers for another successful and satisfying edition of our annual BIMFEST. The love, appreciation and respect that we have received from so many of you was really overwhelming! THANK YOU!

In fact it gave us the strength and motivation to continue for at least another 10 years!
[permalink]
---